Photo Coverage: Barry Humphries Brings Weimar Cabaret to Tanglewood
In the 1930's Tanglewood was just an idea in the minds of some Massachusetts music lovers, while at the same time in Nazi Germany some great composers were being banned by people who had no love of music or humanity.
The Australian comedian, actor, satirist, artist and author Barry Humphries was fascinated as a teenager by the music written in Germany between the two world wars. Some of the composers silenced by the Nazi's were Korngold, Krenek and Kurt Weill. Humphries has curated a show featuring this music which was outlawed during the Third Reich. It was performed brilliantly by the Australian Chamber Orchestra and the exciting and erotic vocalist Meow Meow as Humphries gave an interesting historical narrative using his unique comic, oration, and entertainment skills. I never thought I could love a concert that used the word Hitler so much, but then again I also loved Mel Brook's The Producers. Barry Humphries has travelled the world with this presentation and the orchestra under the direction of first violinist Richard Tognetti performs the orchestrations with a firm tight cohesiveness that Tangelwood audiences have been accustomed to hearing from all the great musicians that have appeared on the legendary grounds. This is an "adult" presentation and Meow Meow's simulated musical organism went far beyond Meg Ryan in "When Harry Met Sally". The jazz/classical suggestiveness of German CABARET music gives you a much better understanding of the musical times than the movie and film of the same name. This was a fantastic presentation directed by Robert Fisher and the only time you will hear Mack The Knife is when members of the orchestra stroll through the audience playing it before the concert starts. Be prepared, Barry Humphries (Dame Edna) appears in disguise as himself.
Photo Credit: Stephen Sorokoff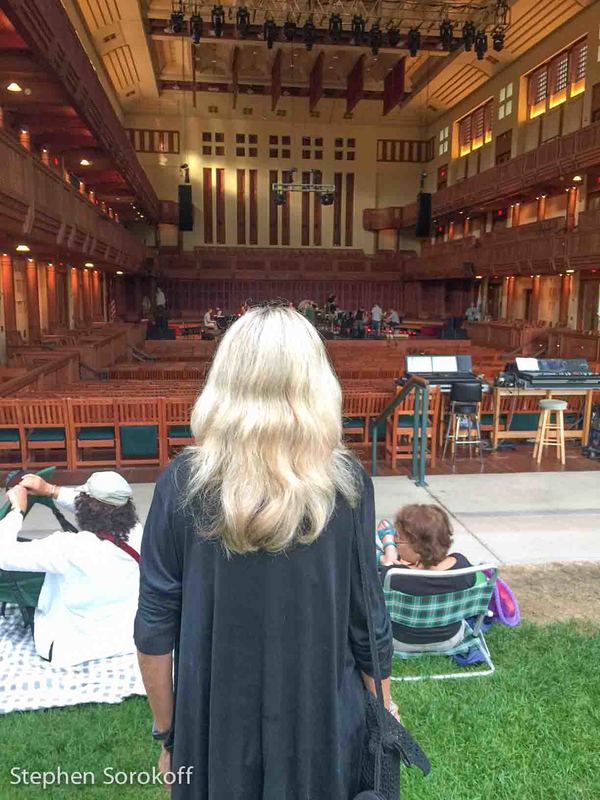 Ozawa Hall

Tanglewood