BWW Review: World Premiere of THE WHITE CARD: An Invitation to Talk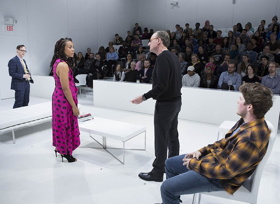 The White Card
Written by Claudia Rankine, Directed by Diane Paulus, Dramaturgy by P. Carl; Scenic Design, Riccardo Hernandez; Costume Design, Emilio Sosa; Lighting Design, Stephen Strawbridge; Sound Design, Will Pickens; Projection Design, Peter Nigrini; Production Stage Manager, Sharika Niles
CAST (in order of appearance): Patricia Kalember, Jim Poulos, Daniel Gerroll, Karen Pittman, Colton Ryan
ArtsEmerson presents the World Premiere of the American Repertory Theater production; Performances through April 1 at Emerson Paramount Center's Robert J. Orchard Stage, 559 Washington Street, Boston, MA; Box Office 617-824-8400 or www.artsemerson.org
It is a given that America has a race problem. It is also a given that we don't like or know how to talk about it. Playwright and poet Claudia Rankine steps boldly into the breach to begin a conversation and challenges us to stay in the room in The White Card, her groundbreaking piece of theater presented by ArtsEmerson: The World on Stage and produced by the American Repertory Theater at Emerson Paramount Center. For the world premiere, the Robert J. Orchard Stage has been converted into a starkly, sterile white arena in which the audience faces itself across a room bifurcated by a white playing field that is soon demonstrated to be anything but level. With the audio of a tennis match heard in the background and the seats sloping upward stadium style, the stage is set for the impending verbal volleying and emotional gamesmanship.
To say that The White Card is primarily a conversation is not to imply that it is less than a solid play with fully realized characters. However, the conflict is driven by language as it reflects the attitudes and beliefs of the five people sharing an evening at a dinner party in a luxury New York apartment. Art collector Charles (Daniel Gerroll) and his wife Virginia (Patricia Kalember), through their art dealer Eric (Jim Poulos), invite African-American visual artist Charlotte (Karen Pittman) to wine and dine with them, hoping to acquire her work for Charles' collection. As a powerful master of industry (real estate) with immense resources, Charles is comfortable in his own (white) skin and takes pride in using his good fortune to do good in the world. His mission includes being a patron of Black art, but his personal blinders impede his ability to see the patronizing aspect of what he does.
When Charlotte expresses her views and holds a mirror up to inform her hosts how their actions look to her, awkward doesn't quite sufficiently describe the atmosphere in the room. Eric reminds Charlotte how much of an opportunity this can be for her, causing her to pause to consider her options. Meanwhile, Alex (Colton Ryan), the couple's activist son, checks in after attending a rally with his Black Lives Matter group, throwing shade on his parents and allying with Charlotte's position. He is a one-man Greek chorus, reciting a litany of talking points and statistics that he believes add to the weight of evidence that his father is part of the problem of what the play calls white dominance.
This goes to the central question that Rankine asks in The White Card: How can society progress if whiteness stays invisible and unexamined? She asserts that whiteness is the default in America, thereby designating people of color to the position of "other." It might be said that the same is true for homosexuals who have to come out, to declare their sexuality, in contrast to heterosexuals who do not. Increasingly, as right wing evangelicals hold sway with our national leaders, a person of any other religion or belief system is considered the "other." However, members of the LGBTQ community and non-Christians, if they are caucasian, are not faced with the same existential challenges as people of color.
Charles and Charlotte are the chief combatants in this war of words, each giving as good as they get, but it is painfully clear that they are not getting through to each other. It is as if they are speaking two different languages as they struggle to be understood. Pittman imbues her complex character with confidence, intelligence, and the ability to maintain her cool, even as she is put in the position of standing up for and defining her race in a way that you know she has had to do way too many times. Gerroll captures his character's well-intentioned magnanimity, his comfort with his station, and his incredulity and frustration at being called on his moral culpability.
Kalember successfully navigates the high wire act that is assigned her character, part charming hostess, part insecure and brittle spouse, and frequently clueless person of privilege. Perhaps because of parental guilt, Virginia is an easy mark for Alex's barbs and much more susceptible to his affronts than is his father. Ryan inhabits the young man's passionate, rebellious personality, conveying an attitude that he must perform penance for the acts of his family. When his attacks escalate, Eric attempts to shut him down. However, Poulos shows that Eric is primarily an intellectual man of taste and out of his element when the family's volatility erupts.
As strong as the performances are, the actors are assisted in their portrayals by the work of costume designer Emilio Sosa. One example of a small detail that caught my eye is that Eric's shoes feature a decorative swath of fabric that matches the pattern of his suit, underlining the artsy side of his character. Charlotte's colorful dress stands out in the stark whiteness of her hosts' living room. Scenic designer Riccardo Hernandez and lighting designer Stephen Strawbridge combine their talents to make the room appear sterile and startlingly bright. Projections are employed with stunning impact as designed by Peter Nigrini, and designer Will Pickens enhances their effectiveness with a mix of sounds, from the thwack-thwack of a tennis ball to the angry voices of demonstrators.
By the end of the play, there is a sense that the characters have been altered by their raw, highly-charged encounters with each other. It doesn't feel like a resolution, but a greater understanding has been achieved, leaving us with the hope that dialogue may continue. In that vein, when invited to remain for Act II, a majority of the audience chooses to participate in facilitated discussions. Breaking into small groups of three or four strangers, we are asked to consider what we connected to in the play, as well as what was difficult and why. In many instances, the answer to both questions was the same. However, perhaps the most important thread was the desire of the people in the room to stay in the room, despite whatever discomfort they may have felt. It's a start.
Photo credit: Gretjen Helene Photography (Jim Poulos, Karen Pittman, Daniel Gerroll, Colton Ryan)