BWW Review: THE CHILDREN at Shakespeare & Company Invites Audiences to Grapple with an Age-old Question, 'What About the Children?'
The play opens with, essentially, that very question. It follows two retired physicists who have taken shelter in a borrowed cottage off The English coast, coping with the aftermath of a nuclear power plant accident. Quite suddenly, an unexpected visitor arrives from their past. The story unfolds with fascinating twists and humor amongst three long-time friends who share a guarded history and a passion for life in the face of glaring reminders of its fragility.
Director James Warwick labels the play a "very serious comedy" and while I won't disagree, there is also a strong element of mystery. The play's title is, in and of itself, mysterious. Does it refer to someone's biological offspring, to the future generations, or perhaps, to the inner child within us all?
I enjoy theatre that makes us think, and THE CHILDREN most certainly does. It makes us consider what the human race perpetrates in the name of advancement. What are we actually entitled to? Who bears responsibility and should be held accountable for our decisions and actions; both as a society, and as individuals? It's some pretty heavy and heady stuff to be sure.
To playwright Lucy Kirkwood's credit, THE CHILDREN, while a bit dry (it is British,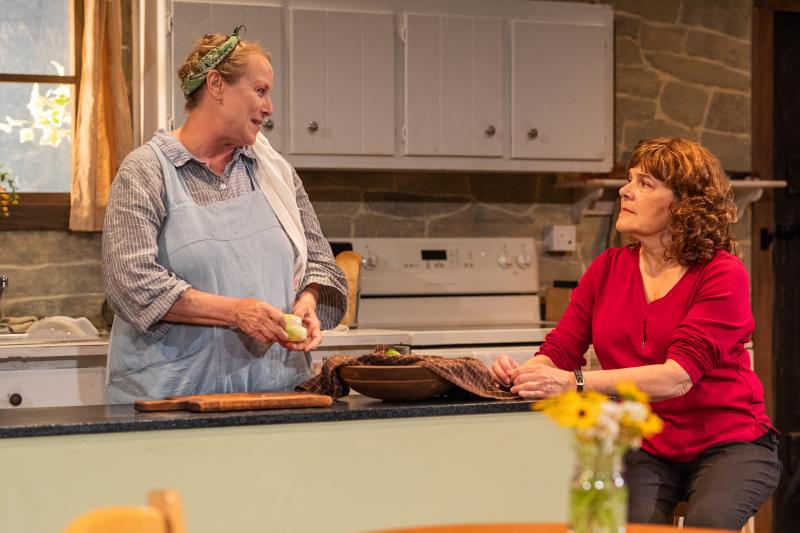 after all), is rather amusing. Warwick has said, "she asks complex questions in her play but does so through an intriguing story line and richly drawn, recognizable relationships. It's an inspiring story about the resolve of the human spirit in the face of great adversity. She's created a subject matter that requires great thought and discussion but, she's also created a dramatic structure where the characters in the play laugh, dance, play games, ride tricycles... while living on the edge of a precipice." Ariel Bock who plays, Rose, feels THE CHILDREN is "like an onion - it has so many layers. It's a story of love and loss and betrayal, told with humor, but it's also about the greater world, about our responsibility to the world we live in. To the people we love, and also to the generations that come afterwards."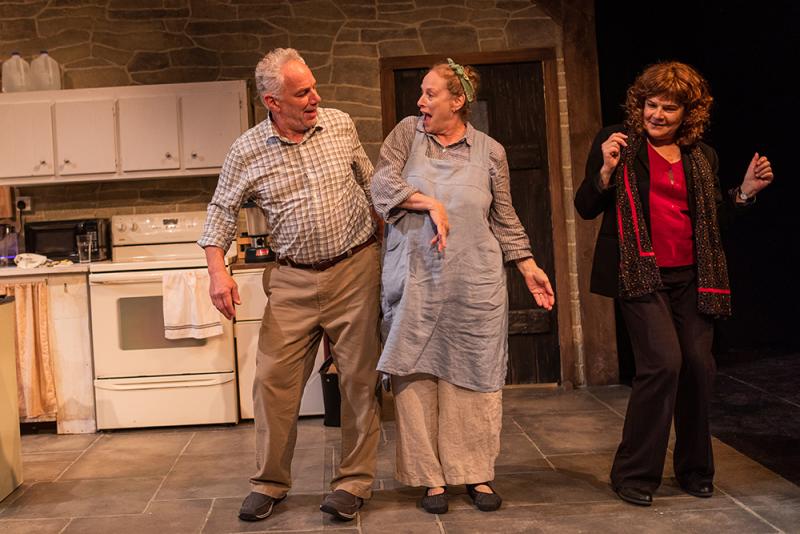 The cast of three is well-balanced and strong. Ariel Bock plays Rose - solid, steadfast, and stoic or so she would have us believe. Jonathan Epstein is Robin, the base of the equilateral triangle, torn between doing that which pleases him personally and the right thing. Diane Pursha plays Hazel, perhaps the most endearing of the three characters. Her performance is noteworthy as a woman constantly wrestling with a desperate desire to achieve inner peace and fulfillment, and the greater good.
The creative team includes Sandy Cleary (Stage Manager), Sarah Woolf (Assistant Stage Manager), Grace Eldred (Wardrobe), Patrick Brennan (Props Master & Set Designer), Deborah A. Brothers (Costume Designer), James W. Bilnoski (ME & Lighting Designer), Amy Altadonna (Sound Designer), and Caleb Harris (Associate Technical Director).
THE CHILDREN continues through August 18th at the Elaine P. Bernstein theatre on the campus of Shakespeare & Company in Lenox, Massachusetts. Tickets and information at: https://www.shakespeare.org/