Review: HIR at Shakespeare & Company pushes boundaries in a powerful examination of why people "DO" like they "DO".
The world premiere of Taylor Mac's HIR took place in San Francisco on February 4, 2014. The term hot mess was added to OxfordDictionaries.com in August of that year with the definition "noun: (US informal) a person or thing that is spectacularly unsuccessful or disordered". These two events may well have been completely and totally unrelated. That said - Shakespeare and Company's production of HIR is a deep, disruptive, dynamic, disturbing, and yet delightful, hot mess!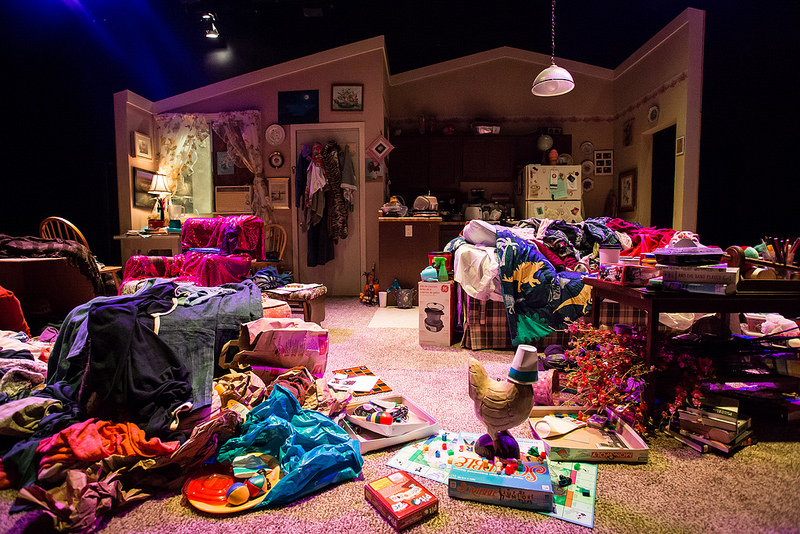 Upon entering the Elayne P. Bernstein theatre we are struck by an unsettling scene. The set appears to have been ransacked by a force the likes of an F-3+ hurricane. The random piles of clothing, dishes, take-out containers and more strewn about the floor and furniture, that includes a sequined prom dress adorned Lay-Z-Boy, prompted many audience members to engage in pre-curtain conversation as to how it reminded them of their own rooms from childhood, college days, or perhaps a crime scene.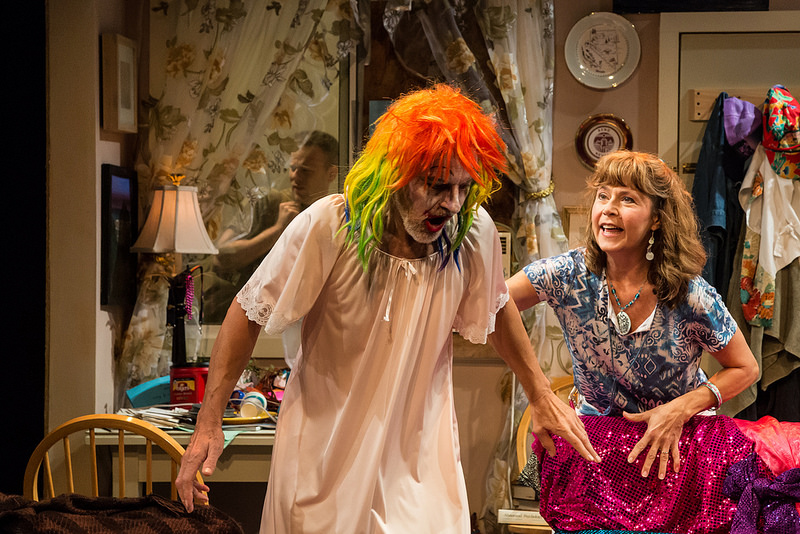 We are surprised to find that we are actually in the primary living space of a mature adult couple, Paige and her rather "colorful" husband, Arnold. Their physical appearance and interaction quickly solidify the notion that this is not the idyllic family unit from television sitcoms of yesteryear.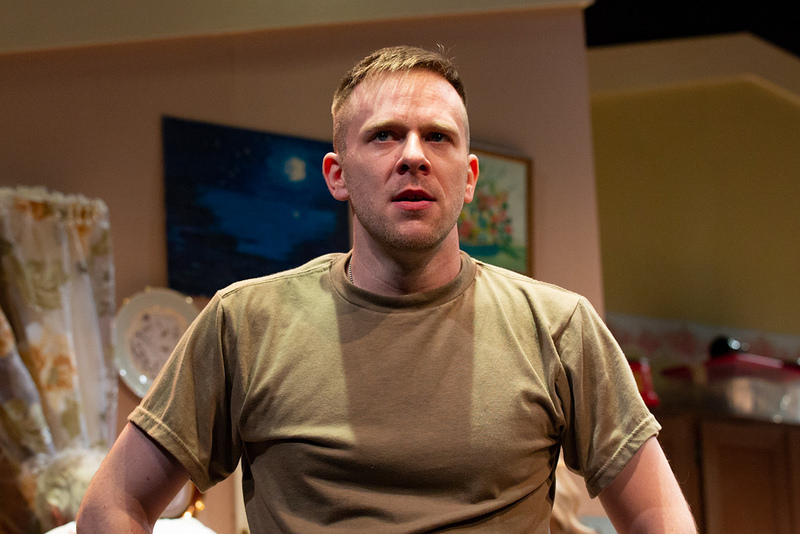 Isaac (he/him/his), their older child, is returning from the war in Afghanistan. "I", the nickname by which he is often referred, discovers a household in revolt and further from that which he left than imaginable. The insurgent, Paige (she/her/hers) - his mom, has been liberated from an oppressive marriage with now ailing husband / father, Arnold. With Isaac's newly out transgender sibling as her ally, Paige is on a crusade to dismantle the previously existing and more standardly normative patriarchy. As the action plays out in this sly, subversive comedy we see that annihilating the past doesn't always free one from it.
There is quite a lot packed into the rapidly moving two hours. Isaac's return is somewhat less than triumphant due to the circumstances surrounding his dishonorable discharge related to drug usage. The homecoming includes an enlightening and amusing crash course in things the family doesn't "do" any longer and the things they now do "do". The lessons (complete with visual learning tools)
include topics such as the evolving LGBTQ community as well as acceptable terminology to be used in reference to Isaacs's younger sister, Maxine. Max (ze/hir) is in the process of changing genders and now prefers to be referred to by gender-neutral pronouns: hence the play's title, a combination of his and her pronounced here.
Max is being home schooled by Paige in progressive ways that incorporate regular "public outings" some of which are exotic and expensive. During one such outing, Isaac is both compelled by his discomfort with the plethora of difference around him, and driven by his addiction, to return things to the state which they were in before he left home. This includes reminding Arnold of the way things "should" / "are supposed to be". This includes the fact that he is "a man", what he likes / dislikes, and even his heteronormative and misogynistic behaviors. Thus, the scene is set for multidimensional conflicts in which the characters ebb and flow through an array of experiences and emotions that is sure to strike responsive notes and chords with the audience. During the process we learn that Arnold's descent during Isaac's absence began when he lost his plumbing job after 33 years - to a Chinese-American woman. "It was fantastic," Paige recalls cheerily. Not so fantastic, however, was the ensuing anger that led him to regularly beat Paige and Max. Their current treatment of Arnold is vengeance being taken for the years he brutalized the family.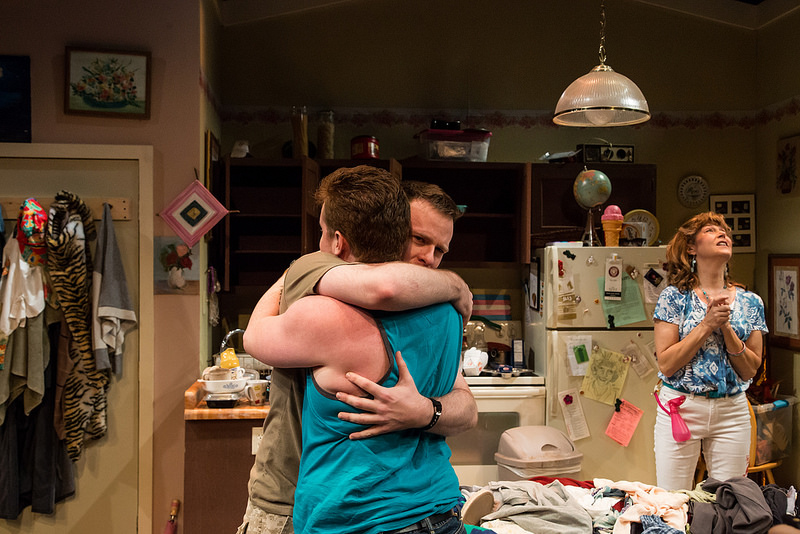 We see that even those who claim to embrace change and diversity are often tied to the need for approval and desire to fit-in. Also, that control is an overwhelmingly powerful force to be reckoned with. While the ending cannot be categorized as a happy one, it does offer hope and some powerful insight.
Each member of the strong and well-balanced cast seamlessly shifts through many facets of human emotion with the dexterity and smoothness of a finely tuned European sports car.
The ensemble includes Elizabeth Aspenlieder (she/her/hers) as Paige, John Hadden (he/him/his) as Arnold, Adam Huff (he/him/his) as Issac, and Jack Doyle (he/him/his) as Max. The production's all-female design team includes Set Designer Carolyn Mraz, Lighting Designer Deb Sullivan, Costume Designer Charlotte Palmer-Lane, Sound Designer Amy Altadonna, and Stage Manager Fran Rubenstein.
Much like the "shakey shakes" Paige forces Arnold to consume, HIR will not be the proverbial "cup of tea" for some theatergoers. That's quite the point. Shakespeare & Company Managing Director, Adam Davis, acknowledges the presentation is meant to "push boundaries". Playwright, Taylor Mac, has said that the catalyst for the play is an examination of "what responsibility we have to something which has been abusive to us". He adds: "We always think of the prodigal son as the metaphor for America. What if the metaphor for America was the transgender kid instead? What does that do to our understanding of the United States?"
HIR is anything but traditional. Mac has termed the play "absurd realism" wherein "the absurdity comes from a heightened but realistic point of view". Those bold, brave, and open enough to sit in the discomfort that may come with looking at things from diverse points of view will be rewarded with a rich, and very real perspective on the world in which we live. Not as it was, not as it is supposed to be, not necessarily as it has been in your individual and unique experience; but as it truly is and has been for some people for some time.
HIR is not so much a play to read about and more so one that should be experienced. This production is made all that more relevant in light of the fact that, as Director Alice Reagan points out, on November 6th, Massachusetts voters will decide whether or not to repeal a 2016 state law that bans discrimination against transgender people in places of public accommodation. The existing legislation allows transgender individuals to access public spaces, like restrooms and locker rooms, based on the gender with which they identify instead of their assigned sex.
HIR runs through October 7th at Shakespeare & Company's Elayne P. Bernstein Theatre. Berkshire area theatre goers who appreciate quality work that is exhilarating, stimulating and a bit outside the box, are encouraged to see it but please note that HIR is recommended for those 13 and older.