B Is for Broadway: Onstage and Backstage from A to Z


by John Robert Allman

From "Auditions" to "Ziegfeld" ... rhythmic alphabet book featuring favorite performers, creators, songs, and shows from the Broadway stage ... Lin-Manuel Miranda, Patti LuPone, Irving Berlin, Jennifer Holliday, and Billy Porter ... famous New York theaters, beloved shows, and the crew, stylists, and technicians who are vital to each performance.

Available On:





Publisher: Doubleday Books for Young Readers
Released: 2022
PURCHASE / MORE INFORMATION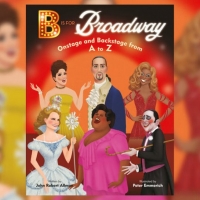 B IS FOR BROADWAY Children's Book to be Released in Support of The Actors Fund
Random House Children's Books and The Actors Fund announced that they have partnered to release B IS FOR BROADWAY: Onstage and Backstage from A to Z. The book is the follow-up to the hit debut picture book A Is for Audra, which has had Broadway fans young and old clamoring to add it to their collections.