BWW Review: The Alabama Symphony Orchestra Delivers Musical Mastery in CARMINA BURANA & THE RITE OF SPRING
The thunderous shake felt over the weekend was not weather related. It was due to two legendary works of music performed by the Alabama Symphony Orchestra at UAB's Alys Stephens Center. If you hold a misconception of classical music not being palatable, I encourage you to visit the next offering of Alabama Symphony Orchestra, and have your mind blown. This energized concert shook the pillars of Olympus with a powerhouse performance of two very popular and dynamic pieces of music; Carmina Burana by Carl Orff and The Rite of Spring by Igor Stravinsky.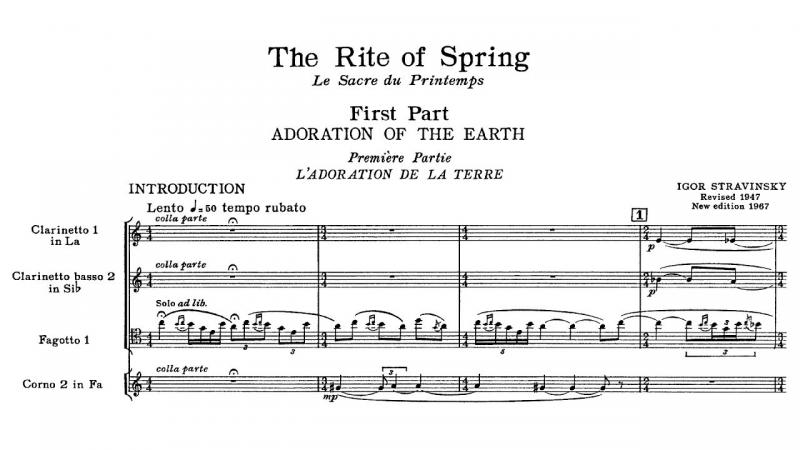 The Rite of Spring is a timeless example of how music can enhance feelings of artistic power, vision and evolution. Stravinsky wrote this at the beginning of world war one. His composing captures the turmoil of that time, and gives it a structure for the music interact in various methods. The challenges presented to your perception range from dramatic sharp cuts, to warm superimposition of romance. The Rite of Spring at its heart is full of the chaos of a war era. Stravinsky created in this piece a signature movement composed of a playful, dramatic, and romantic spirit. It's timeless with an otherworldly charm that strongly invokes much emotion. Many people know The Rite of Spring from its use in dinosaur sequence in the film "Fantasia." (Spoiler alert, all the dinosaurs die)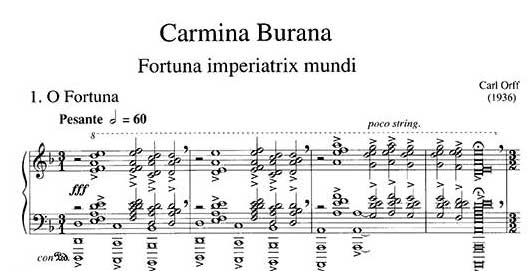 Carmina Burana by Carl Orff is a selection that literally everyone on Earth has heard. It has been used in numerous commercials, films, TV shows and cartoons (Thank you Warner Brothers.) What makes it so popular is it's famous opening O, Fortuna. Your soul gets kick started with it's thunderous timpani, imposing choirs, and a crescendo that hits you like a tsunami. This is another large ensemble piece with many moving parts their in. The whole is made of three separate pieces. Each section holds a variance of tone, style and mojo behind it. Orff folded movements of ancient themes into layers of a modern composition. Its abstract nature gives it a timeless thunder.
The concert was an absolute joy of the sences. Opening with The Rite of Spring, the orchestra captured the expressive spirit of the piece and ran with it. Conductor Carlos Izcaray's energetic intensity was magnified by the talented musicians of the orchestra. Carmina Burana followed with flights of dynamic notes and voices. Soloists for the evening included soprano Juliet Petrus, countersoprano Ryan Belongie and baritone Malcom Mackenzie. The concert hall was filled to the rafters with the voices of a massive choir composed of five separate choirs joined together. The power behind such a collection of voices was breathtaking.
Before the performance I was fortunate to get some personal insights from three of the artists. Conductor / Music Director of the Alabama Symphony Orchestra Carlos Izcaray, soprano Juliet Petrus, and bassoonist Tariq Masri.
Conductor & Music Director Carlos Izcaray . alabamasymphony.org/carlos-izcaray
What led you to select these two pieces for the performance?
"These are two of the most titanic, gigantic pieces that every conductor and orchestra would ever want to perform. They are part of the staple of the repertoire. We just love those. On top of that the sheer power of both pieces are the best examples of what an orchestra can do. It's a beautiful way to showcase the orchestra. Later with Carmina Burana, it brings the full force of the choruses. It's a great opportunity for us."
"Both works have some similarities. They are both very forward thinking, ground-breaking pieces­­­ that take their inspiration from the past. That's one thing that I think ties the two pieces together. "The Rite of Spring" being an original ballet inspired by the pagan rights in Russia before Christianity. In contrast the original text of Carmina Burana was found at the monastery. You have two profane and daring themes. There is something about the two themes. I find a correlation between them. Looking at the pieces. Inside the music itself you'll find it is a very modern, challenging score. It is very forward-looking."
DP- You mentioned the text was discovered in a Monastery?
CI - "Yes. Carmina Burana takes its text from a set of poems that are a part of medieval collection found somewhere in a monastery. The text was in Latin, old German and French. Orff translated it and picked the pieces that worked together from a musical perspective. He then set them to music. The text or are believed to be from the 11th or 12th century. That is very interesting to me."
DP - What is it like for you to conduct at the center of so many great musicians?
CI - "Being entrusted to be the center of an orchestra is a great responsibility that also comes with great delight. I've never driven a Ferrari, I'm pretty sure it would be close to something like that. (Laughs) It's a magical feeling being in the center. It is a live performance too. So there's a risk element. Anything can happen. Anything could go wrong. You rehearse, and you try your best so it will go smoothly. Once you enter on stage. That is when the real magic kicks in. That is when all the parts come together. The sheer energy, impact and expression that is possible from the stage. I don't think you can even calculate that. From my perspective, I grew up as a son of a musician and a conductor." "So I have had an orchestral soundtrack throughout my life. (Laughs) Playing works especially like these are a staple of the repertoire. When tackling these scores, they are so well-known it feels like coming home as well. For me personally, I grew up listening to them. I was a boy in the chorus performing Carmina I was a cellist in orchestra and I've played all these works there's a great personal affinity with pieces like this pieces like these."
Bassoonist Tariq Masri - alabamasymphony.org/musicians/tariqmasri
DP- Even after all these years, what are some things you still enjoy about these pieces?
TM- Carmina Burana has a very famous bassoon solo. Which in the text is being sung by the soloist about a swan roasting on the spit. It's a swan dying singing about how he loved to swim in the water and now it's singing about being roasted inside of a tavern. So I've tried to infuse some humorous elements into that section that mirrors the text. It's sort of strange and dark and ridiculous. (Laughs) People only know the beginning of that piece which is the exact same part of the ending the two bookends of Oh Fortuna . Its funny. The very first time I saw the music I saw his (Orff's) notations and it's very different than traditional rhythmic notation."
DP - The notation is different? How so?
TM - "Specifically for the meters. Initially I thought, why wouldn't he write in traditional meter. But the more I've come back to the piece over the years; I wish that other people wrote like this. It is very logical with a rigorous meter system that I think actually works quite well. There are a lot of juicy things in the middle."
DP - Tell me more about those "juicy bits!"
TM - (Laughs) "There are some incredibly loud brass movements in Carmina Burana where I don't play. I actually have to put in earplugs because it is an incredibly loud piece. Lots of brass, entrances, various things like that. Maybe juicy is the wrong word. Carmina just has a very Hypnotic nature. It has a very primitive nature. It's not that The Rite of Spring doesn't have that exotic sort of rhythms."
"The Rite of Spring and Carmina Burana are pieces I can't imagine I'll ever get tired of playing (Laughs). There is something more elegant about The Rite of Spring. Carmina Burana is equally primal. But there's something very elegant about the way the chaos is structured in The Rite of Spring. It's interesting to put those two pieces on the same program because they both have a primal nature to them."
Soprano - Juliet Petrus - julietpetrus.com
DP - Can you share how it feels to sing such powerful pieces of music?
JP - "Carmina Burana is a piece that I perform frequently. In addition, it's such an iconic piece of music that is part of the collective conscious of many people, whether from action or horror films. Because of that, one might think that it could be easy for it to become immune to its effect. For me, I've decided that it's a sort of musical litmus test: the day I hear that famous downbeat and I don't get chills all over my body, I know it will be time to quit. But, so far, it has yet to let me down. And, of course the audience loves it. Because so much of a performance is an interplay of energy between the performer and audience, it always helps to be singing a piece that electrifies the room."
DP - After all these years performing. Is there a special connection or memory you have to these pieces?
JP - "I'm not performing in The Rite of Spring, but I've always been drawn to it as a piece of music, ever since I studied it in my freshman year musicology class at the University of Michigan. I hadn't realized that, as I child, I had already been exposed to it through another movie, Disney's Fantasia. But, of course, when I heard it again, I could immediately imagine the earth shaking and bubbling, the dinosaurs fighting. That's the powerful connection between sound and image. I love the often bombastic nature of the composition."
"I'm thrilled that the Stravinsky and the Orff have been programmed together. I get to listen to the first half in my dressing room and absorb all that amazing energy from the Stravinsky, which I then get to give right back to the audience in the Orff. I can't think of a more exiting evening of classical music."
The Alabama Symphony Orchestra provided a wonderful night of expressive and memorable performances. The combination of Carmina Burana and The Rite of Spring made me feel as if I was in a Ferrari as well. Bravo to you all.
Carlos Izcaray - Conductor
Soprano - Juliet Petrus
Countertenor - Ryan Belongie
Baratone - Malcom MacKenzie
Alabama Symphony Orchestra Chorus - Directed by Phillip L. Copeland
University of Montevallo Concert Choir - Directed by Melinda Doyle
Samford University A Capella Choir - Directed by Phillip Copeland
University of Alabama at Birmingham Concert Choir - Dr. Brian Kittredge
Birmingham Boys Choir - Directed by Ken Berg
The Alabama Symphony Orchestra
Carmina Burana & Rite of Spring
January 18 - 19
UAB Alys Stephens Center
1200 10th Ave S, Birmingham, AL 35294
Tickets and info at alabamasymphony.org
Related Articles View More Birmingham

Stories

Shows