BWW Review: Order Another Round for the SAVANNAH SIPPING SOCIETY at Covered Bridge Players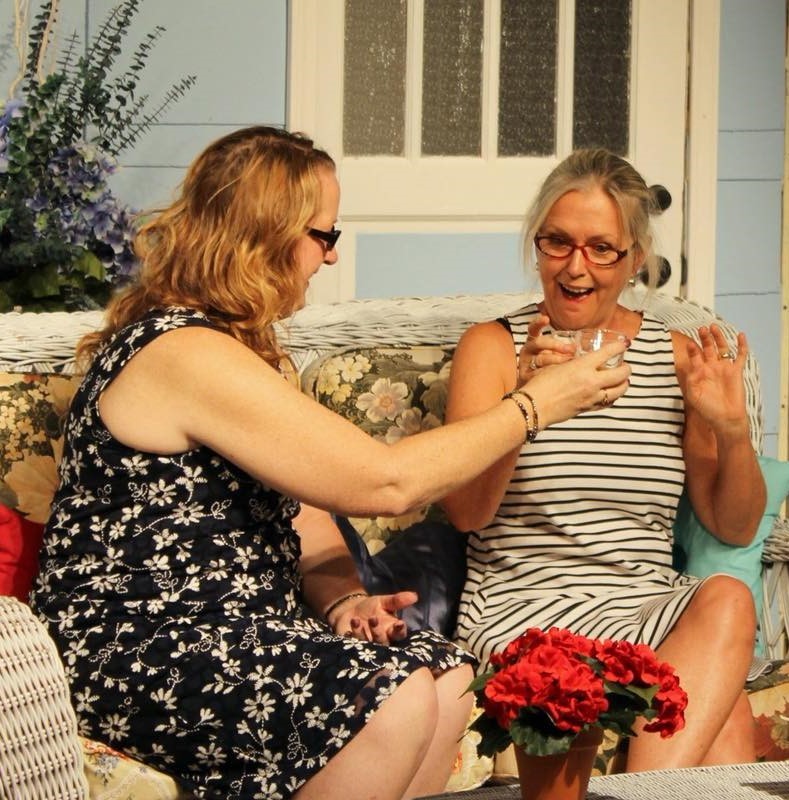 Covered Bridge Players recently delivered an entirely sold-out run of performances for the lively southern comedy "Savannah Sipping Society" by Jessie Jones, Nicholas Hope and Jamie Wooten. This story is a southern recipe rich with a comedy structure found in "The Golden Girls", "Sex in the City" and "Steel Magnolias." This play highlights a budding friendship between four completely different middle-aged women in Savannah, GA. They share experiences, laughs, tears and frequent sips of the finest Kentucky whiskey. A chance meeting outside of a Yoga Studio is the catalyst to a wonderful connection of four wonderfully endearing characters. The story is non-apologetically structured like a sassy sitcom.
Randa (Althea Taylor) is a prim workaholic and tightly wound up perfectionist. She finds herself in an emotional crisis, and is trying her best to cope. Her job is her life, and that's the problem. Marlafaye (Sheree Logan) is a brash and boisterous Texas tornado. This 'tell it like it is" liquor sales rep is surfing the newly rocky waves of a single life caused by the skirt chasing ways of her cheating husband. Her huge zest for life is only equal to getting revenge on her husband. Jinx (Donna Blackwell) is a new in town, "go where the wind blows" kinda of woman. Her spunky attitude and life coaching advice is masking her own deep rooted anguish. She's finding that her advice to the three friends is also helping her cope and open up as well. Dot (Sharon Breaseale) is a newly widowed retiree who is carrying a heavy heart in mourning her husband. She is also busting at the seams to try new things and live a life with new experiences and joys. The cast brought a strong character work, projection and comedic timing.
Director Roger Davis hits the nail on the head with all of the comical nuances needed to make this a fun and quite touching play. The attention to detail in the scene work, blocking makes way for seamless beats of laughter and tears. The second act did feel denser with overlapping layers of conflict resolution. The stage crew (who sadly went un-credited in the program) was a shining star in the production. Those ladies hustled to make big scene changes work smoothly in such a condensed set.
This lively production of "Savannah Sipping Society" showed it's never too late to make old friends or to try something new.
Covered Bridge Players
"Savannah Sipping Society" by Jessie Jones, Nicholas Hope and Jamie Wooten.
Directed by Roger Davis
Staring Althea Taylor, Sheree Logan, Donna Blackwell, Sharon Breaseale and Barbara Andersen.
SOLD OUT run - August 17th - August 26th
www.coveredbridgeplayers.com or 205-274-SHOW (7469)?
The Covered Bridge Players
413 6th Street South
Oneonta, AL 35121
Related Articles View More Birmingham

Stories

Shows