Click Here to Visit the College Center
BWW Blog: The Unifying Power of the #Hamilfilm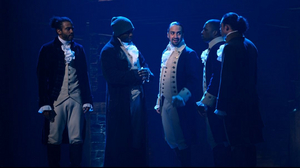 Like nearly everybody else in the theatre community, I woke up on the morning of July 3rd with an air of excitement. It's Hamilton Day, I thought to myself. The pro-shot musical was available to stream on Disney Plus, and I couldn't be more ready. But I had to be patient, as my parents had also expressed interest in wanting to watch Hamilton with me. Although waiting until that evening was agonizing, I was thrilled to watch it with my family. When it comes to the TV, my parents and I don't agree on much. We all have wildly different tastes, and rarely take the time to sit down and all watch something together. Hamilton provided us with the rare opportunity to enjoy something as a family. And it turns out that my parents were not the only people I could share the #Hamilfilm viewing experience with.
For example, in a group chat with some friends from college, everyone was watching Hamilton the night it premiered. As I sat in my living room with my parents, watching Lin-Manuel Miranda spitting verses about the national debt plan in the Richard Rogers Theater, my friends who I miss dearly were doing the same thing. Though there is distance between us, we were all having a live discussion about the same musical. One of my friends was watching the movie blind, having never even listened to the soundtrack. The other two were familiar with the musical and beyond excited to finally see it happen onstage. We were all at slightly different moments in the musical, which made delayed reactions even more entertaining.
Several other close friends reached out to me when they started watching the Hamilton movie too, knowing that I am the resident theatre nerd. Every person started the Hamilton live discussion the same way - talking about Jonathan Groff's spit. Yes, the unfortunate close-up during You'll Be Back where Jonathan Groff unleashes massive spit droplets that the front row probably felt. It was an unfortunate trend on Twitter following the film's release, and it didn't go unnoticed by my friends either. "Ok... does Jonathan Groff know how to control the spit coming out of his mouth." Another texted me the following day and said, "The people who filmed Hamilton did Jonathan Groff so dirty." I laughed, knowing that that meant they started watching the movie. The friend who was experiencing Hamilton for the very first time went through fits of confusion - "Have I missed a lot?," and "I need to watch this again," and "How long is this my god... I need to sleep." Perhaps the funniest moment of the night was when, during the finale song, he asked, "And James Madison is in this now?"... even though he had been there for the entire second act. He had moments of really loving it too though - jumping out of his seat for George Washington's epic entrance, whose entire presence in the show caught him by surprise.
"I was hyped when George Washington came on...They were like 'the pride of Mount Vernon' and I was like THIS ISN'T HAPPENING," he texted me excitedly while watching "Right Hand Man."
Others who were more familiar with the show reveled in seeing the musical they had heard a hundred times unfold on their screens. I was texting and Facetiming with friends from near and far about the most memorable moments, such as Lafayette's insane "Guns and Ships" rap, the inevitable tears during "It's Quiet Uptown," and the absolute awe over the absolute talent of the cast and creatives in the musical.
I had a Hamilton phase during its peak popularity circa 2016, when I was a junior in high school. I knew every word, watched every video and performance, knew the behind-the-scenes details, every cast member's name and story, and so on. Although I have moved past that phase in my life, it felt comforting to return to it for a moment. Even more so, it felt fulfilling to experience it with friends, albeit from a distance. My parents both loved it - they were invested from beginning to end, had questions (and listened intently to my answers), and are still talking about it. I felt more connected to the people I love in my life for the first time in a long time. Regardless of how today's audiences feel about Hamilton, there's no denying that the Hamilfilm was a unique opportunity to accessibly watch theatre with those you care about during these difficult, wild times.