Tina Wargo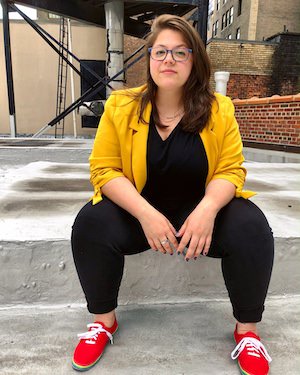 Tina is a queer writer living in Brooklyn, who uses Google mostly to image search 45-year-old women in suits, and Twitter mostly to report on her findings. She has a deep obsession with narrative, a framed CAROL poster, and a degree in film, which she uses mainly to explain the existence of both. Follow her: @tinawargz.
MOST POPULAR ARTICLES
LAST 365 DAYS
BWW Review: MATTEO LANE: STREISAND AT THE BONSOIR WITH HENRY KOPERSKI at Joe's Pub

September 20, 2019

When I learned that Matteo Lane- comedian, singer, podcaster, and sometimes actor-against-his-own-will- would be at Joe's Pub with his cabaret act, there was no question whether or not I'd be there. Admittedly, I am a big fan of Lane. His charmingly confusing mix of approachability and smarter-than-you wit, his extremely specific and near-constant pop culture references, his loud, proud gayness, and his clear, seemingly boundless talent were enough, upon first listen to his podcast Inside The Closet, to lure me in and keep me excited for each weekly installation. So a live show, which not only promised music, comedy, and Barbra Streisand devotion, but whose description on the Public's website featured the words 'wacky,' 'unique,' and 'eccentric!?' It was like the show was being mounted just for me! And as a former gay kid who grew up inexplicably (or so I thought) obsessing over middle-aged actresses' talk show appearances, movie musicals, and the whisper of Celine Dion doing basically anything, I came to understand that there aren't many things in the world that truly feel like that. More specifically, there aren't many things that feel like that and deliver that. But take it from a now-27-year old gay woman, who attended Lane's show in a Rosie O'Donnell denim jacket: it was not only exactly what I wanted it to be; it was exactly what I needed it to be.
---
BWW Review: Krysta Rodriguez at Feinstein's/54 Below

September 12, 2019

The following is a list of notes I actually wrote down in the small breaks amidst moments of uninterrupted heart eye emojis beaming from my seat at Feinstein's/54 Below to the stage, where Krysta Rodriguez was taking on the second night of her first solo show.
---
BWW Review: Alice Ripley with RIPLEYTHEBAND at Feinstein's/54 Below

August 30, 2019

Before sitting down and experiencing Alice Ripley's RIPLEYTHEBAND set at Feinstein's/54 Below, I'd have confidently told you that I already got it. I understood her influence as a Broadway juggernaut, I was totally down for her killer, just-salty-and-just-sweet enough personality, and was obviously in awe of her vibratoed belt that could make a tree transition into Fall just a li'l bit too early. But after seeing her show- a relatively short, wholly intimate, and undeniably personal hour with just two band-mates and a former co-star to back her- I would be forced (and happy) to admit, loudly and genuinely, that I was wrong. I didn't get it. I only thought I did.
---
BWW Review: Lesli Margherita's RULE Shines Bright Like A Diamond

August 11, 2019

Once upon a time (last night at 7PM), in a kingdom far, far away (The Green Room 42, which, to be fair, seems far, farther away than it actually is), a fair maiden gathered the townsfolk for a night of song and dance, takedowns of Twitter trolls, fantastic wig-ography, laughs galore, moments of poignancy, and ultimately, a 70-minute, oft-repeated but much-needed reminder to celebrate autonomy, own our weirdness, and honor our inner queens.
---