Mati Ficara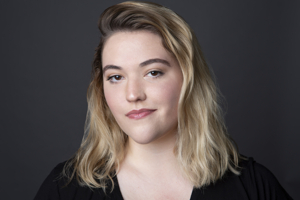 Mati is a theatre and dance photographer originally from Detroit, Michigan. She grew up a dancer, which sparked her love of performance photography. She uses her knowledge and history of performing to capture the passion of others. Pulling inspiration from those mediums, as well as music and other art forms, she also creates portrait work. She has a BA in Photography from Columbia College Chicago, as she recently graduated in the winter of 2019.
MOST POPULAR ARTICLES
LAST 30 DAYS
LAST 365 DAYS
Photo Coverage: Go Inside Broadway Inspirational Voices' 25th Anniversary Gala

March 4, 2020

On Monday night, Michael McElroy and Broadway Inspirational Voices celebrated the 'Silver Anniversary Gala Concert & Live Auction', honoring Disney Theatrical Productions for their commitment to diversity and inclusion.
---
Photo Coverage: The New Group Celebrates Opening Night of BOB & CAROL & TED & ALICE

February 5, 2020

Just last night, The New Group celebrated opening night of Bob & Carol & Ted & Alice, a world premiere production arriving as part of the company's 25th Anniversary Season. Originally slated through March 15, this production is now set to play a limited Off-Broadway engagement through March 22.
---
Photo Coverage: Go Inside the Public Theater's 16th Annual Under The Radar Festival

January 9, 2020

The Public Theater just kicked off the 16th annual UNDER THE RADAR FESTIVAL last night, January 8. This popular and highly-anticipated festival of The Public's winter season will include artists from across the U.S. and around the world, including Australia, Chile, China, Japan, Mexico, Palestine, Taiwan, and the U.K. Curated by UTR Festival Director Mark Russell, this year's UNDER THE RADAR FESTIVAL continues to expand to venues throughout New York City, in addition to The Public Theater's home at Astor Place.
---