Leah Lane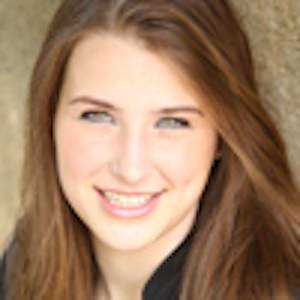 Leah Lane is currently studying Drama at NYU Tisch School of Arts. Leah has been honored to perform as part of the Children's Chorus at The Metropolitan Opera, with Dicapo Opera Theatre at Lincoln Center's Rose Theater, The Tilles Center, and Carnegie Hall among others. Leah originated the role of The Stoner in Carmen High at The 2016 Edinburgh Fringe Festival and has been a frequent performance artist at Robert Wilson's Watermill Center. When she is not performing, Leah is a writer. Her children's book, "This Never Happens in the City" was a successful fundraiser for The CDCH and she wrote the book for the musical "Moey's Fairy Tale Adventure" which played a sold out run at The Dix Hills Performing Arts Center in 2013.
MOST POPULAR ARTICLES
LAST 365 DAYS
BWW Exclusive: Inside the Central Academy of Drama's Broadway and China Symposium

November 27, 2017

The Central Academy of Drama (CAD) attended a Broadway to China Symposium in New York City and Chicago. The goal of the trip was to promote organizational innovation through multilateral exchanges and cooperation with the world's leading drama educational and professional theater institutions. The Central Academy of Drama is known as one of the best drama and stage arts institutions in China, training students for placement in arts organizations across the globe. It is their belief that to train students for international placement, the faculty must be knowledgeable of state of the art practices across the map.
---
BWW Exclusive: As the Pride Parade Passes By...

July 7, 2017

June 25th, 2017 marked New York City's 47th Annual Pride parade. Thousands of New Yorkers took to the streets to celebrate the LGBTQ+ community this year. A sea of rainbow, glitter, feathers, and every combination of the three filled the street. The historic march was filled with members of the LGBTQ+ community and allies alike. Stretching from 36th street and 5th avenue all the way down past the historic Stonewall Inn to Christopher street, people sang, danced, and watched as the parade passed by.
---
BWW Exclusive: Coney Island Gets Fishy for the Mermaid Parade!

June 29, 2017

If you happened to be on the subway this month and smelled something particularly fishy (not the usually kind of subway fishy) you may have been in the same car as a mermaid. Saturday, June 17th, 2017 marked the 35th Annual Mermaid Parade on Coney Island. That's right. One day a year, all the mermaids of Coney Island are magically granted feet and march down Surf Ave and the Boardwalk until they grow their fins back and return to their watery homes… Okay maybe not quite mermaids, but close! Thousands of artists, and mermaid enthusiasts march in the parade every year. Over 3,000 Seashell clad individuals strolled, danced, and rolled down Surf Ave this year. It began pouring rain before the parade and several times during. Luckily, it is the Mermaid Parade, so a little water wasn't a problem for the marchers.
---
BWW Exclusive: My Riotous Night at JULIUS CAESAR

June 21, 2017

I find controversy delicious. As an avid theatre goer, there are very few times when I enter a theater with no preconceptions about what I'm about to see. Whether it's just the gossip I've heard around or the ads that I skip after 5 seconds on YouTube, I usually have some prior knowledge about the subject matter. This was especially true when I went into the Delacorte Theater to see the Public's production of Julius Caesar. I learned of Oscar Eustis' choice to make the play explicitly politically relevant when I heard about Delta and Bank of America pulling their sponsorships. As someone who sees herself as a socially active artist, I got excited.
---
BWW Exclusive: A Visit to New York Public Library for the Performing Arts' CURTAIN UP Exhibit

June 16, 2017

"Curtain Up: Celebrating Forty Years of Theatre in New York and London" opened at The New York Public Library for the Performing Arts, Dorothy and Lewis B. Cullman Center October 31st. The idea for the exhibit was conceived when the Society of London Theatre wanted to create a display in conjunction with London's Victoria and Albert Museum to honor forty years of the Olivier Awards. Doug Reside, who is the curator for the Theatre Division at the library, explained that eventually "those conversations [between SOLT and V&A] started to morph about including us and including the Tony's." From there Reside worked with Anna Landreth Strong, V&A Curator of Modern and Contemporary Theatre and Performance, to create an exhibit that worked on both sides of the Atlantic. To qualify for the exhibit a show must have been nominated for both a Tony Award and an Olivier Award, won one of those nominations, and had a production within the last 40 years. 
---
Photo Coverage: Meet the Drama League Directors Project Fellows

May 18, 2017

Monday night, a kickoff dinner was held honoring the 2017 Directors Project fellows. The dinner took place at the home of Broadway producers and BroadwayHD co-founders Stewart F. Lane and Bonnie Comley. The guest of honor of the evening was Moritz von Stuelpnagel (director of Present Laughter, Hand To God), who is a Directors Project alumnus himself.
---
This Mother's Day, Give Her Broadway in Bed

May 11, 2017

This Mother's Day, let Mom watch a Broadway show in her pajamas. BroadwayHD.com , is the on-line streaming service bringing Broadway and world class theater productions to your tvs and mobile devices for less than the cost of a pair of tickets. BroadwayHD is bringing down the barriers to this elite art form: barriers of geography, economics and physical limitations. The company's motto, 'If you can't get to Broadway, get to BroadwayHD'  describes the mission behind the creation of this entertainment platform. So if you can't get Mom to Times Square, let her watch a Broadway show from her home!
---