Erin McIntyre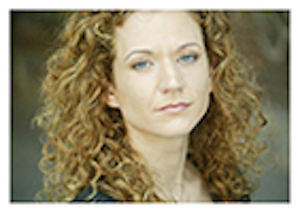 Erin McIntyre is delighted to be writing about Vermont's rich performing arts scene. She spent a number of years in New York City singing, acting, writing, and most recently, hosting Sirius XM Radio's The Broadway Buzz. Erin is a graduate of The American Musical & Dramatic Academy and The New School University, with a BFA in Musical Theatre Performance.
MOST POPULAR ARTICLES
LAST 365 DAYS
BWW Review: Lost Nation's HAIRSPRAY is a Non-Stop Delight

April 28, 2016

Lost Nation Theater opened a high-energy production of the musical HAIRSPRAY last week at Montpelier's City Hall Arts Center. With music by Marc Shaiman, lyrics by Scott Wittman and Marc Shaiman, and book by Mark O'Donnell and Thomas Meehan, HAIRSPRAY opened on Broadway in 2002 and went on to win eight Tony Awards.
---
BWW Interviews: Lost Nation's Kate Kenney, Eric Love, & Christopher Scheer

November 10, 2014

Kate Kenney, Eric Love, and Christopher Scheer have become well-known to Central Vermont audiences over the past few years through their work with Lost Nation Theater. Kenney, Love, and Scheer sat down with Broadway World to talk about their backgrounds, their recent run in Lost Nation's fall repertory productions of THE 39 STEPS and THE COMEDY OF ERRORS, and the important role Lost Nation has played in the development of their careers.
---
BWW Reviews: British Music Hall Humor Comes Alive with FlynnArts' DROOD

August 1, 2014

FlynnArts Summer Youth Theater opened THE MYSTERY OF EDWIN DROOD on Thursday, July 31 at Burlington's FlynnSpace at the Flynn Center for the Performing Arts.
---
BWW Reviews: FlynnArts Opens a Chilling CARRIE

July 20, 2014

FlynnArts Summer Youth Theater opened CARRIE, THE MUSICAL on Thursday July 18 at Burlington's FlynnSpace at the Flynn Center for the Performing Arts.
---
BWW Previews: Behind the Scenes in Vermont Summer Theater

June 20, 2014

Summer in Vermont provides a multitude of theater opportunities for performers and audience members alike, and Broadway World got a behind-the-scenes look at a few of the state's companies and productions. This is by no means a complete list of all the extraordinary summer theater that happens in Vermont, and should be used as a starting point for further exploration.
---
Summer Stages: Vermont's Summer Season Offers Something for Everyone

June 3, 2014

The performing arts come alive in Vermont during the summer months, and this year's season promises to be an exciting one. Vermont's summer theater venues are as varied as its productions. Both Unadilla Theater (Marshfield, VT) and QuarryWorks (Adamant, VT) offer an intimate theater-going experience in a picturesque setting where pre-show picnicking is encouraged. For live theater in one of Vermont's beautiful historic spaces, try Stowe Theatre Guild (Town Hall Theatre; Stowe, VT) or Lamoille County Players (Hyde Park Opera House; Hyde Park, VT). Lost Nation Theater (Montpelier, VT), Saint Michael's Playhouse (Colchester, VT), and Weston Playhouse (Weston, VT) routinely bring in top-notch professional performers from across the country. Each of these theaters has a full summer/fall season:
---
BWW Reviews: Lost Nation's THE LAST 5 YEARS Marks New Theater Initiatives

May 11, 2014

Lost Nation Theater has long been a leader in bringing the performing arts to new Vermont audiences, and the organization's latest innovations are no exception. Lost Nation announced two new initiatives last week aimed at attracting a broader theater-going audience: LNTix and LNT Afterhours.
---
BWW Reviews: Lost Nation's OUR TOWN Hits the Mark

April 21, 2014

Lost Nation Theater continues its presentation of Thornton Wilder's Pulitzer Prize-winning play, OUR TOWN, through April 27 at Montpelier's City Hall Arts Center. First produced in New York City in 1938, the play enjoyed four subsequent Broadway revivals, making it one of the best-known pieces of classic American theater. Lost Nation's production features a 19-member company under the direction of Kim Allen Bent.
---
MAC Award Winner Rev. Yolanda Appears at Outright VT's Silver Celebration

April 16, 2014

2014 MAC (Manhattan Association of Cabaret Artists) Award winner Rev. Yolanda appeared at Outright Vermont's 25th Anniversary Silver Celebration on April 11th in Williston, Vermont. New York audiences recognize Yolanda from her cabaret show, REV. YOLANDA'S OLD TIME GOSPEL HOUR, while Vermonters may know her from the public access television show she co-hosted with Cherie Tartt from the mid-'90s through 2001, or from her band, Yolanda & the Plastic Family.
---
Vermont Theater Kids Have Many 2014 Summer Camp Options

March 14, 2014

There's still snow on the ground, but warm weather is coming faster than you think! The performing arts thrive during Vermont summers, and so do opportunities for kids to explore the world of theater. Here's a look at some of this summer's Vermont theater camps for kids and teens:
---
BWW Interviews: Christopher Scheer Returns to Lost Nation Theater This Fall

February 16, 2014

Christopher Scheer is a favorite with Central Vermont audiences. Vermont theater-goers have seen him in a number of Lost Nation Theater productions, including THE COMPLETE WORKS OF WILLIAM SHAKESPEARE (ABRIDGED), A MIDSUMMER NIGHT'S DREAM, and THE MYSTERY OF IRMA VEP. When we spoke this past week, Christopher shared some thoughts about his work with Lost Nation and filled me in on some of his upcoming projects.
---
BWW Reviews: JUST A WELDER Offers Witty, Insightful Humor

January 9, 2014

A new one-man show, JUST A WELDER, written and performed by Richard Klovdah opens tonight at the Valley Players Theater in Waitsfield, VT.
---
Wide Selection of Theater Groups Represented in Vermont Award Nominations

December 9, 2013

Broadway veterans Heidi Blickenstaff and Aaron Ramey, and Emmy Award Winner and Tony Nominee Gordon Clapp are among this year's Vermont BroadwayWorld Award nominees. Shows from a large cross-section of professional, semi-professional, and community theater groups are also represented in the 2012-2013 nominations. Let's take a look at some of the Vermont theater companies with BroadwayWorld Award Nominations:
---
Holiday Presentations Include A CHRISTMAS SURVIVAL GUIDE and IT'S A WONDERFUL LIFE

November 22, 2013

Vermont's busy summer/fall theater season has come to a close, and now it's time for some holiday fun! Among this year's holiday-themed productions are Green Mountain Theater Group's A CHRISTMAS SURVIVAL GUIDE and two opportunities to see IT'S A WONDERFUL LIFE: Lost Nation Theater's live radio play presentation, and Lamoille County Players' traditional stage production.
---
BWW Reviews: Lost Nation's THE CRUCIBLE is Frightening and Powerful

October 13, 2013

Arthur Miller's THE CRUCIBLE is now playing at Lost Nation Theater in Montpelier, VT. Based on actual people and events surrounding the Salem witch trials of 1692 and 1693, Miller's play examines social paranoia and judicial power, themes that struck a particularly strong chord in the era of McCarthyism, and continue to be relevant in today's security-obsessed climate. Despite mixed reviews from critics on its first Broadway run in 1953, the play won the Tony Award for Best Play, and earned Beatrice Straight a Best Featured Actress Tony Award for her portrayal of Elizabeth Proctor. Four subsequent Broadway revivals (including a star-studded 2002 production featuring Liam Neeson and Laura Linney) have cemented THE CRUCIBLE as an American classic.
---
BWW Reviews: PIRATES Invades with a Boatload of Fun

October 3, 2013

The Stowe Theater Guild's delightful presentation of the beloved Gilbert & Sullivan classic, THE PIRATES OF PENZANCE, is now playing at the Town Hall Theatre in Stowe, Vermont. The story opens as Frederic (James Blanchard) is released from his apprenticeship to a band of pirates notorious for their kindness to orphans. Having never seen a young woman before, Frederic is enchanted by the daughters of Major-General Stanley (George Walker), particularly Mabel (Taryn Noelle). But Major-General Stanley and the Pirate King (Patrick Clow) don't see eye to eye, and Frederic and Mabel's love isn't smooth sailing. Mayhem and hilarity ensue as Frederic's childhood nurse, Ruth (Sebastian Ryder) reveals one surprising secret after another.
---
BWW Reviews: Puppets Plague the Future in THE PUPPET SHOPPE

September 15, 2013

Tony Award-winning shows like THE LION KING, WAR HORSE, and AVENUE Q have made extensive use of puppets on Broadway, but imaginative puppetry isn't limited to New York stages. The Off Center for the Dramatic Arts and The Saints & Poets Production Company present Chris Caswell's THE PUPPET SHOPPE, a two-person, many-puppet play directed by Jordan Gullikson.
---
BWW Reviews: PARASITE DRAG Seethes with Family Drama

September 12, 2013

The Waterbury Festival Playhouse offers up something dark this season: Mark Roberts' PARASITE DRAG. ('Parasite drag' is an aeronautical term that refers to the resistance caused by parts of an aircraft that don't contribute to lift.) This psychological drama tells the story of a family ripped apart by a terrible secret - a secret that remains unknown to the audience until close to the play's end.
---
BWW Reviews: THIS VERSE BUSINESS Paints a Compelling Portrait of Robert Frost

September 8, 2013

Lost Nation Theater's presentation of ROBERT FROST: THIS VERSE BUSINESS opened on September 7 at City Hall Arts Center in Montpelier, Vermont. Emmy Winner and Tony Nominee Gordon Clapp portrays the iconic American poet in A.M. Dolan's one-man play, under the direction of Gus Kaikkonen.
---