Chris Struck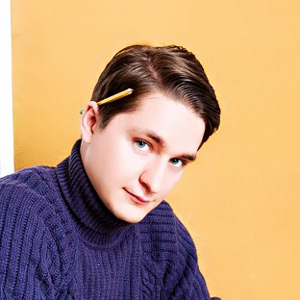 Novelist, Christopher M. Struck (Chris Struck, C. M. Struck) debuted with Kennig & Gold, published by BHC Press in June 2019. Today, he can be found reviewing and interviewing for Broadway World after two and a half years with Cabaret Scenes.
Prior to moving to New York City, Chris received 6 degrees, traveled to 19 countries, taught at 3 universities, and studied 2 foreign languages.
BWW Review: KIM DAVID SMITH at Club Cumming

October 10, 2019

Taking a page from Alan Cumming's book, Kim David Smith turned up for his cabaret in a black suit and top hat recalling Cumming's famous portrayal of the Emcee from Cabaret and the allusions didn't end there as the saucy Aussie brought his A game to Club Cumming.
---
BWW Review: MONKEY TROUBLE: UNLEASHED! at The Duplex

October 9, 2019

Joel B. New has crafted something of seemingly accidental genius. The combination of Monkey Trouble and Unleashed! in the form of Monkey Trouble: Unleashed! equals humor, action, and a lot more romance than you would have expected. Ultimately, fate makes a man who thinks he's a monkey choose: to fight or to love.
---
BWW Review: Rebecca Ruttle at Laurie Beechman Theatre

October 3, 2019

While she also included the necessary ode to Disney and plenty of the requisite Broadway numbers, Ruttle strutted onto stage with the inspired confidence of any 80's power band with Pat Benetar's 'Hit Me with Your Best Shot.'
---
BWW Review: Renee Marino At The Green Room 42

October 3, 2019

To fans of Renée Marino, it must come as no surprise that this Jersey, Italian girl would perform a fantastic set while filling the room with her out-sized personality. Her story to becoming film and stage actress became the thrilling subject of yet another spectacular performance.
---
BWW Review: Alexa Ray Joel at Cafe Carlyle

October 3, 2019

Alexa Ray Joel pushed herself vocally, demonstrated incredible range, and shared well-crafted original songs before the crowd ultimately begged her back for an encore. When she and pianist, Carmine Giglio, were called back up by an adoring audience, she paid Billy and New York the ultimate tribute with a stirring, 'New York State of Mind.' Bravo!
---
BWW Interview: Alexa Ray Joel at Cafe Carlyle

September 29, 2019

Alexa Ray Joel brings a blend of classics and new originals to her latest stint at Cafe Carlyle. She combines tributes to Ray Charles, Nina Simone, and Billy Joel, alongside her latest new songs.
---