Chris Struck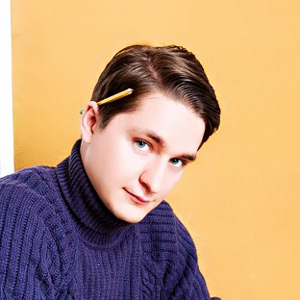 Novelist, Christopher M. Struck's (aka Chris Struck, C. M. Struck) next novel, 8, releases early 2021. He debuted with Kennig & Gold, published by BHC Press in June 2019. Today, he can be found reviewing and interviewing for Broadway World after two and a half years with Cabaret Scenes.
Prior to moving to New York City, Chris received 6 degrees, traveled to 19 countries, taught at 3 universities, and studied 2 foreign languages.
MOST POPULAR ARTICLES
LAST 30 DAYS
LAST 365 DAYS
BWW Review: CONSTANTINE MAROULIS Plays the Last 'Broadway at Birdland' Before Broadway Goes Dark (Temporarily)

March 15, 2020

Maroulis, show went on and his CD, Until I'm Wanted, is due to come out shortly. Here's to looking forward to April and a successful release.
---
BWW Review: The Fabulous LINDA EDER Returns to Feinstein's/54 Below

March 10, 2020

Eder's ability to blend a tight belt with an operatic trill as easily as she breathes makes for one heck of a thrill. I could highlight any two or three songs, and they would have been a pair of the cleanest, most tightly rehearsed pieces one could see. Eder's songs aren't the only thing that's great. Her shows are great.
---
BWW Interview: Helen Park Shares the Journey of KPOP and its Broadway Destiny

March 2, 2020

After seeing her show at 54 Below, Chris Struck set up an interview with Helen Park to discuss KPOP, a high energy musical destined for Broadway!
---
BWW Review: JARED GRIMES at Birdland Jazz Club

February 29, 2020

What started out as a 17 minute tap session full of some pretty slick moves became a nearly two hour romp backed by one of the world's classiest jam bands highlighted by Jonathan Michel, probably the world's best double bassist and talented pianist, accompanist Mark Meadows who defined sleek with the keys.
---
BWW Review: Ryan Raftery's IVANKA 2020 at Joe's Pub!

February 27, 2020

Everything that I could say about the plot, which was good and thoughtful, wouldn't be enough to capture the essence of what Raftery's show was. He certainly did troll Ivanka even thought that wasn't the whole show. The show was less about trashing Ivanka and more about [Ivanka the heroine] The heroine she could have been and the heroine that she still could be.
---
BWW Review: A Stellar Cast Belts Their Hearts Out for I AM WOMAN at Feinstein's/54 Below

February 27, 2020

Emerson Steele and Kelly Lamor Wilson put together a dynamite show to celebrate female empowerment. Whether it was Charlotte Maltby's slightly quirky, 'Grace Kelly' or Laura Bell Bundy's differently quirky, 'Digital Disease' or Annie Golden's emphatic, warrior anthem, 'White Picket Fence,' each song and performance showcased unique talent.
---
BWW Interview: Karine Hannah Talks Sharing GUILTY PLEASURES at The Green Room 42

February 23, 2020

Chris Struck caught up with Karine Hannah to talk about her next show on Thursday, March 26th at 7pm at The Green Room 42. She launched an EP with Universal Music in 2018 and has been on stages all around NYC.
---
BWW Interview: Michelle J Rodriguez Opens Up About MICHA MUSICA: IN TRANSIT at Joe's Pub

February 18, 2020

Chris Struck and Michelle J. Rodriguez discuss Micha Musica: In Transit, and what it means to her to share her upbringing, latinx experience, and to bring her buenavibra spirit to the five boroughs.
---
BWW Review: Catherine Russell is Sublime at Birdland Jazz Club

February 18, 2020

Catherine Russell blends her high-energy personality with jazz well, creating an invigorating atmosphere primed for an intimate moment. Her ballads are passionate, and her tributes to jazz greats brought the aura of their heyday to life.
---
BWW Review: Craig Horsley Debuts LOVE AND OTHER FEELINGS REVEALED at The Hidden Cabaret

February 16, 2020

Craig Horsley is an interesting character. A popular one too. So when he cooked up this new show exploring love and revealing all of the emotions that come with it, it seems like the whole town came out to see him sing.
---
BWW Review: SEAN HARKNESS AND THE UNUSUAL SUSPECTS at Birdland Theater

February 12, 2020

If you were looking for chill that about tops the list of good chill. The other night in the Birdland Theater Harkness turned a series of (mainly) 70s songs that hearken back to the golden age of Classic Rock into his own personal showcase on 'how to play a guitar.'
---
BWW Interview: Ryan Raftery Talks Launching IVANKA 2020 at Joe's Pub

February 11, 2020

Chris Struck caught up with Ryan Raftery, writer and star, of the one-man musical comedy IVANKA 2020, coming to Joe's Pub later this February for eight shows starting on February 23rd and running until March 13th. Check out what Ryan Raftery has to say about his latest musical comedy!
---
BWW Review: SETH RUDETSKY & PATINA MILLER Rock The Town Hall

February 7, 2020

Seth Rudetsky and Patina Miller share some backstage stories as well as some of her backstory on the way to becoming an incredible stage and screen actress. In between, she sang a few songs at a nearly peerless level.
---
BWW Review: MAX VON ESSEN and LAURA MICHELLE KELLY Perform With THE NEW YORK POPS at Carnegie Hall

January 29, 2020

The New York Pops' performance at Carnegie Hall was just an overwhelmingly beautiful way to experience the music of theater (and I imagine if they did a John Williams score too it would feel similar.) Having seen most of these tunes played with just a piano and sometimes with a few more instruments, this full orchestra with guest choir of at least 60 was like peering into the original imagination of Rodgers and Hammerstein...
---
BWW Review: BILLY RECCE IS 'BACK IN THE BASEMENT' for the New Writers series at Feinstein's/54 Below

January 29, 2020

Billy Recce is doing well for himself and as a performer. With a musical still running and another show at 54 Below, he's making being a new writer in New York look easy...
---
BWW Review: Barbara Bleier and Austin Pendleton Continue To Light Up the Stage, with BITS AND PIECES at Pangea

January 14, 2020

Barbara Bleier and Austin Pendleton perform as if a pair of life long friends. Acting well and singing with gusto, the duo lit up the stage at Pangea!
---
BWW Review: KURT ELLING at Birdland Jazz Club

January 14, 2020

Kurt Elling remains as much a luminary of the art form. Kurt feels as much a throwback as he does new age. Joined by some familiar faces, Elling gave the audience a bluesy tune to a'escape the dread of modern day living.'
---
BWW Interview: Billy Recce of A MUSICAL ABOUT STAR WARS Opens Up About the Cast Album

December 30, 2019

Billy Recce is an up and coming composer and lyricist that I had the pleasure of seeing first perform a series of his comedy songs at the Duplex about a year ago. Quickly, he's gained some recognition for his work over the course of this past year on 'A Musical About Star Wars.' Impressed, when I heard about his CD release, I jumped at the opportunity to interview him for Broadway World.
---
BWW Review: The Rescingos' DECK THE PAULS WITH BOUGHS OF ROBBIE at The Duplex

December 18, 2019

For anyone who happens to have ventured out to one of the Rescignos' holiday frolics over the last decade, you understand the incredible journey on which this epic twin duo takes their audience each year. Whether it's the puns and innuendos on Paul's latest costume, a massive stocking, or the 'serious-minded' Robbie cracking a grin after the audience erupts into teary-eyed laughter, this duo deserves a ton of applause for yet another well-orchestrated show.
---
BWW Review: Marieann Meringolo Gets us All IN THE SPIRIT at Feinstein's/54 Below

December 10, 2019

There's a reason that Marieann Meringolo continues to reprise this holiday show annually at the most popular dinner theater in town. She's a ton of fun. With a classic, made-for-recording smooth voice, Marieann piped out holiday favorites as well as some unique gems.
---