BWW Review: EVITA at State Theatre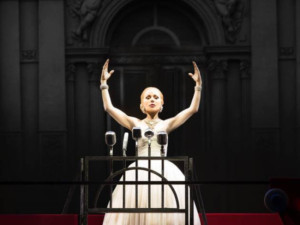 Review by Josh Stent
Evita is a night of theatre not to be missed. Seeing Tina Arena perform such an iconic role in her home town is an event that people will be talking about for years to come.
This rock opera revival, produced by Opera Australia, John Frost and David Ian, is based on the original successful West End and Broadway productions. Like Jesus Christ Superstar, Evita started its life as an Andrew Lloyd Webber and Tim Rice concept album in 1976. The story follows the life and death of Argentinean icon Eva Peron. The show became fully envisioned for the stage in 1978 with direction by the legendary Hal Prince and choreography by Larry Fuller. It went on to win both the Olivier Award in 1978 and the Tony Award in 1980 for Best New Musical.
Most audience members coming to see this production will be very familiar with the songs and story line of Evita, helped by the 1996 film version starring Madonna. This reviewer had the unique perspective of never having seen a production of the show on either stage or screen, with the only prior knowledge having been hearing renditions of the iconic Don't Cry For Me Argentina over the years.
The extremely talented cast, from the ensemble to the leading lady, all bring life and passion into this production and give truly memorable performances.
Tina Arena soars as Eva Peron navigating the notoriously challenging vocal score with ease and wowing her audience with songs like Buenos Aires & Rainbow High. Vocally the role fits Arena like a glove. The classic Don't Cry For Me Argentina of course is the show stopper with Arena fully embodying Evita - the presence, beauty, passion and emotion - delivered with a powerful vocal punch. Her voice is truly sublime and lives up to its reputation.
Arena is superbly supported by Tony Award winning Paulo Szot as the military general and politician husband, Peron, and Michael Falzon as the tango singer, Magaldi. Both have brilliant voices.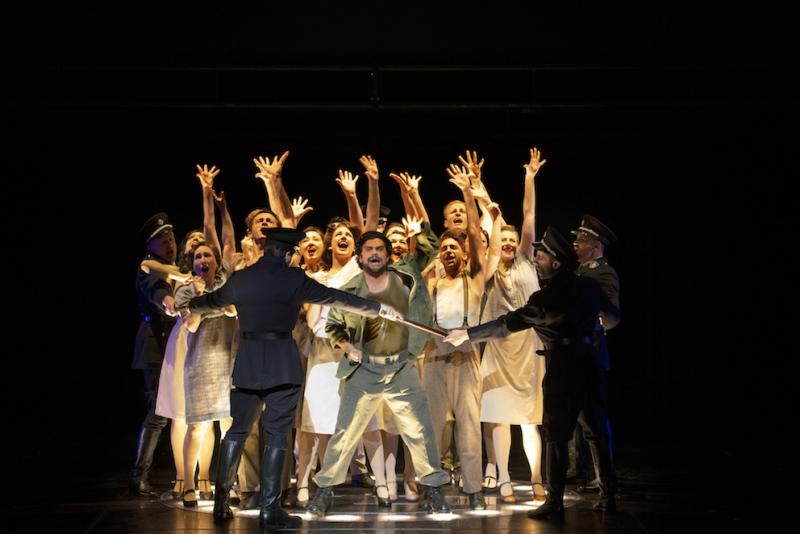 Kurt Kansley as the show's narrator, Che, is outstanding. For this story a narrator is essential, but I was left questioning how Che fits into Evita historically. This is no reflection on Kansley who excels in captivating the audience with impressive vocals and provides us with an objective examination of Eva Peron's motives.
2017 High-School Graduate, Alexis Van Maanen is fantastic in her professional debut as the Mistress. With such a beautiful melodious voice, Van Maanen is definitely one to keep an eye on!
For 2018 audiences, the dense story of Evita is a little hard to follow. This is not helped by this productions use of the original staging. While award winning in its time, the staging now seems dated and detached from a contemporary audience. The set is lacking any of Argentina's colourful street life or opulent wealth, although the costumes do shine in portraying cultural & historical ambience.
The black and white video projections displaying historical footage, blended with photographs of the onstage cast, seem to be used more to fill gaps in the story-telling process, rather than do anything meaningful. This is a disappointment as the rags to riches story of Evita is timeless and could easily be rejuvenated for a 2018 audience. The show's fascinating exploration of political power, manipulation & corruption provides the perfect opportunity.
Nevertheless, the Ensemble's execution of Larry Fuller's choreography is excellent and helps Evita's Argentinean heritage flourish. The incorporation and execution of the Tango is a real highlight.
Overall Evita is a great night out and is sung to perfection.
Evita is playing at The State Theatre, Melbourne until February 17th.

https://evitathemusical.com.au