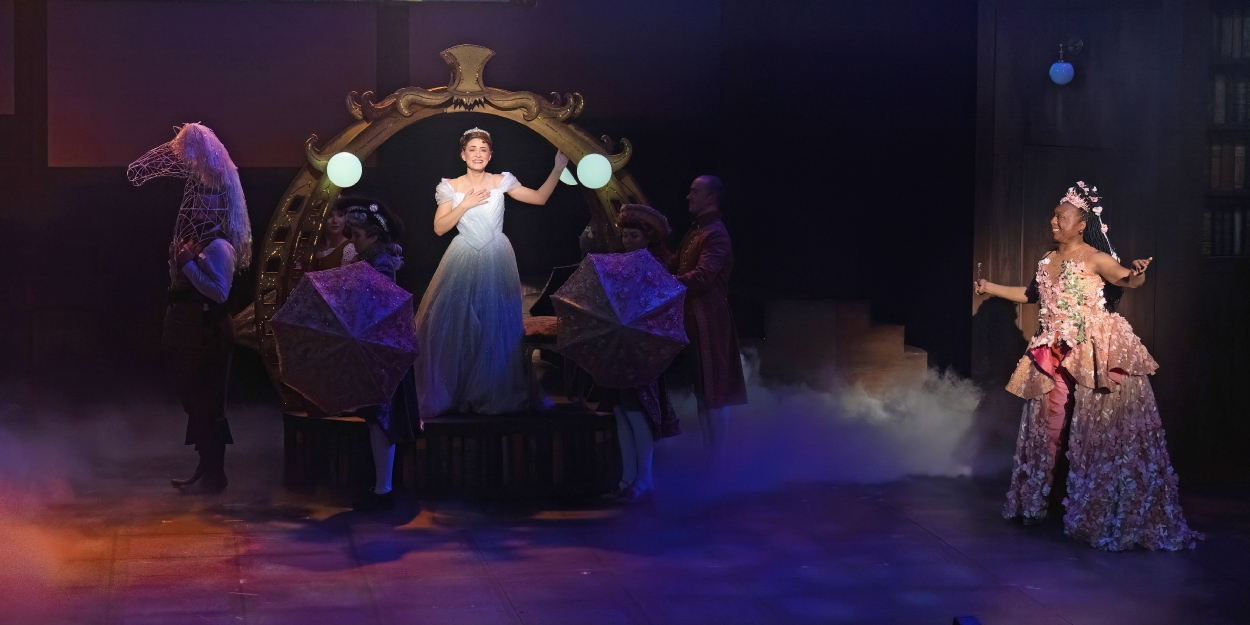 Review: DAT and ZACH's RODGERS AND HAMMERSTEIN'S CINDERELLA Charms and Delights
Are there enough synonyms for charming?
Dear Reader, be prepared. In this review, I plan on gushing, cheering, and heaping on mounds of praise about ZACH and Deaf Austin Theatre's joint production of Rodgers and Hammerstein's Cinderella. If you don't have time to read the full review, fine. Just go ahead and trust me. Go see the show. There, done.
Now showing at ZACH, this darling show is a wonderfully executed bilingual effort between Deaf Austin Theatre (DAT) and ZACH. Co-Directors Dr. Brian A. Cheslik and Michael Baron tell us in the show program that this production crosses cultural boundaries between the hearing community and the deaf community just as Cinderella crosses cultures across the globe. They also remind us that, "it is not often that Deaf performers are welcomed in creative spaces." This collaboration with ZACH is a perfect example of how we in the hearing community can open our doors and minds to fully engage with Deaf artists and, even more so, experience the gifts of performance beyond the spoken word. Cheslik and Baron bring not just a bilingual cast, but a bilingual crew to this production, including set design, the excellent and adorable projections, and costuming.
Interestingly, R&H's CINDERELLA did not see the bright lights of Broadway until many decades after it's premiere on TV. It was originally written for television in 1957 and starred Julie Andrews. I grew up with the 1965 television version starring an 18-year-old Lesley Ann Warren. The next generation was treated to a version in 1997. By 2013, CINDERELLA finally premiered on Broadway. This is the version we're treated to at ZACH. Adapted by Douglas Carter Beane, kindness takes center stage and the rebel Jean-Michel as a new character, brings our attention to the inequity in the kingdom. The king and queen have died, and the most evil character in this version is the Prince's prime minister, who performs dastardly deeds and hides them from the Prince. Still, Cinderella and her Prince Topher cycle through the original hallmarks of the story. There are stepsisters and a stepmother involved, though they're not as evil as you may think. Prince Topfer is handsome and generous, and there is an ever so 21st century version of a fairy godmother. The romance in this version of the story co-stars with the theme of kindness, and the fairy tale promise of inclusion happens in real life in this production.
This ZACH and DAT production features a peach of a cast. That makes it hard to single any one artist out, but I did have my favorites. The engaging Sandra Mae Frank (Ella) shares a great chemistry with a darling Trey Harrington (Topfer), and Mariel Ardila provides angelic vocals for Cinderella. It's important to note here that all of Cinderella's solos are signed, and all of Topfer's solos are sung. It's part of a perfect blend of spoken English with no ASL support, vocal support of ASL moments, and supertitles throughout the entire show. Our two romantic leads are the pillars of a powerful supporting cast, each of whom could lead their own show as well. Gregor Lopes is a successful combination of bumbling and competent as the rabble rouser Jean-Michel. As the object of his desire Gabrielle, Krissy Lemon is a wonderfully optimistic, sweetheart of a crush. Their singing voices are provided by the tuneful Taylor Flanagan and Jordan Barron. Adding a further inclusive element to the production, Mervin Primeaux-O'Bryant as Marie and Lee Walter as Marie's singing voice are both fabulous. Christopher Tester and Kenny Williams form a great pair of supporting players as Lord Pinkleton and Sebastian. Finally, there's the hilarious, perfect, scenery chewing Meredith McCall as Cinderella's stepmother, Madame, and the less than conventional, unapologetic step sister Charlotte (Sara Burke). These two sparkle as much as their ball gowns. I expect their performances will be considered memorable by many. Rounding out this cast is a small but beautifully blended ensemble of singers and dancers. One last note on the brilliance of this show goes to the crew and stage manager who brought together this especially complex bilingual production! Kudos!!!
After all my gushing about this delightful and charming show, I do have to add that it isn't a production for everyone. If the recent freezing weather reached your heart, and you simply refuse to subscribe to the simple but not easy activity of extending kindness, this isn't the show for you. For this reviewer, I'm sure a sense of nostalgia has slightly clouded my perception of this production, but only barely. I can attest though, that through the two hour run of the show, I had this wistful memory of a long gone experience of something... something called... wait... what was it? Innocence. Yes. Innocence and joy. If you can't handle two hours of innocence and joy, you might need to skip this one. As for the rest of us, go bathe in the delicious happiness of this sincere and endearing production of Rodgers and Hammerstein's CINDERELLA.