Review: Austin Opera - SWEENEY TODD: The Demon Barber Of Fleet Street
Austin Opera Gloriously Presents Iconic Musical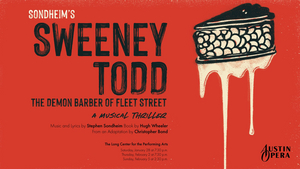 Austin Opera presents one of the most iconic musicals in Broadway history, SWEENEY TODD: The Demon Barber Of Fleet Street by the late, great Stephen Sondheim. In a departure from their usual fare of Bizet, Puccini or Verdi, this particular production marks the first time Austin Opera has performed a musical. But what a musical! This particular show is one that is notoriously difficult to produce. Austin Opera delivers perfection on every level and so much more.
The story of SWEENEY TODD,was first published in a 'penny dreadful' monthly "The String Of Pearls" serial, 1847's equivalent of click bait. Lurid tales were printed in episodes so as to entice the reader to buy the next segment when it became available. The story is a dark one that has changed a bit in the intervening century and a half since its debut, but the bones (forgive my pun) are still there. Benjamin Barker (Kevin Burdette) a married barber from London is clapped in jail and transported to Australia, a sentence that stripped his wife, his child and his life from him. He didn't commit any crime, he'd committed the sin of having a beautiful wife. "A pious vulture of the law", Judge Turpin (Ron Rains) wanted Barker's wife, and she was left in his power when her husband was sent to the notorious British penal colony Botany Bay in what would later become Sydney, Australia. Barker managed to escape and was brought back to London with a new name Sweeney Todd, and in the company of a young sailor Anthony (Mark Diamond), his only friend. The two part ways and Todd makes his way to his old barbershop above a pie shop run by the ebullient, poverty stricken Mrs Nellie Lovett (Mela Dailey). It's a match made in Hell. As Sweeney establishes his new life, he searches for his daughter, Johanna (Raven McMillian) who we find is the ward of Judge Turpin and the new object of his lust. The show is dark with a surfeit of black comedy and foolish fun. Sondheim's genius and cutting wit is on full display every moment of the 2.5 hour production. I do admit that I'm something of a Sweeney Todd super-fan. Since I saw the musical in June of 1979, with Dame Angela Lansbury, Len Cariou, Victor Garber and Sarah Rice at the Uris Theatre (now the Gershwin) I have been enraptured with every word, every note and every moment of the show.
It is so wonderful to see SWEENEY TODD produced with such attention to detail, high production values and spectacular talent onstage to give the show its proper due. Austin Opera does it right. From the revolving stage wagons that shift scenes to the perfectly period costumes, no detail was missed. Director Doug Schulz-Carlson creates beauty and horror with his use of stage pictures that are absolutely unforgettable. R. Keith Brumley's set design is as practical as it is clever. Using moving stage wagons that swiftly move the action and maximize stage space with a focus on height and depth. Something new for Austin Opera is an extended apron walkway that allows actors to create scenes downstage of the orchestra pit. This also created a place for crowd scenes which gives the illusion of far more distance traveled than when using the Long Center's proscenium stage alone. Costumes by Jonathan Knipscher are beautifully constructed and period perfect. His use of color, loud Victorian stripes and plaids is sublime. My personal favorite costume was for Mr Pirelli (Angel Romero), the gorgeously fitted broad plaid suit in purple and yellow gave the character personality before he said a word. I must note here that Knipscher grew up in the Austin area and I had the pleasure of working with him in his younger years. James Sale's lighting design is the only mild flaw in an otherwise perfect show. Often actors were left in the dark during dialogue and songs. The mood set by the light and shadow was perfect in balance but often performers couldn't be seen. Hopefully this will be remedied as the run continues.
With such a stellar cast it's difficult to name every stand out so here are a few. Kevin Burdette gave Sweeney Tood pitch perfect amounts of full throated rage, despondency with just a touch of playfulness. His playfulness created a bond with the audience that was unmatched. As Mrs Lovett, Mela Dailey was simply wonderful. She gave the iconic character verve and perfect delivery of so many wicked lines. Raven McMillian's Johanna is magnificent. The beauty of her pure voice still echoes in my mind, with her incredible performance of Green Finch And Linnet Bird. Christian Sanders' turn as Tobias (Toby) is perhaps my favorite of the evening. His clear, strong tenor voice broke my heart. Other notable mentions are Angel Romero as Pirelli and Bille Bruley as Beadle Bamford. Both are marvelous in their roles and deserve mention. Kudos also to the Chorus, much like a Greek Chorus of ancient times they flesh out plot points and foreshadow coming events directly to the audience. All members did an outstanding job in keeping the show flowing scene to scene. I would be remiss if I failed to mention one of them who stood out for me. Gabriel O'Shhaunghnessy's glorious bass voice, so clear and beautiful, elevating him above the crowd. He is clearly someone to watch in the future. I had the pleasure to sit by his extremely proud grandmother and mother in the audience and chat a bit. Sometimes in big productions we forget the human component, the families and friends behind all those actors and crew are people who help us climb the ladder and are ready to catch us when we falter. Having someone who loves you in the audience, applauding just for you is everything.
I hope you can grab tickets to this fantastic production before it's entirely sold out.
SWEENEY TODD The Demon Barber Of Fleet Street
Music and Lyrics by Stephen Sondheim
Book by Hugh Wheeler
From an adaptation by Christopher Bond
Austin Opera
The Long Center
January 28, February 2 & 5
Running Time: 2 and one half hours with one 25 minute intermission.
Tickets: $15 Student - $39 and up
https://austinopera.org/opera/sweeney-todd/