BWW Review: GLIDERS Soars at Trinity Street Playhouse
Presented by Different Stages and directed by Karen Jambon, GLIDERS graces the Trinity Street Playhouse stage with a play that showcases the effects of maternal negligence, sexual abuse, and misogyny over three generations of women in the late sixties. GLIDERS opens with what looks like an ordinary family gathering around a kitchen table. Three women converse about horoscopes, recipes, church, and other trivial things, but the whisper of a hidden truth is quite palpable, yet unseen, and it takes hold of the audience from that moment on.
As the story develops, we learn that there is nothing ordinary about this family. Madge (played with painful sincerity and uncanny sassiness by Kate Meehan) is the alcoholic, selfish, and unstable matriarch who, since the premature death of her husband, has prioritized her own desires over the safety of her two daughters. Geraldine (powerfully portrayed by the charms and skills of Andrea Smith) is the typical wife of the sixties. A woman whose primary goal in life is to be the perfect housewife, one that pleases the husband and doesn't ask many questions. Encouraged by her mother, Geraldine refuses to see the truth of what is going on in her household, and to her own demise and that of her daughter, she chooses to remain silent in fear of change. Debrah, the younger sister, seems to get the short end of the stick in the family dynamics. Ashleigh Pedersen (Debrah) delivers a wonderful portrayal of a woman that despite neglect, abuse, and marriage to a simple man that can't hold on to a job, figures out how to stand on her own two feet and make a life for herself and her family. Debrah's hopeful views of the future, her dreams about options and choices, represent female independence, individualism, and equality. Concepts that were brewing in the late sixties with the birth of the Women's Liberation Movement. Additionally, Debrah is the heroine of the story. Not unlike the astronauts of Apollo 11, which landing serves as the backdrop for this story, she has the courage to take a leap of faith, to face her fears, and make impactful decisions that change the course of her life.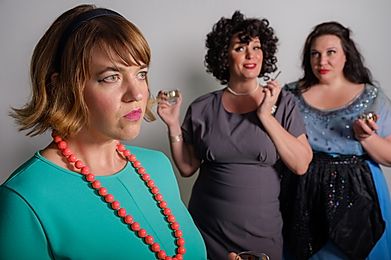 With cleverly staged flashbacks, projecting the years 1952, 1956 on period-appropriate TV sets, we are told unthinkable truths that occurred under Madge's willfully ignorant watch. A baby left alone at home in the crib at night. A young teenage girl confessing sexual molestation to a dismissive mother. Domestic abuse being disregarded as things that happen in the privacy of marriage. All acts that have a significant effect on the lives of these women. Madge's lack of maternal instinct is pervasive and has long-lasting effects but it is not the villain of the story. In a play written with a strong female voice, the villain is a man that is never on stage. The villain is the father who sexually abuses his child, the husband that batters his wife; the molester in the family. As it often happens in real life, we are unable to see his face or retaliate against his actions. We feel powerless confronting an absent character that has caused so much suffering. What we are able to do, however, is sympathize with the victims, embrace them in our collective anguish and anger and share in their pain. The only male character on stage is Curtis (played with natural kindness by Darren Scharf). To our disappointment, we can't hate him for all the things the villain has done. Curtis isn't there to be the knight in shining armor that saves the day. Curtis is there to give us the perspective that even in a story filled with strong female characters and a hated villain, not all men are evil. There is always hope for humankind.
The gem in Different Stages' GLIDERS is Melissa Vogt. Ms. Vogt portrays Leslie (whose given name is Dawn), with prowess and brilliance, giving this complex character the depth she deserves. Her presence on stage is at times heartbreaking and at times hilarious. Leslie's rebellious attitude is a subtle scream for help and attention. She relies on the heroes of World War II, imaginary boyfriends, and small acts of contempt to hide the pain of being sexually abused. Leslie rejects her family by changing her name. She challenges her mother's uptight persona by smoking, shop-lifting, and even provoking a same-gender kiss with her cousin (played by the adorable Frances Bello). Leslie uses defiance and humor to cope with the most horrific violation of the mind and body a child should ever have to endure. If you need one reason to go see this play, it is the work of Melissa Vogt.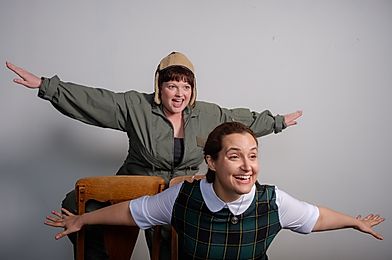 In GLIDERS, playwright Rita Anderson bridges the not-so-distant past to the present with a message that is painfully familiar and timely. Misogyny, violence against women, and complacency to it all have always been a silent menace to society. A threat that can only be eliminated by strong women stepping forward, supporting each other, and standing up against inequality and abuse
The Trinity Street Playhouse provides the perfect intimate space for this dramatic play, with a cozy set designed by Ann Marie Gordon, carefully placed period-appropriate props, and an inviting casual environment. GLIDERS at the Trinity Street Playhouse makes for an outstanding evening of theatre.
Note about GLIDERS: You may wonder why there isn't a mention of gliders in the review of a show with that title. The author uses these World War II aircrafts as a metaphor for human behavior. Military gliders were powered by the guts of the men who flew them and had no engines of their own. They transported troops to the front lines of the war effort, landing in silence but without a means to retreat. The author compares these "flying coffins" with people that do not have the inner strength to drive their own lives thus latching onto others to make all the decisions for them, to carry them along. In addition, one can clearly see that the women in this dysfunctional family, glide in and out of reality, in and out of present and past, to tell their compelling truth.
Different Stages presents GLIDERS
Book by Rita Anderson
Directed by Karen Jambon
February 8 - 29, 2020
Trinity Street Playhouse
901 Trinity Street
www.differentstagestheatre.org
Related Articles View More Austin

Stories

Shows