Review: MUFARO'S BEAUTIFUL DAUGHTERS: AN AFRICAN TALE Sparks Joy at Synchronicity Theatre
A staged storybook comes to life in the most magical way.
Thank you - back!! It has been almost a year since my last BroadwayWorld Review, and I am so thrilled to be writing reviews again. I'm even more thrilled to begin my return by reviewing MUFARO'S BEAUTIFUL DAUGHTERS: AN AFRICAN TALE playing at Synchronicity Theatre. BEAUTIFUL DAUGHTERS is an incredible tale told with palpable passion, memorable music, and deep caring that extends beyond the story.
Synchronicity Theatre is a company dedicated to telling as many different stories from as many different cultures as they can. MUFARO'S BEAUTIFUL DAUGHTERS: AN AFRICAN TALE is a new musical spearheaded by Producing Artistic Director Rachel May that features African instruments and rhythms in the style of traditional musical theatre. BEAUTIFUL DAUGHTERS also incorporates phrases in Shona and Xhosa, the two dominant languages in Zimbabwe where the story takes place.
So while you may know this book, and perhaps even the non-musical play version, many joyful surprises are awaiting you in this incredible new musical.
Walking into the theatre feels like walking into a storybook. Large and colorful scenery pieces with fun patterns dot the stage like book pop-ups as colored lights flash and fill the space. Gabby Stephenson Trice's scenic designs alongside Maliya McCall's lighting blend beautifully to create a vibrant African vibe. I especially love the use of glow-in-the-dark effects.
BEAUTIFUL DAUGHTERS has an excellent score, fantastic music, and a vivacious sound throughout. Johnathan Taylor's sound design expertly supports and complements LeRell Ross's musical compositions - some of which include new songs co-written with Taryn Janelle. Design and composition blend seamlessly as characters frequently burst into song and dance, moving and grooving to strong beats and catchy melodies (some of which I'm still humming!).
What makes the show extra special is how obviously passionate every performer is on stage. Taryn Janelle's superb direction and choreography shine through as a strong sense of ensemble elevates the show. The dancing feels effortless as if it's totally normal for neighbors to suddenly burst into song and dance together and have a ton of fun while doing it. I am not ashamed to admit that, yes, I did cry at the end because of how invested I'd become in these characters.
Jonathan Bryant wears many hats in the show, each more wonderful than the last. His gravitas, comedic timing, and flexibility give him genuinely transformative powers on stage. Brandin Jay plays the booming Griot with such incredible energy that it sometimes feels like looking directly into the sun. Jay radiates joy in a truly infectious way.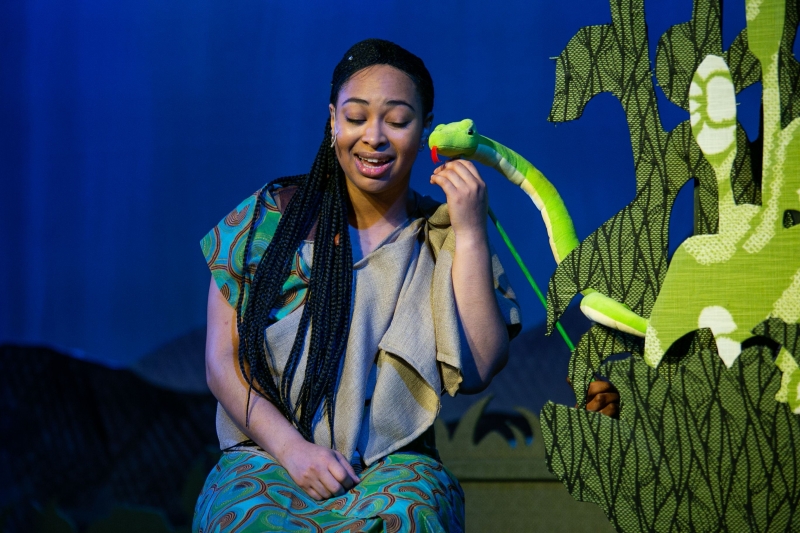 Kendra Nicole Johnson plays the kind and merciful Nyasha, one of Mufaro's beautiful daughters. Johnson's delicate yet candid voice combined with her sense of dignity crafts a truly regal presence. Brittani Minnieweather also wears many hats in this show - most of them playfully comedic - and her reactions are sometimes more interesting than the action itself. Minnieweather has a gorgeous vocal quality that supports her wholesome onstage presence.
Anthony Jeremiah Nash's main role is as Mufaro, a warm and loving father. Nash has a potent presence onstage and a charismatic voice, both of which he uses expertly to lay the story's foundation. Finally, Ja'Siah Young plays Manyara, Mufaro's other beautiful daughter with a less beautiful disposition than her sister. Young's adept sense of movement and character craft a compelling and sympathetic antagonist.
I don't think I've ever been to a show where the audience participation felt so natural. It wasn't the actors asking you to participate and clap along that made you want to do the same, but all of the other audience members who'd already beaten you to it. Children stood up and danced, sometimes dragging a parent with them, and it felt as if we'd all joined Nyasha's celebration.
Dr. L. Nyrobie N. Moss's costumes and Chase Weaver's props provide a grounded feeling using natural textures and thoughtful color coordination. With more than a few quick changes - even a quick-changing throne! - each piece feels well chosen and well crafted.
I firmly believe this show could give Disney a run for its money - the characters and story felt that magical. Karen Abbott's adaptation of John Steptoe's book MUFARO'S BEAUTIFUL DAUGHTERS: AN AFRICAN TALE feels like a love letter. And if it is, Synchronicity Theatre's production feels like love coming to life.
To quote a child in the audience: "It's so good!!!"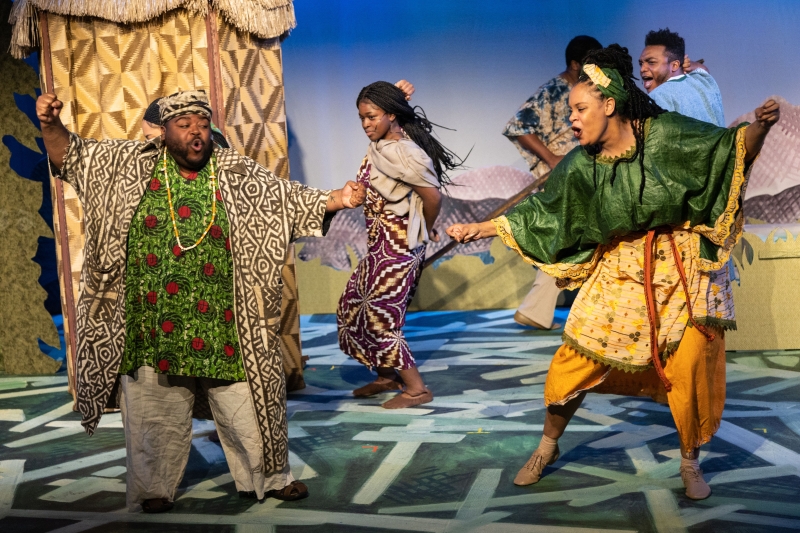 MUFARO'S BEAUTIFUL DAUGHTERS: AN AFRICAN TALE is playing now at Synchronicity Theatre until February 26th - get your tickets today!