The Pope's Choir Holds First-Ever U.S. National Tour Opening Night At Atlanta's Fox Theatre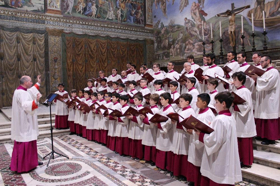 The Pope's Choir from Rome will kick-off their much-anticipated U.S. National Tour at the Atlanta's Fox Theatre on July 3 at 7 p.m. The Atlanta-based Georgia Boy Choir will open the evening with a special performance.
Tickets will go on sale Friday, April 13 at 10 a.m. Tickets may be purchased by visiting FoxTheatre.org or SistineChapelChoirTour.com, by calling 855-285-8499, or at the Fox Theatre Ticket Office. Tickets start at $50, plus applicable fees. American Express Card Members will have access to a pre-sale beginning Wednesday, April 11 at 10 a.m. through Thursday, April 12 at 10 p.m.
The angelic voices of the Sistine Chapel Choir have garnered critical acclaim and recognition as they travel and perform around the globe. Through its liturgical music, the Choir communicates a message of peace and closeness among people, even if they are of other faiths or other religious confessions. Choir images and announcement video.
Serving as the Pope's personal choir, today, the 1500-year old Sistine Chapel Choir is the oldest and most respected active choir in the world today. Officially known as the Cappella Musicale Pontificia Sistina, part of the Choir's significance is due to its endurance through several centuries, including the Renaissance, which was a fundamental period for the Choir as it found its "theatre" in the Sistine Chapel.
The choir is comprised of a highly accomplished group of 20 professional singers, chosen from all around the world. The treble section, known as the Pueri Cantores, is made up of 35 boys aged between 9 and 13, who are selected through rigorous auditions. They are known for playing an active part during papal celebrations in St Peter's Basilica and in the Sistine Chapel itself.
Established in 2009 under the baton of Artistic Director and Conductor, David R. White, the Georgia Boy Choir has quickly gained a reputation as one of the finest Choirs of its kind. Known for the transcendent beauty of their singing and powerful, nuanced musical interpretation, the Choir has garnered an impressive international fan base through touring and its many performance videos. Operating on a five-tier music education system, the Choir serves over 85 boys and young men from all around the metropolitan Atlanta region.
The Fox Theatre is one of Atlanta's premier venues for live entertainment and declared a "Top Stop of the Decade" by Venues Today Magazine. Listed as #1 non-residency venue worldwide for the decade by Billboard Magazine, the Fox most recently won 2017's "Theatre of the Year" by the International Entertainment Buyers Association. Other notable achievements include Rolling Stone Magazine's "The Best Big Rooms in America" as part of their "Venues That Rock" series (2013), nominated for Theatre of the Year by Billboard and Pollstar Magazines, and awarded the 2011 Outstanding Historic Theatre of the Year award by the League of Historic American Theatres. For the past decade, the Fox Theatre has consistently ranked in the top three non-residency theatres in North America for gross ticket sales by industry trade magazines, Pollstar, Billboard and Venues Today. The Fox Theatre has the #1 social media presence for any theatre or performing arts center in North America (2,000-5,000 seats), and for any Georgia venue according to the "Social Media Power 100" compiled by Venues Today Magazine. With 4,665 seat theatre, the Fox hosts 250 performances a year, from rock concerts to Broadway, ballets, comedy and movies, attracting 500,000 visitors per year. In addition, the Fox hosts wedding receptions, trade shows, corporate meetings and association functions in its fabulous ballrooms, lounge and outdoor terrace. As a 501(c)(3) non-profit arts organization, the Fox Theatre stands today as a fiercely protected landmark and a nationally acclaimed theater and is celebrating its 89th year. The Fox Theatre proudly acknowledges its partners for their generous support: Coca-Cola, Lexus, Georgian Terrace Hotel, Georgia Natural Gas, Atlanta Beverage-Yuengling, Regions, Grady Health Systems, and Whole Foods Market. Tickets for all events are available at the Fox Theatre Ticket Office, online at www.FoxTheatre.org, or toll free at 855-285-8499. For group sales information contact the Fox Theatre at (404) 881-2000, or visit The Fox Theatre website at www.foxtheatre.org. Please stay connected with the Fox Theatre on Instagram, Twitter and Facebook.
The Marquee Club presented by Lexus is a premium club slated to open May 2018. Adjacent to the Fox Theatre, the membership-based Moroccan-style club will feature 10,000 square feet of interior and exterior premium space; five stationary bars; three rooftop options to include multi-level interior and climate-controlled exterior environments. Open only during events at the Fox Theatre, the Marquee Club will be open to members pre-show and during intermission, as well as post-show for select events. Additional amenities include priority pre-sale ticketing notifications, access to private restrooms, concierge guest services, and self-parking access to an adjacent lot for some memberships. Single-show access for non-members will also be available for select performances. For more information on premium club access or to purchase a membership, please call Fox Theatre's Corporate Partnership, Premium Seating Office at (404) 881-2127 or visit FoxTheatre.org/MarqueeClub.