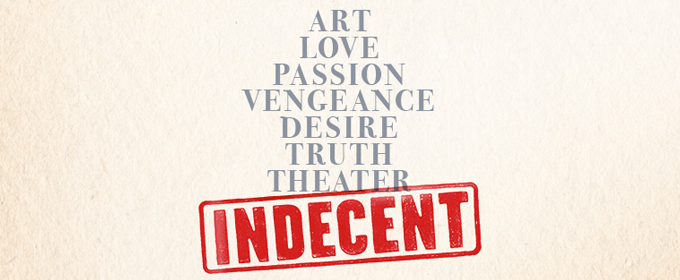 Click Here for More Articles on INDECENT
VIDEO: Watch a Preview for Broadway's INDECENT, Airing This Friday on PBS
The Broadway's Best lineup on PBS continues this week with the Great Performances presentation of Pulitzer Prize-winning playwright Paula Vogel's Tony Award-winning play Indecent, premiering Friday, November 17 at 9pm ET (check local listings), and available to stream the following day via pbs.org/gperf and PBS OTT apps. Get ready with a preview for the show below!
Inspired by the true story of the controversial 1923 Broadway debut of Sholem Asch's God of Vengeance, the play looks at pivotal movement in theater history.
The plot of Asch's 1907 Yiddish play Gott fun Nekoma is about a respectable family that builds a flourishing business from the brothel they operate in their basement. The show was acclaimed when it was performed in Europe. But when Asch's drama was translated from Yiddish into English as The God of Vengeance, and performed by a Jewish acting troupe in New York, critics and audiences were disturbed and shocked by the enthusiastic lesbian romance between the daughter of the brothel owner and one of his working girls, leading the show's producer and leading man to be dragged into an obscenity trial.
Themes of homophobia, censorship, freedom of expression and tyranny are present throughout the production of Indecent. The thought-provoking play, dramatizing how freedoms and ideas were persecuted in the 1920s, conveys the message of love and tolerance that remains relevant today.
PBS' Broadway's Best lineup concludes next week with Irving Berlin's Holiday Inn - The Broadway Musical (November 24). She Loves Me, Noel Coward's Present Laughter and In the Heights: Chasing Broadway Dreams are available to stream.
Related Articles