Together They're Unlimited! Josh Groban and Idina Menzel to Hit the Road in A New Tour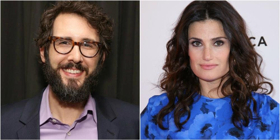 Josh Groban announced on Twitter tonight that he and Tony Award-winner, Idina Menzel, will be hitting the road together "soon"!
Both stars revealed the news tonight on social media, sending messages of love and excitement as they embark on their new adventure.
Groban also shared with Entertainment Weekly that tour stops are planned in Dallas, Chicago, Boston, New York, and more!
See their tweets below!
Singer, songwriter and actor Josh Groban has entertained fans globally with his multi-platinum albums and DVDs (over 30 million sold worldwide), electrifying live performances and comedic film and television appearances. He is the only artist who has had two albums on the Top Ten Bestselling Albums list in the past decade, according to Billboard. Groban has released seven studio albums and received numerous Grammy Award nominations.
In 2016 he embarked on an extensive North American tour to support his album Stages, titled "Josh Groban: On Stage." That year, Groban also made his Broadway debut in the new musical NATASHA, PIERRE & THE GREAT COMET OF 1812. He received a 2017 Tony Award nomination for Best Performance by an Actor in a Leading Role in a Musical for the role. Groban is a member of Americans for the Arts Artists Committee and his Find Your Light Foundation helps enrich the lives of young people through the arts.
Tony Award-winning icon Idina Menzel has a diverse career that traverses stage, film, television and music. Menzel's voice can be heard as Elsa in Disney's global box office smash "Frozen," in which she sings the film's Oscar-winning song "Let It Go." After Menzel's performance of the multi-platinum song at the 86th Annual Academy Awards, she made history as the first person with both a Billboard Top 10 hit and a Tony Award for acting. She was most recently seen in Lifetime's remake of Beaches, which premiered January 2017, in which she portrays the role of 'CC,' made famous by Bette Midler.
Menzel earned her first Tony nomination as Maureen in the Pulitzer Prize winner "Rent," and won the award for her performance as Elphaba in "Wicked." Other notable projects include "Glee" and Disney's "Enchanted." She embarked on a worldwide tour in 2015 that included Asia, UK and North America. In addition to cast albums, Menzel's prolific recording career includes the solo albums "I Stand," "Here" and "Still I Can't Be Still."
Her first-ever Christmas album "Holiday Wishes," released October 2014 on Warner Bros. Records, debuted at #1 on Billboard's Holiday Albums chart, broke into the top 10 on Billboard Top 200 Album Chart and received rave reviews. Menzel was most recently seen on Broadway as Elizabeth in the original production "If/Then," for which she earned her third Tony nomination. Menzel also sang the National Anthem at SUPER BOWLXLIX, which set the record for the most-watched show in U.S. history.
Related Articles
Follow Alexa on Twitter at https://twitter.com/Alexa_Juno.