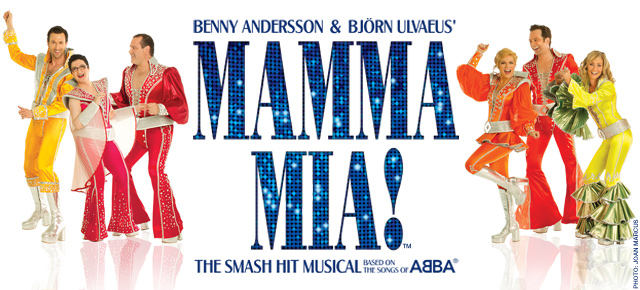 Click Here for More Articles on MAMMA MIA!
STAGE TUBE: On Broadway with Kids - Final Episode!
Below, watch the final episode #10 of CafeMom Studios "On Broadway: With Kids - Featuring the Parents of MAMMA MIA!" - the online series that opens a rare and personal window into the lives of the cast and crew of Broadway's hit musical who also happen to be parents.
Episode 10 – "Backstage at MAMMA MIA! with Monica Kapoor": As a member of the Broadway ensemble case of MAMMA MIA!, Monica Kapoor is able to balance having a job she loves with raising her 2-and-a-half year old daughter. In this episode, she discusses her decision to remain in the ensemble and shun the spotlight in favor of a healthier work-life balance.
A working mom's job is never done, but what's life like for moms who work under the bright lights of Broadway? We take you backstage and into the lives of these hard-working, high-stepping moms (and dad) from the cast of the hit musical, MAMMA MIA!
The new series, which has aired every Wednesday for the last ten weeks, followed the day to day adventures of Jennifer Perry ("Rosie"), David Beach ("Harry Bright"), Monica Kapoor (ensemble) and Irene Bunis (Wardrobe Supervisor) and offered an intimate look into the lives of show people who are also raising families beyond the footlights. Quintessential New Yorkers trying to balance it all while putting on one of Broadway's longest running hit musicals eight times a week.
Now celebrating its 10th smash year at Broadway's Winter Garden Theatre, Benny Andersson and Björn Ulvaeus' musical MAMMA MIA! has become one of the most successful musicals of all time anywhere in the world and the 10th longest running show in Broadway history.
Seen by over 50 million people around the world, Benny Andersson and Björn Ulvaeus' global smash hit musical MAMMA MIA!, is celebrating over 4,000 performances at Broadway's Winter Garden Theatre and remains among Broadway's top selling musicals. The current North American Tour has played over 3,700 performances in over 150 cities with 145 repeat visits. The originAl West End production of MAMMA MIA! is now in its thirteenth year and has celebrated over 5,000 performances in London and the international tour has visited more than 74 foreign cities in 25 countries and been seen by over 4.3 million people. The blockbuster feature film adaptation of MAMMA MIA!, produced by Judy Craymer and Gary Goetzman, is the most successful movie musical of all time grossing $600 million worldwide.
Inspired by the story-telling magic of ABBA's timeless songs, writer Catherine Johnson's sunny, funny tale of family and friendship unfolds on a tiny Greek island. On the eve of her wedding, a daughter's quest to discover the identity of her father brings 3 men from her mother's past back to the island they last visited 20 years ago. Songs including "Dancing Queen"; "The Winner Takes It All"; "Money, Money, Money" and "Take A Chance on Me" are all featured in this feel-good night of fun and laughter.
CafeMom Studios (www.youtube.com/CafeMomStudios) is a lifestyle network for today's digital generation of moms that recognizes that motherhood isn't all about parenting, but becoming a mom does change your perspective. CafeMom Studios' programming is entertaining and authentic, revealing the wonder and diversity of motherhood. The YouTube channel will feature more than 20 original series by the end of 2012.CafeMom Studios is a part of CafeMom, the leading media company for moms, reaching an audience of more than 20 million across our properties (comScore, Jan. 2012), which include CafeMom.com, MamásLatinas.com, CafeMom Studios, and the CafeMom Plus Network. The company was founded by Andrew Shue and Michael Sanchez.
For tickets, schedule and information about MAMMA MIA!: www.mammamianorthamerica.com.