Rialto Chatter: Is BORN FOR THIS Heading to Broadway?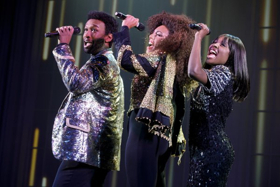 Earlier this summer, Born for This took the stage at Boston's Emerson Cutler Majestic Theatre. Now, rumors are circulating that the new musical could land on Broadway soon!
According to a recent Instagram post, creator BeBe Winans is already working on a transfer, and has brought Broadway press office Sam Rudy Media relations on board.
With original music and lyrics by six-time GRAMMY® Award-winning icon BeBe Winans book by Charles Randolph-Wright, BeBe Winans, and Lisa D'Amour, and direction by Charles-Randolph Wright (Motown the Musical), Born For This celebrates the incredible true story of BeBe Winans - a young man who follows his heart and finds his destiny.
Detroit teenagers BeBe and Cece Winans experience the ultimate in culture shock when they leave the comfort and safety of their family (the already-famous Winans musical dynasty) to join Jim and Tammy Faye Bakker's Praise The Lord Network in Pineville, North Carolina. Jim and Tammy become an unlikely surrogate family as the siblings rapidly become the hottest stars in televangelical America. Eventually crossing over to mainstream fame, BeBe must learn to reconcile the temptations of stardom and fortune with the things he ultimately values more.
Born For This brings the legendary artist's story to life with acclaimed new music and lyrics by BeBe Winans that will have audiences on their feet. A wildly funny yet deeply emotional journey toward self-discovery, Born For This is the family-friendly and universal story for anyone who has ever yearned for something - for anyone who is looking to find their purpose in life.
The Boston run featured Donald Webber Jr. as BeBe Winans, Loren Lott as Cece Winans, Milton Craig Nealy as Pop Winans, Chaz Pofahl as Jim Bakker, Nita Whitaker as Mom Winans, and Kirsten Wyatt as Tammy Faye Bakker.
Photo Credit: Joan Marcus