Review Roundup: Critics Weigh In On Menier Chocolate Factory's Revival Of FIDDLER ON THE ROOF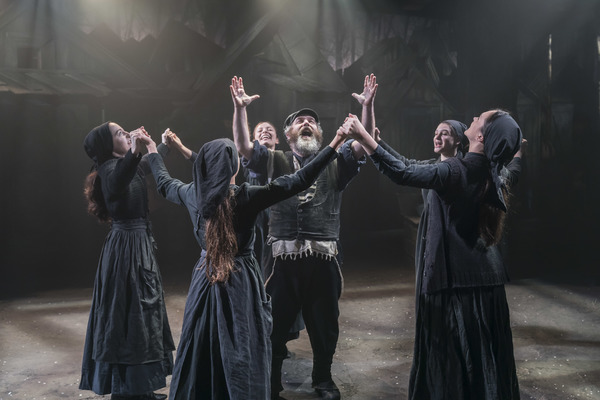 The Menier Chocolate Factory presents its major revival of one of the world's most-beloved musicals of all time, Fiddler on the Roof, in a new staging by Trevor Nunn. The cast icludes Harriet Bunton (Hodel), Dermot Canavan (Lazar Wolf), Stewart Clarke (Perchik), Matt Corner (Fyedka), Joshua Gannon (Motel), Judy Kuhn (Golde), Louise Gold (Yente), Kirsty MacLaren (Chava), Andy Nyman (Tevye) and Molly Osborne (Tzeitel), are Miles Barrow, Sofia Bennett, Lottie Casserley, Lia Cohen, Shoshana Ezequiel, Fenton Gray, James Hameed, Matthew Hawksley, Matilda Hopkins, Adam Margilewski, Robert Maskell, Benny Maslov, Gaynor Miles, Ellie Mullane, Craig Pinder and Valentina Theodoulou.
The production opened yesterday, 5 December, and runs until 9 March.
This joyous and heart-breaking story of the travails of Tevye the milkman, his wife and five daughters features such classic songs as "Sunrise, Sunset," "If I Were a Rich Man" and "Matchmaker, Matchmaker" and remains a heart-warming celebration To Life - L'chaim!
The first London production of Fiddler on the Roof opened in February 1967 at Her Majesty's Theatre; and the most recent London production opened in May 2007 at the Savoy Theatre with Henry Goodman as Tevye.
Fiddler on the Roof sees Trevor Nunn renew his collaboration with the Menier - he previously directed Lettice and Lovage, Love in Idleness (also West End), A Little Night Music (also West End and Broadway) and Aspects of Love for the company.
Let's see what the critics have to say!
Dominic Cavendish, The Telegraph: Despite its rather rudimentary story-line, the show remains as fresh as ever. Folk songs that were the product of affectionate pastiche - the creative trio's homage to 'where poppa came from' - have such a core veracity, it's almost as if they were actually sung back in the day. Nunn doesn't overplay the obvious grim pertinence of a tale in which ugly anti-Semitism smoulders and a population is sent packing overseas. In fact - wonder of wonders, miracle of miracles - the director of Les Mis, and who has been known to let things drag, keeps it nicely brisk. Perfect for this time of year.
Mark Lawson, The Guardian: The terrifying resurgence of antisemitism makes the musical cruelly topical once more, and the final sequence of the villagers fleeing invokes other forced diasporas. Characteristically, Nunn roots the lines in vivid social and physical detail. The entire canopy and panoply of a Jewish wedding are crammed on to the Menier's tiny stage for Sunrise, Sunset, which, like the refugees' valedictory anthem Anatevka, is sung as a shivery chorale, the 20-strong cast packed in like chess pieces.
Marianka Swain, The Arts Desk: Nunn plunges the audience into Anatevka in his thrust staging, with cast members weaving through the audience and musicians (an outstanding eight-piece orchestra) joining the action. Robert Jones backs the performers with a cluster of dark wooden houses and trees, plus a pump that gushes out water and props like easily constructed tables and benches. Tim Lutkin's lighting is hugely effective, both marking the passage of time and adding to evocative moments - such as a candlelit ceremony blessed with a soft golden hue.
Louis Train, BroadwayWorld: One area in which this production could use more discipline is in the dialect work, which seems somewhere between Moscow and Brooklyn by way of London. Some of the actors lean more towards an Eastern-European accent, which is fine, whilst others go American, which is also fine, whilst others still retain their local British accents - which also would be fine, but with all three together, Anatevka sounds a bit like an airport waiting lounge.
Sarah Crompton, What's On Stage: From the very start, Andy Nyman's Tevye, finds his own way through the milkman's conversations with God, about his life and his troubles. The famous opening line of "If I Were a Rich Man" becomes a combination of a wish and a grumble about the pain in his back; as he negotiates the song those little "daidle deedle daidle" fillers become different statements of his mental state, until they break out finally into an exuberant dance, and Nyman powers round the stage, arms raised.
Tim Bano, The Stage: It's great to see Judy Kuhn on a London stage as Tevye's wife Golde. She and Nyman get their rapport just right, which makes for a really sweet version of Do You Love Me. Kuhn's face is full of confusion and agonising as this brand new concept of 'love' creeps into her marriage to Tevye.
Henry Hitchings, The Evening Standard: Combining an ebullient score by Jerry Bockand sentimental lyrics by Sheldon Harnick, it's sometimes knocked for being kitsch. But in Trevor Nunn's polished revival, which boasts a cast of nearly thirty and an excellent eight-piece band, it's at once a feast of dance, a bouncy comedy and a defiant portrait of Jewish resilience.
Andrzej Lukowski, Time Out London: The venerable Trevor Nunn is helming the boutique venue's big seasonal musical for the first time, and he's keeping things gritty. With the exception of a colourful dream sequence, there's more black here than a goth convention: everyone wears the colour, all the time, in designer Robert Jones's earthy evocation of the Russian shtetl.
Related Articles
More Hot Stories For You
VIDEO: James Corden, Patti LuPone, and More Celebrate 'One Day More' of the Trump Era with a LES MISERABLES Parody
James Corden is celebrating the imminent departure of the Trump administration with a Les Miserables parody! ...

VIDEO: Watch 30 Broadway Stars Make Music with Muppets!
Since Jim Henson first burst onto the scene over six decades ago, Muppets have taken center stage in pop culture, appearing on film, television, and b...

10 BRIDGERTON The Musical TikToks That We're Obsessed With
This idea started by songwriter Abigail Barlow who asked the question, 'Okay, but what if Bridgerton was a musical?'...

Javier Munoz, Leslie Uggams and More Stars Set to Perform 'Seasons of Love' as Part of Tonight's Inauguration Festivities
Javier Munoz and Leslie Uggams have shared via social media that they will be joining a group of Broadway talent to perform 'Seasons of Love' as part ...

VIDEO: Broadway Celebrates Biden with A Moving Mashup of RENT and HAIR!
Tonight, many of Broadway's brightest stars united to celebrate the inauguration of President Joe Biden and Vice President Kamala Harris with a medley...

VIDEO: Amanda Gorman References HAMILTON in Inaugural Poem 'The Hill We Climb'
Today at President Joe Biden's inauguration, 22 year old Amanda Gorman took to the stage to deliver the inaugural poem, entitled 'The Hill We Climb'. ...