BWW Review: FIDDLER ON THE ROOF, Menier Chocolate Factory
Snow falls over Anatevka, over our houses. Yente, the matchmaker - that lady we know too well, have known for too long - is rambling as usual. Tevye's daughters, who we watched grow up in front of our eyes, are getting married.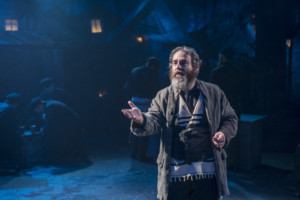 In Trevor Nunn's extraordinary new production of Fiddler on the Roof at the Menier Chocolate Factory, a dimension of intimacy and immediacy recasts a familiar show, dragging it, sometimes tearfully, always beautifully, closer to the audience than it has ever been.
The Fiddler that I know is a fairy tale with the just faintest tint of history. Poor Jewish villagers sing and dance and mistake cows for girls. But Nunn and his creative team, especially choreographer Matt Cole, have taken the kid gloves off for their production.
The audience surrounds the stage, the actors pass through the audience; the barrier between reality and Anatevka is thin, negotiable. You can see each stray thread on each shabby overcoat, smell the Sabbath candles, hear a body hit the floor during a scuffle.
The effect is an emotional side to Fiddler on the Roof that has always been present, but never so pronounced. Each development is its own tragedy, with its own gravity: the Cossacks raiding the wedding, Hodel leaving home, Chava screaming for her father to accept her - I've seen it all before, worn out the cast recording, but never felt it like this.
Andy Nyman is a fine Tevye, quick and clever but ultimately the beast on which the burden of his family's struggles family will fall. Judy Kuhn's Golde is pitch-perfect, and the indisputable musical centre of the show.
I was struck by the charisma and intensity of both of the young suitors, Motel and Perchik, played by Joshua Gannon and Stewart Clarke respectively.
One area in which this production could use more discipline is in the dialect work, which seems somewhere between Moscow and Brooklyn by way of London. Some of the actors lean more towards an Eastern-European accent, which is fine, whilst others go American, which is also fine, whilst others still retain their local British accents - which also would be fine, but with all three together, Anatevka sounds a bit like an airport waiting lounge.
But that doesn't matter much. When the villagers pass by you - right by you - one by one, worldly possessions slung over their shoulders, snow falling behind them, tragedy in their recent past and uncertainty in their future, it's all you can do not to join them in mourning their fate.
Fiddler on the Roof at Menier Chocolate Factory until 9 March, 2019
Photo by Johan Persson
Related Articles