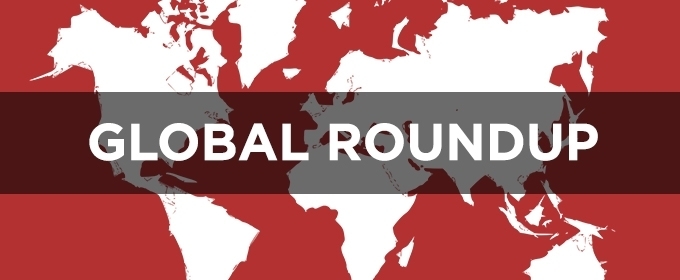 Regional Roundup: Top New Features This Week Around Our BroadwayWorld 9/15 - DREAMGIRLS, BOOK OF MORMON, And More!
BroadwayWorld presents a comprehensive weekly roundup of regional stories around our Broadway World, which include videos, editor spotlights, regional reviews and more. This week, we feature Dreamgirls, The Odd Couple, The Book of Mormon, and more!
Check out our top features from around the BroadwayWorld below!
Nominations are now open for our Edinburgh Fringe Awards - here!
We're looking for Classical, Opera, and Dance interns! Click here for more information.
---
Boston: Get a first look at the Eden Espinosa led MERRILY WE ROLL ALONG! The Huntington Theatre Company will open its 2017-2018 season with the legendary musical Merrily We Roll Along by Stephen Sondheim. Director Maria Friedman will recreate her critically celebrated West End production for Boston audiences. Performances run now through October 15, 2017 at the Avenue of the Arts / Huntington Avenue Theatre. Step inside the rehearsal room with the cast and creative team in the video below!
---
Rockland: Contributor Peter Danish reviews THE ODD COUPLE at Elmwood Playhouse. He writes "Directed with great gusto and buoyancy by Margaret Young the play, while ostensibly an ensemble piece, was more a vehicle for Paul Russo's Oscar and John Frohnhoefer's Felix. In the first act, Russo's Oscar was far more sensitive and reasonable than we are used to seeing from actors in the role. It was a very effective choice, as it further highlighted and underscored his change of heart toward his new roommate in act two. Russo brought great depth to Oscar, making his journey from concern for Felix, to fury at Felix, to missing Felix, the emotional center of the play. Frohnhoefer was hilarious as the poor, neurotic, recently separated-from-his-wife Felix, who is alternately aware and unaware of how much of a pest he is. Frohnhoefer was appropriately over-the-top, while remaining charming as little by little, Felix destroys every important relationship in his life."
---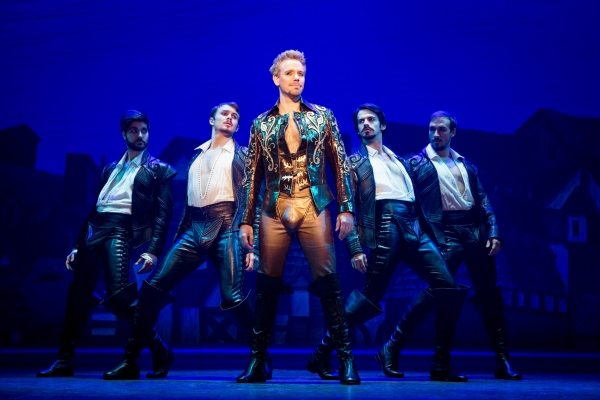 Seattle: Contributor Jay Irwin reviews SOMETHING ROTTEN at the 5th Ave Theatre. He writes "But it's a minor qualm in a fun show with a cast that looks to be having the time of their lives. McClure is hilarious as the writer about to explode if one more person mentions how great Shakespeare is and manages a wonderfully funny straight man as does his counter point straight man Grisetti as his dreamer of a brother who just wants to stay true to his art and find love. Speaking of love, the ladies in this show can come across a bit as props but luckily Maggie Lakis as Nick's force of nature wife Bea and Autumn Hurlbert as Nigel's would be Puritan girlfriend Portia are up to the task of taking these women and making them shine. Pascal takes on the rock star persona of Shakespeare and runs with it. Actually, I saw him do the role on Broadway and I think he's settled more into it and is much funnier now. Hammond is hysterical as the just off-center soothsayer and his repeated interjections are comedy gold. And I must mention the adorably fun Scott Cote as Portia's father and the Puritan leader Brother Jeremiah who's every little swish, sashay and head flip feeds beautifully into a blissful take of a holy man itching to get on his knees ... and pray."
---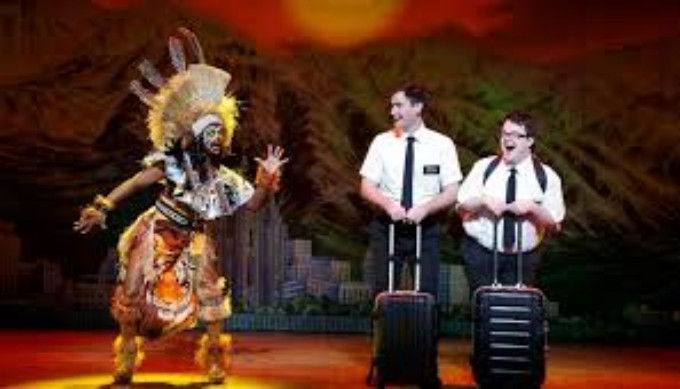 Cleveland: Contributor Roy Berko reviews THE BOOK OF MORMON at the State Theatre. He writes "The touring show is spectacular. It plays visually and emotionally on all the senses. From its giddy opening number (think the "Telephone Hour" at the start of "Bye, Bye, Birdie," to its mocking use of four letter words, to its bigger than life melodrama, to the over-the-top mythology (often paralleling the belief system to "Star Wars"), we are sucked into the idea that, as one of the words to the many delightful songs states, "tomorrow is a doper, phatter latter day." (I won't even go into the concept of the song "Ma Ha Nei Bu, Eebowai!" ["F _ _ _You Heavenly Father"], you just have to experience it to experience it!)
---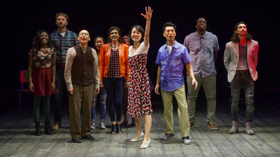 San Diego: Contributor E.H. Reiter reviews WILD GOOSE DREAMS at La Jolla Playhouse. She writes "James Kyson as Gook (Ando from HEROES anyone?) is very charming in his openness, and direct with how he feels about his situation; he is lonely, he does miss his family, and he does want to be a part of a relationship again. There is a bit of cluelessness both in the relationship with Nanhee and when trying to deal with his daughter who is seemingly as foreign to him as the country she is in that makes him both sad and endearing."
---
South Carolina: Contributor Neil Shurley reviews THE BODYGUARD at Peace Center. He writes "The show introduces us to Rachel Marron (Deborah Cox), a Whitney Houston-like pop star, and Frank Farmer (Judson Mills), the bodyguard hired to protect Rachel from a stalker (Jorge Paniagua). Rachel and Frank are both strong-willed individuals who quickly begin to clash. But Frank's steady influence grows, especially with Rachel's young son Fletcher (played on alternate nights by Kevelin B. Jones III & Sebastian Maynard-Palmer), and also with Rachel's younger sister, Nicki (Jasmin Richardson), who perpetually lives in the shadow of her glamorous sibling. Soon, Frank finds himself intricately involved in the lives of the entire family as sparks - and gunshots - fly."
---
Edinburgh: Contributor Gregor Dickson reviews GREASE at the Edinburgh Playhouse. He writes "Danielle Hope (Sandy) certainly cannot be faulted. She looks the part and sounds the part, and she actually seems more comfortable in this role than that of Dorothy in The Wizard of Oz. Of the Pink Ladies, Rhiannon Chesterman (Frenchy) stands out - a welcome return to Edinburgh following her superb guest appearance in the city's MGA Academy 10th Anniversary Concert. Favourable mentions too for Lauren Atkins (Marty) and Gabriella Williams (ubiquitous head cheerleader Patty Simcox)."
---
Arizona: Contributor Jeanmarie Simpson reviews The Hale Centre's KISS AND TELL. She writes "Young, lovely and talented Meg Farnsworth makes her Hale debut as Corliss Archer. Farnsworth, at times, had a hard time not breaking into giggles when the audience did so. The opening night crowd was so enthusiastic that it was surely jarring to a stage novice who hadn't yet publicly performed the uproarious material. The nature of the work, though, allowed for such "transgressions," even made it more funny - akin to the Corman-Conway moments on the old Carol Burnett show."
---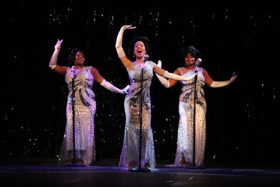 Long Island: Contributor Melissa Giordano reviews DREAMGIRLS at the Ruiz Theatre. She writes "Among the men, standouts include KeVin Knight in a return engagement to a CM production of Dreamgirls as manager Marty, CM vet Dondi Rollins, Jr. as crooner Jimmy Early (Jimmy's breakdown in Act II leaves the audience in absolute stiches), and a charming Londel Collier as Effie's brother C.C. The majority of this show is serious, dramatic moments, but the guys also deliver in making sure the audience laugh, too. They receive thunderous applause for their performance of "Cadillac Car"."
---
Regional Editor Spotlight:
Neil Shurley
South Carolina Contributing Editor
Neil Shurley has been covering the Greenville SC arts scene since 2001. A member of the American Theatre Critics Association, his work has appeared in such publications as The Greenville News, Greenville Journal, Creative Loafing. MetroBeat, Greenville Business Magazine, GSA Business, The Examiner, Film Score Monthly, and All Music Guide.
He wrote the text for the Upcountry History Museum's award-winning exhibit "Weaving Our Survival" as well as the script for the accompanying documentary film, Threads of Victory: Upcountry South Carolina during World War II, which was later featured on the PBS series Southern Lens. His fiction has appeared in Rosebud Magazine, PowFastFlashFiction, and 365 Tomorrows as well as in the anthology My First Time. His theatrical works have been produced by Centre Stage and Gambler's Theatre. He's also the co-author of Growing Greenville for 50 Years: A Celebration of Greenville Technical College. Neil is also an actor and musician and can be found online at neilshurley.com, or tweeting about donuts, coffee, and Star Trek at @ThatNeilGuy.
---
Join Team BroadwayWorld! Interested in joining our team, but not exactly sure what we do? All of your questions are answered, along with every open position from guest and student bloggers, Regional Editors, and more! Find out where we have open positions available here!
Related Articles