Click Here for More Articles on HADESTOWN
Reeve Carney Chats HADESTOWN at Citadel, Touring Solo, SPIDER-MAN and More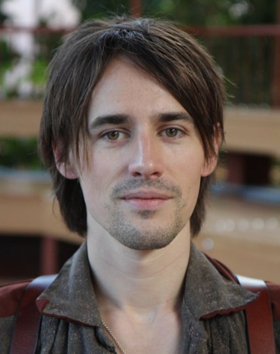 American actor and musician Reeve Carney is no stranger to travelling or the stage, after touring as a solo artist and in his band, Carney, and playing the role of Peter Parker/Spider-Man in the Broadway show Spiderman: Turn Off the Dark for three years.
But, it is Carney's first time working in Edmonton. Following a recent solo tour, the guitarist arrived in the city to rehearse for the Canadian Premiere of Hadestown at the Citadel Theatre.
Carney, who plays Orpheus, spoke with Citadel Theatre's Sydnee Bryant about growing up in a musical family, learning to play a new instrument, and reuniting with his Spiderman co-stars Patrick Page and T.V. Carpio in Anaïs Mitchell and Rachel Chavkin's new production of Hadestown.
---
Citadel Theatre: Are you based in New York or Los Angeles?
Reeve Carney: The last year, I've been travelling a lot. I tend to live places where the jobs are, so I lived in Ireland for a while and then ... if this goes to New York soon, then I'll be flying back to New York, so I have no idea!
CT: What's your favourite place that you've lived?
RC: I've liked a lot of them. I actually like it here a lot. I'm surprised but it kind of feels like ... this sounds weird but it's like the zombie apocalypse has happened and we're repopulating the earth here. Because there's so much more than I thought would be here, and for the population - there's not nearly as many people as I'm used to but there's a lot of great stuff - and nice places. It's surprising that there would be this much for such a small population. It's cool.
CT: When did you first become involved with Hadestown?
RC: I have some friends in the music and arts scene [in Brooklyn] and there was a bit of a misconnection about five years ago, where Anai?s Mitchell had reached out to me to do a reading for Hadestown while I was working on Spiderman: Turn Off The Dark in New York. I didn't have time at the moment and I wasn't even that familiar with what a reading would entail and how that all worked and how much time that would take, so I wasn't able to do it at the time. But I'm so grateful that this worked out at this point.
Patrick Page, who I worked with in Spiderman: Turn Off The Dark, ended up also bringing my name into the hat. It all worked out. The first time I was physically involved with the project was the workshop that we did in New York this March. So it's actually only been about six months of knowing the material.
CT: How would you describe your character, Orpheus?
RC: A large portion of the story is not exclusively living in the world of Greek mythology but that's where you find these characters of Orpheus and Eurydice and Hades and Persephone. There are aspects of Orpheus in Hadestown that certainly come from Greek mythology but also, I guess I'm still working on figuring that out. We've kind of just gone through the choreography and the blocking. Letting it marinate is the stage that I'm entering into now and that I'm looking forward to.
He's certainly a dreamer and an idealist, someone who believes that the world is a better place than we now perceive it to be, and I think that that's maybe one of the most important things to mention about Orpheus. And, it is a love story. But, if you can imagine someone who is so hopelessly - or hopefully, maybe I should say - optimistic, that plays into the drama of the piece if you know the story of Orpheus and Eurydice and where that ultimately leads. But the goal is to not clue the audience into that - or to make them forget about that while they're watching the show.
CT: You've worked with T.V. Carpio, who plays Eurydice in Hadestown, before. What's it like to work with her and Patrick Page again?
RC: Yeah, it's really strange - the idea to cast the three of us in Hadestown here in Edmonton. We didn't come as a package deal! It's so funny how that all worked out. Patrick mentioned my name to Anai?s after he did the New York Theatre Workshop version of the show and then I mentioned T.V.'s name to Anai?s - and Patrick also did, so we ended up coming at it from both angles. And it ended up just working out. I'm really glad because we have a built-in chemistry. T.V.'s been one of my best friends for the past 11 or 12 years, so it's nice to be able to work with her in this capacity. You just have more of a built-in comfort level, which [usually] takes a little bit of time. It helps, in terms of speeding up the process.
We had such a great time [working] on Spiderman in New York and we're getting to spend even more time together now, which is nice, I think because we're in Edmonton so we're not near all of the chaos of our daily lives. It's a whole different world up here for us because we're away from our families. I've probably spent more time with T.V. and Patrick here in Edmonton than I have in New York outside of work.
CT: How have your previous experiences prepared you for this role?
RC: I am probably not fully aware of all the ways that my previous experiences have prepared me for this. I play a version of a guitar in this show and that's where I really started. I had intended to be a jazz guitar player - not just jazz exclusively but that's what I went to school for. Things changed over the years. I still do that. It's nice to have that skill, although I am playing a tenor guitar in [Hadestown], which is tuned like a viola, so I've never played something like that before, so I'm learning new things.
Even the music that I grew up listening to - there are aspects of Orpheus' character that draw from people like Woody Guthrie or Pete Seeger. I went to a very liberal arts elementary school in New York City called Little Red School House. The first song we ever learned was This Land Is Your Land [by Woody Guthrie], which does fit into the world of Hadestown and the tone of the piece - part of its essence. My musical influences are early folk protest singers that I grew up listening to and Orpheus is a bit of that in this version of the myth. He is a bit of a protest singer.
CT: You grew up in a musical family and now you're playing someone who is very much devoted to his music and his art. Did your parents struggle as musicians?
RC: Yeah, I think most people who decide to become a musician have to be prepared for some degree of struggle. It makes the art better if you go through some struggles. To be an artist, in any form, you have to develop some sense of compassion and empathy - it's an important quality for everyone to have, on a human level. But I think, as part of our job, you have to be able to do that, so suffering, tends - if you allow it - to let you look on the bright side. It will help with those senses.
CT: What's it like working with Rachel Chavkin and Anai?s Mitchell on Hadestown?
RC: It's so awesome. My favourite show I've ever seen is Natasha, Pierre & The Great Comet of 1812 [which Rachel Chavkin directed]. I saw it in New York and I was just obsessed. I can't wait until I can see another version of that - I don't know what their plans are. Anai?s is such a poet. There are so many things that I could say about her that I almost don't want to say too much. Her compositions kind of feel like a worn-in baseball glove ... that sounds weird but they just fit. There is something that feels so lived-in about her work. And I think that might have to do with the amount of time she spends on it, going over every word. It has such a natural quality to it that is really a pleasure to sing.
CT: Do you have a favourite song or scene that you've worked on so far?
RC: It's hard to say - I love them all. There's some that I don't sing on as much that I also love. At this point, I think there's a certain power to a song called If It's True. I'm looking forward to seeing how that all ties into the show.
CT: What should audiences expect when they come to see Hadestown?
RC: Just allow yourself to go along for the ride. Expect some really, really great music. I've always been obsessed with American roots music. They call [Hadestown's music] folk opera but it's a New Orleans jazz, blues-heavy opera thing - opera in the sense that there isn't much dialogue, if any, really. There are times when you feel like you might as well be in New Orleans, which is one of my favourite cities in the world, so it's pretty cool to be a part of that world in a show like this.
Sometimes, expectations can hyper-focus you in a way that you miss so many things that are on the periphery, which are some of the most important things, so that's why I almost want to say don't expect anything - keep an open mind. I'm excited to see how this all works with an audience.
CT: You've been playing guitar since you were 12 and professionally since you were 15. How did you get started?
RC: My mom ended up taking me to blues clubs when I was growing up because it was a lot cheaper than having a guitar lesson. And we had to save money at the time. It was a great way to learn. There were all these guys that were in their 50s and 60s at the time and I was 14; I was just learning off of people who had really lived it, learning from watching them do their thing on stage.
CT: Do you still tour with your band sometimes?
RC: Yeah. At the moment, I've been touring solo because it's quite an expensive endeavour to go out with a full band when you're playing in smaller venues and I actually really do like singing solo in a smaller space because it feels more like a living room, which is kind of nice.
CT: What's it like to do a tour?
RC: It's fun. I like being on stage. I love seeing new cities and returning to cities that I love. It can be a little tiring because you don't sleep in your own bed, you're in a different hotel every night and the hours are really strange, which, for me, kind of works out because I'm a bit nocturnal in general. I think for some people it might be tougher than for others because you're usually not getting to sleep until 3 or 4 in the morning at the earliest.
CT: Are you hoping to continue acting after Hadestown?
RC: Yeah, I would love to. This feels like the right time for me - I feel very happy to be doing theatrical productions now. I was on Broadway for three years with Spiderman and that amount of time spent on a show - it's a grind being on Broadway. The people that do that are probably the hardest working people. I shouldn't say that, because there's a lot of hard work that goes on in film and television, as well. That consistency of the grind of eight shows a week - I feel ready to go back to it now after having a bit of a break. I like to have the chance to jump between different art forms, whether it be theatre, film, TV, music. It's really wonderful to have opportunities in different arenas.
CT: Can you tell me a little more about the instrument that you'll be playing in Hadestown?
RC: I guess you can tune a tenor guitar in a number of ways. I wasn't aware that you can tune a tenor guitar like a viola, so that's how this is tuned. We're calling it a lyre because that's what Orpheus actually played, and it has that feel - almost a cross between a harp and a guitar. There's something about the way it sounds. It's been nice to learn - it's like a foreign language, looking down at the strings and thinking, 'Oh, it doesn't sound anything like it does on a guitar when I play it like this.' I like to mess around on different instruments. It's nice to explore and learn new things.
CT: This show was written well before the age of Trump but it's coming to attention in a big way in the age of Trump. Is that something the cast is consciously keeping out of the room?
RC: I wouldn't want any sort of narrowed focus or extreme focus to take away from the bigger picture of what the overall piece has the power to move people to feel. I think it's something we have to figure out, because you don't want to lay into something that wasn't even initially the intention but obviously it could be perceived that way. So I almost think we don't have to lay into that side of it too much because even if we just graze over it - because of where we are currently in history, people's minds will gravitate towards that connection, whether or not it was intentional. I think the goal is to not push too hard.
---
Hadestown runs November 11 to December 3, 2017, at the Citadel Theatre. For more information or to purchase tickets, call 780.425.1820 or visit www.citadeltheatre.com.
Photo by Ken Davis