Click Here for More Articles on NEIL PATRICK HARRIS
Photo Flash: First Shots of RENT in Rehearsal for the Hollywood Bowl!
RENT, written by Jonathan Larson, will be performed at the Hollywood Bowl for three performances only, Friday and Saturday August 6 and 7 at 8:30pm, and Sunday August 8 at 7:30pm. Neil Patrick Harris will direct the production, with musical direction by Tim Weil and choreography by Jamal Sims. The cast includes Skylar Astin, Wayne Brady, Vanessa Hudgens, Telly Leung, Collins Pennie, Nicole Scherzinger, Tracie Thoms, and Aaron Tveit.
Tickets are now on sale, and may be purchased online at HollywoodBowl.com, by phone at 323-850-2000, in person at the Hollywood Bowl box office, or by calling Ticketmaster at 800.745.3000, and at all Ticketmaster outlets.
With a 12-year run on Broadway, a Tony Award for Best Musical, and a Pulitzer Prize, RENT is one of the most groundbreaking and popular shows of all time. This year the Hollywood Bowl's annual fully staged musical brings to life "La Vie Bohème", "Seasons of Love" and all the songs that made RENT such a hit.
RENT, written by Jonathan Larson and directed by Michael Greif, originally opened at Broadway's Nederlander Theatre on April 29, 1996, following a history making, sold-out, extended limited engagement at off-Broadway's New York Theatre Workshop. The musical went on to win every major best musical award, including the Tony Award, as well as the Pulitzer Prize for drama. With 5,124 performances, RENT is the ninth longest running show in Broadway history.
Neil Patrick Harris said, "I'm thrilled with the cast. With this gang, I'm hoping to provide an eclectic mix of experienced RENT performers, amazing new talent, and recognizable faces in unexpected roles. Of paramount importance to me, though, is honoring the piece as a whole - the music, the vibe, the creator - so that those who have never experienced RENT will be able to appreciate it alongside die-hard fans. We'll only have one week of rehearsal, which I like to call 'madness', but as of now my hopes are very high."
Appearing in RENT at the Hollywood Bowl as Mimi is Vanessa Hudgens, best known for her breakout role in the High School Musical series as Gabriella Montez, for which she received numerous nominations and awards. Nicole Scherzinger, solo artist, lead singer of The Pussycat Dolls, and this season's winner of Dancing With the Stars, will play Maureen.
Emmy winner and Grammy nominee Wayne Brady plays Tom Collins. Aaron Tveit, from Broadway's Pulitzer Prize winning Next to Normal and the upcoming feature film Howl plays Roger. Skylar Astin, who played Georg in Spring Awakening on Broadway, plays Mark.
Collins Pennie who appeared in the films Fame and the upcoming Stomp the Yard 2: Homecoming, plays Benny. Tracie Thoms, a regular on CBS' Cold Case, will be Joanne, a role she played in the film and the final cast of RENT on Broadway. RENT alum Telly Leung will play the role of Angel. Gwen Stewart, the original Broadway vocalist of "Seasons of Love," will join the production as well.
The ensemble of RENT includes Yassmin Alers, Eric B. Anthony, King Aswad, Susan Beaubian, David Burtka, Kathy Deitch, Sam Given, Rachael Harris, Tricia Kelly, Ethan Le Phong, Kristolyn Lloyd, Zarah Mahler, Laura Mixon, Jason Paige, Miri Park, Gwen Stewart and Brandon Wardell. Gwen Stewart was the original Broadway vocalist of "Seasons of Love."
Neil Patrick Harris makes his directorial debut of a musical with the premiere of RENT at the Hollywood Bowl. Harris starred in Rent, playing Mark Cohen, for the Los Angeles production/2nd National Tour of the musical in 1997. His performance garnered him a Drama League Award. Harris may best be known for his memorable television roles, including his current Emmy-nominated role as Barney Stinson in How I Met Your Mother as well as the title role in Doogie Howser, M.D. Harris also hosted the 63rd Tony Awards and the 61st Primetime Emmy Awards.
Tim Weil, the original Musical Supervisor and Conductor for Rent on Broadway, and Musical Supervisor for the 2009 US Tour of Rent will serve as Musical Director of the Hollywood Bowl's fully staged production. Weil also served as Musical Director for Shrek The Musical on Broadway. Jamal Sims, who was an associate choreographer of the film Hairspray, co-choreographed the 82nd Academy Awards, and was assistant choreographer of the Madonna: Sticky and Sweet Tour, will choreograph.
One of the largest natural amphitheaters in the world, with a seating capacity of nearly 18,000, the HOLLYWOOD BOWL has been the summer home of the Los Angeles Philharmonic since its official opening in 1922, and is home to the best and brightest in all genres of music. The 2004 season introduced audiences to a revitalized Hollywood Bowl, featuring a newly constructed shell and stage and the addition of four stadium screens enhancing stage views in the venue. To this day, $1 buys a seat at the top of the Bowl for many of the Los Angeles Philharmonic's concerts. While the Bowl is best known for its sizzling summer nights, during the day California's youngest patrons enjoy "SummerSounds: Music for Kids at the Hollywood Bowl," the Southland's most popular summer arts festival for children, now in its 42nd season. In February 2010, the Hollywood Bowl was named Best Major Outdoor Concert Venue for the sixth year in a row at the 21st Annual Pollstar Concert Industry Awards; the Bowl's summer music festival has become as much a part of a Southern California summer as beaches and barbecues, the Dodgers, and Disneyland.
Photo Credit: Ed Krieger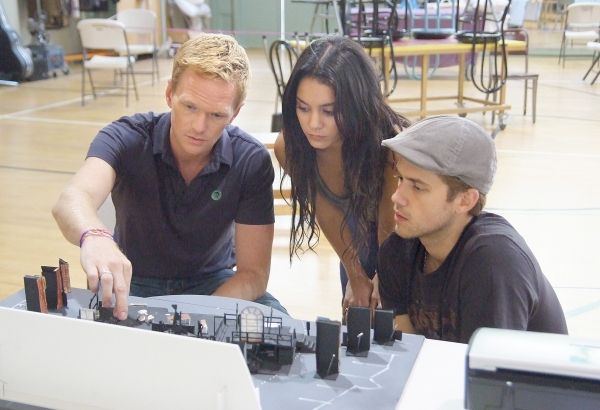 Director Neil Patrick Harris with Vanessa Hudgens as Mimi and Aaron Tveit as Roger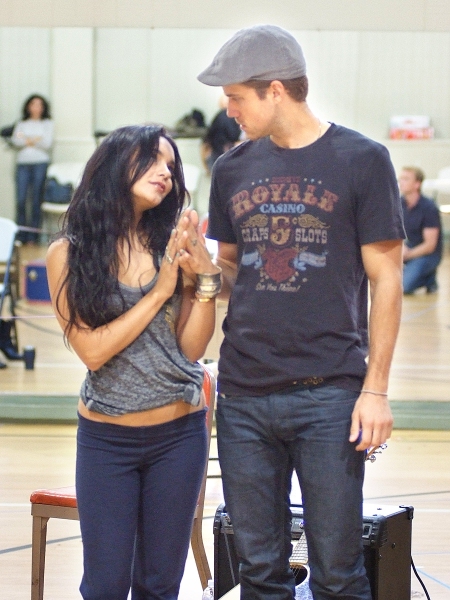 Vanessa Hudgens as Mimi and Aaron Tveit as Roger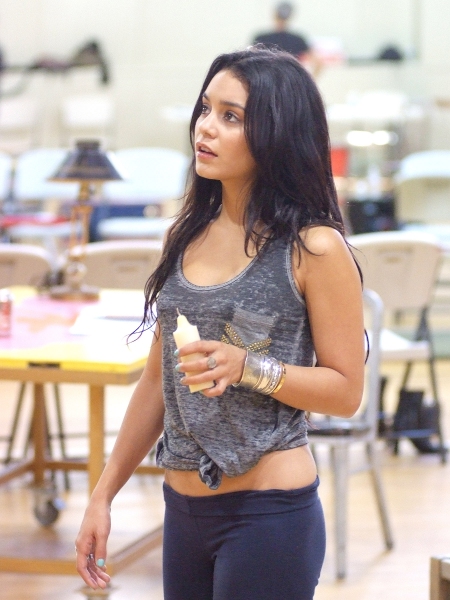 Vanessa Hudgens as Mimi
Stay tuned for more photos and coverage on BroadwayWorld.com!