Park Avenue Armory presents LOOKING BACK | LOOKING FORWARD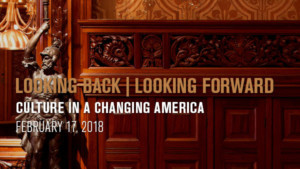 On Saturday, February 17, 2018, artists, activists, academics, and community leaders will gather at the Park Avenue Armory for Looking Back | Looking Forward, a symposium of conversations, performances, salons and open studios exploring artistic, social, and political perspectives on the fiftieth anniversary of the extraordinary world-changing events of 1968. Looking Back | Looking Forward marks the second annual Culture in a Changing America gathering at the Armory, and launches the 2018 season of the Interrogations of Form series. The event is presented in collaboration with The Aspen Institute Arts Program and ArtChangeUS.
The symposium aims to look back and reflect upon the influential moments in the United States in 1968-such as the assassinations of Martin Luther King Jr. and Robert F. Kennedy, the Tet Offensive, the silent demonstration at the Mexico City Summer Olympics, the signing of the Civil Rights Act of 1968, as well as the airing of the first televised interracial kiss on Star Trek-while also looking forward beyond 2018, examining the impact of this pivotal year on our nation's history.
Looking Back | Looking Forward will feature three Sessions throughout the day. Each Session offers two unique choices of presentations and performances, allowing audiences to select symposium tracks based on their interests. Between programs, audiences are invited to visit salons and open studios on the first and second floors.
Select participants across the day include tap dancer Michelle Dorrance; journalist Greg Tate; visual artist Teresita Fernandez; founder of National Black Theatre Sade Lythcott; Studio Museum of Harlem Director and Chief Curator Thelma Golden; bassist, singer-songwriter, and rapper Meshell Ndegeocello with professor Margo Jefferson and photographer LaToya Ruby Frazier; bass-baritone Davóne Tines; theater director Roberta Uno; and former New York City Ballet Principal Dancer and Director of the Aspen Institute Arts Program Damian Woetzel, among others. Sessions and participants are subject to change.
---
Event Date & Time
Saturday, February 17, 2018
12:00-8:15 PM
Event Location
Park Avenue Armory
643 Park Avenue
New York, NY 10065
Related Articles
More Hot Stories For You
Actors' Equity Has Rejected Walt Disney World's Virus Safety Plan For Performers
Deadline has reported that Actors' Equity has rejected Walt Disney World's reopening safety plan for workers due to the fact that the proposal does no...

Ramin Karimloo, Rachel Tucker, Rachel John, and Cedric Neal Will Lead Virtual Production of SONGS FOR A NEW WORLD
A virtual production will be streamed of Jason Robert Brown's Songs For A New World, filmed entirely in isolation. Séimí Campbell directs Rachel John ...

QUIZ: Can You Guess the Hamilton Character from These Blurry Images?
These Hamilton pictures are a bit blurry... can you figure out which characters they are?...

Spotlight on HAMILTON: Catching Up with Christopher Jackson
History may have its eyes on Hamilton, but today, we have our eyes on the history of its stars. Below take a deep dive into the career of the general ...

Oliver Dowden Meets With Andrew Lloyd Webber at the London Palladium to Test Safety Measures
Oliver Dowden, Secretary of State for Digital, Culture, Media and Sport, has shared photos on Twitter of a meeting that recently took place between hi...

HAMILTON Cast Album Returns to #1 Spot on the iTunes Chart
The Hamilton Original Broadway Cast Recording has returned to the #1 spot on iTunes' Top Albums chart, ahead of the musical's premiere on Disney+ tomo...