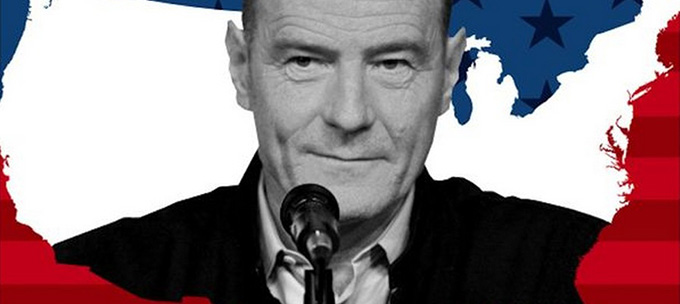 Click Here for More Articles on ALL THE WAY
New Promo For Bryan Cranston In ALL THE WAY
An attention-grabbing new promotional advertisement has been unveiled featuring multi-award-winning stage and screen star Bryan Cranston in the new political drama All the Way.
The official description of All the Way is as follows: "All the Way is a gripping new play about a pivotal moment in American history. This drama will take audiences behind the doors of the Oval Office and inside the first years of Lyndon B. Johnson's presidency, and his fight to pass a landmark civil rights bill. Cranston will be joined by an ensemble cast playing additional roles such as Hubert Humphrey, Richard Russell, Robert McNamara, Coretta Scott King, Lady Bird Johnson, Bob Moses, Roy Wilkins, Lurleen Wallace, Stokely Carmichael, Walter Jenkins, Stanley Levison, George Wallace, Ralph Abernathy and Judge Smith."
ALL THE WAY is set to play The Neil Simon Theatre for a limited run only, beginning rehearsals on Tuesday, January 14, with previews beginning Monday, February 10, and an opening night set for Thursday, March 6.
ALL THE WAY was written by Robert Schenkkan and is directed by Bill Rauch.
For more information on All the Way, visit the official site here.
View the new promo for Bryan Cranston in All the Way below.