Musical Based on Romantic Comedy 13 GOING ON 30 Heading to Broadway!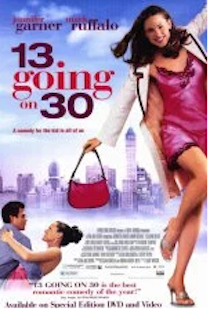 According to Deadline, Revolution Studios will join forces with veteran producers Andy Fickman, Dean Stolber and Todd Garner to produce a Broadway musical version of hit 2004 romantic comedy, 13 GOING ON 30.
Fickman ( Heathers: The Musical and Off-Broadway's Reefer Madness: The Musical) will helm the show whose book will be written by the film's screenwriters Josh Goldsmith and Cathy Yuspa. Music and lyrics are by Alan Zachary and Michael Weiner (Broadway's FIRST DATE).
The 2004 film, which starred Jennifer Garner, Mark Ruffalo, Judy Greer and Andy Serkis, earned over $96 million at the global box office. The story follows Jenna, "a teenager who dreams of escaping the social pressures and humiliation of middle school. With the help of some "wishing dust," she finds herself transformed overnight into a glamorous career woman who seems to have everything Jenna ever wanted - except her childhood best friend Matt. As she learns more about adult life and the path she took to get where she is, Jenna realizes there's much more to happiness than being popular."
Fickman commented that the story "has all the elements of a great musical: comedy, romance an empowering message - and a touch of magic."
The original film featured such musical numbers as Michael Jackson's "Thriller" and a high-energy cover of Pat Benatar's "Love Is A Battlefield." According to Deadline, the majority of the show's music will be original with the bookwriters and composer/lyricist teams having recently begun working together. However, licensing "Thriller" and other source cues has not been ruled out.
This is not the only teen comedy set to get the musical stage show treatment. As BWW recently reported, 17 AGAIN will be holding a development lab this November.
Watch the trailer and clip from the original film below:

Poster art courtesy of Columbia Pictures
Related Articles