MARY & MAX Musical Adaptation Gets First NYC Reading This Weekend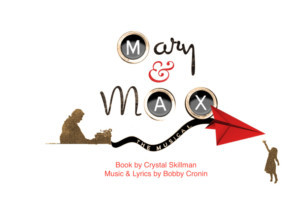 Big Brother Productions presents an industry reading of MARY & MAX, a new musical based on the 2009 Australian claymation film about two unlikely pen pals, on Sunday, November 12th, at 3pm.
After a very successful reading this summer at the ALLIANCE THEATRE produced by Broadway Dreams Foundation [which led to a soon-to-be announced major out-of-town production], MARY & MAX will have its first 29-hour reading in New York City.
The groundbreaking musical features a book by Crystal Skillman (Geek, King Kirby) and music and lyrics by Bobby Cronin (The Concrete Jungle, W2ML), with direction by Theatre Calgary's newly appointed artistic director, Stafford Arima (Allegiance, Altar Boyz), with musical direction by Anna Ebbesen.
MARY & MAX tells the story of two people from two different worlds who remind us that, even when we feel most afraid and alone, friendship can be found in the unlikeliest of places. Set in the 1970s, it comes to life through pen pal exchanges between Mary Dinkle, a chubby ten-year-old girl living in the suburbs of Melbourne [Australia], and Max Horovitz, a severely obese, 44-year-old Jewish man with Asperger's Syndrome living in the chaos of New York City. As they take us on their respective journeys, we learn that sometimes perfect strangers make the best of friends.
The ensemble cast features: Alessandra Baldacchino (Fun Home) as Young Mary, Anthony Galde (original casts of Wicked, Civil War, Starlight Express) as Max, Lauren Elder (Side Show, Hair) as Adult Mary, Nick Adams (Priscilla Queen of the Desert, La Cage aux Folles), Anne Brummel (Elphaba in Wicked), Danyel Fulton (Jasper in Deadland), Lynn Craig (David Bowie's Lazarus), Joseph Torello, Chase Crandell, and Jackson Perrin.
Due to greater-than-expected industry response, the 110-minute reading will now be held at the new Ripley Grier Studios, 305 West 38th Street. SEATING IS LIMITED so please RSVP at MaryAndMaxMusical@gmail.com.
Watch a trailer for the film below!