Kelli O'Hara, Jackie Hoffman, Aaron Tveit, Rachel Bloom and More Tapped for Lincoln Center's 2018 American Songbook Season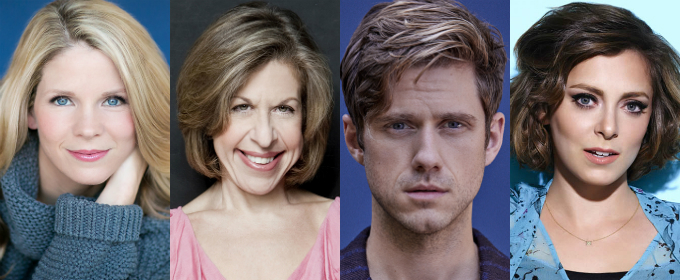 The 19th season of Lincoln Center's acclaimed American Songbook series opens this January, presenting the voices and stories of singers, songwriters, and musicians across a range of genres. From musical theater to Americana to R&B and gospel, these performers will chronicle personal journeys, pay tribute to legendary artists, and showcase the breadth of creativity, emotion, and expression found throughout American song.
The season opens in the iconic Appel Room on January 24, 2018, with Grammy Award winner John Paul White (The Civil Wars) performing his lyric-driven Southern gothic folk. And in March, the series will return to the Rose Theater for the first time since 2005 for a pair of special evenings with Oscar-, Emmy-, and Grammy Award-winning songwriter Randy Newman (March 26) and Rosanne Cash (March 27), a four-time Grammy Award winner, best-selling author, and activist.
Composers and lyricists are a centerpiece of this season, as Tony winners Stew & Heidi Rodewald (Passing Strange¸ The Total Bent) reflect on two decades of music-making through the prism of their self-described "Afro-Baroque cabaret" (Feb. 7); Matt Ray pays homage to Hoagy Carmichael with singer Kat Edmonson (Jan. 27); composers Scott Frankel & Michael Korie (Grey Gardens, War Paint) are joined by stars Kelli O'Hara and Julian Ovenden (Feb. 17); and downtown legend Justin Vivian Bond weaves the trials of Karen Carpenter's complicated life into a modern context using her music (Feb. 15).
Additional featured musicians ranging from icons to iconoclasts include comedian Jackie Hoffman, coming off her Emmy-nominated performance as Mamacita in Feud: Bette and Joan (Jan. 25); indie band Cloud Cult, which mixes swelling harmonies and orchestrated arrangements with an environmentalist message (Jan. 26); sisters Shelby Lynne & Allison Moorer, each a groundbreaking artist of Americana in her own right (Feb. 8); Broadway star Aaron Tveit, who headlined Next to Normal and Catch Me If You Can (Feb. 9); the team behind Crazy Ex-Girlfriend, Rachel Bloom & Adam Schlesinger (Feb. 10); vocalist Lizz Wright, whose 2017 album Grace melds the spirituality and sensuality of the American South (Feb. 14); and gospel legends The Blind Boys of Alabama, who are celebrating their more than 70-year legacy with a new album inspired by the memories of founding members James Carter and Clarence Fountain (Feb. 16).
The rising Maryland-born, Liverpool-based soul and R&B singer-songwriter Jalen N'Gonda will also perform a free show on February 1 in the David Rubenstein Atrium.
"Each season of American Songbook juxtaposes the popular music of our time while honoring that of the past and anticipating the voices of the future. From the world of Broadway to television to the backroads of Alabama to Duluth, Minnesota, this year we are covering considerable ground," said Jane Moss, Lincoln Center's Ehrenkranz Artistic Director. "Each of these artists moves us with their creativity, personal stories, and, for many of them, their much-needed humor."
Hailed for its expansive embrace of American songwriting spanning centuries and geography, American Songbook is based at three venues at Lincoln Center. The Appel Room at Jazz at Lincoln Center, with its floor-to-ceiling windows overlooking Columbus Circle, hosts cabaret-style performances that include table seating, close proximity to the performers, and an incomparable view of the Manhattan skyline. In addition, the series will return to the Rose Theater, which maintains an intimate atmosphere as the largest of Jazz at Lincoln Center's performance spaces, and the David Rubenstein Atrium, a vibrant indoor public commons offering hundreds of free programs each year.
"PGIM, the global investment management businesses of Prudential Financial, is proud to be the lead supporter of such an innovative concert series as Lincoln Center's 2018 American Songbook," said David Hunt, President and CEO of PGIM. "The array of performances allows Lincoln Center audiences to celebrate the diverse aspects of the American experience through music, and we are honored to be a part of it for the fifth year in a row."
Tickets for Friends of Lincoln Center go on sale November 6 and to the general public beginning November 13. They may be purchased online at AmericanSongbook.org, via CenterCharge at 212.721.6500, and at the Alice Tully Hall and David Geffen Hall Box Offices. Premium packages, which include red wine, dinner, and the best seats in the house, are available for purchase for Appel Room performances; find more information at AmericanSongbook.org, and learn about our Friends of Lincoln Center program at Support.LincolnCenter.org.