Click Here for More Articles on BEETLEJUICE
Irving Burgie, Songwriter of 'Day-O', Featured in BEETLEJUICE, Has Died at Age 95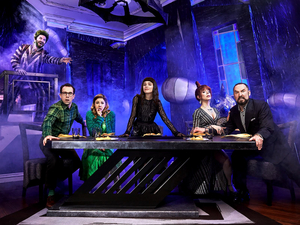 Irving Burgie, the songwriter best known for his calypso hit Day-O, has died at age 95, according to the BBC. The cause of death was a result of complications from heart failure.
Day-O was perhaps made most popular in the film Beetlejuice. The song was then brought in to the musical adaptation of the film, as the finale.
The song, written in the 1950s, was also used in other films, advertisementss and even as a wake-up call for astronauts in space. Also known as The Banana Boat Song, Day-O has been sampled by rapper Lil Wayne and singer Jason Derulo.
Burgie's songs have sold more than 100 million records worldwide.
He wrote eight of the 11 songs on Harry Belafonte's 1956 album Calypso, which was the first album in the US to sell more than a million copies. He has also worked with the likes of Jimmy Buffett, Chuck Berry and Sam Cooke.
Burgie's other well-known songs include Island in the Sun, Jamaica Farewell and Mary's Boy Child, which he co-wrote.
Read more on the BBC.
Watch the cast of Beetlejuice tribute Burgie below:
Related Articles

More Hot Stories For You
Ben Vereen's Son, Ben Vereen Jr., Has Died
BroadwayWorld is saddened to hear of the passing of Benjamin Vereen Jr., the son of Tony-winning actor Ben Vereen....

VIDEO: HAMILTON Fan Creates a Side-By-Side Comparison of 'Helpless' and 'Satisfied'
One Hamilton fan saw some parallels while watching the musical on Disney+, specifically between A Winter's Ball/Helpless and Satisfied....

Lin-Manuel Miranda, Leslie Odom Jr., Renée Elise Goldsberry and More to Take Part in Upcoming HAM4CHANGE Fundraiser
On Saturday, August 15th, at 4pm PT/7pm ET, members of the original cast of the Tony Award-Winning Broadway Musical Hamilton will come together for th...

Debra Messing and Eric McCormack Will Moderate an Online Discussion and Fundraiser For Joe Biden
Debra Messing and Eric McCormack will moderate an upcoming online discussion and fundraiser for Joe Biden....

VIDEO: Olivia Newton-John Talks Memories of XANADU for the Film's 40th Anniversary
In honor of the 40th anniversary of the musical film Xanadu, star Olivia Newton-John shared what it was like working on the film, what it was like to ...

Award-Winning Director and Choreographer Tony Charmoli Dies at Age 99
Tony Charmoli died peacefully on the evening of August 7th at his home in the Hollywood Hills. He was 99. Tony had a decades long, award-winning caree...