Click Here for More Articles on ROUNDABOUT THEATRE COMPANY
Ethan Dubin, Gabriel Brown, Sasha Diamond & More Will Star in Roundabout's BOBBIE CLEARLY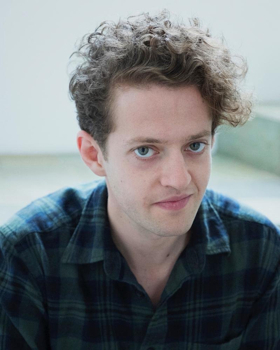 Roundabout Theatre Company (Todd Haimes, Artistic Director/CEO) has just announced the full cast of Bobbie Clearly, by Alex Lubischer, directed by Will Davis. This is the second play in Roundabout Underground's expanded two-play season, following Too Heavy for Your Pocket by Jire?h Breon Holder this fall.
Bobbie Clearly will feature Gabriel Brown (Pete Pfeifer), Sasha Diamond (Meghan Gotschell), Ethan Dubin (Bobbie Clearly), Crystal Finn (Jane Welch), Marcus Ho (Russ Scott), Christopher Innvar (Stanley Welch), Tyler Lea (Eddie Welch), Talene Monahon (Megan Currie), Brian Quijada (Mitch Backes), Constance Shulman (Darla London) and JD Taylor (Derek Nelson).
The New York premiere of Bobbie Clearly begins preview performances Off-Broadway on Thursday, March 8, 2018 and opens officially on Tuesday, April 3, 2018 at the Black Box Theatre in the Harold and Miriam Steinberg Center for Theatre (111 West 46th Street). This is a limited engagement through Sunday, May 6, 2018. All tickets for Roundabout Underground productions are $25.
Something unspeakable happened in the middle of a cornfield two years ago. Now, at last, the upstanding residents of Milton, Nebraska-from the cop and the nurse to the co-captains of the dance team, and even Bobbie himself-are ready to tell you their sides of the story. Nebraskan Alex Lubischer, a second-year candidate in the Playwriting Program at Yale School of Drama and the newest voice discovered by Roundabout Underground, pushes the boundaries of our Black Box Theatre with a sprawling cast of eccentric characters and an ambitious narrative that pulls back the husk of rural life.
Now in its 11th season, Roundabout Underground has proven an enormous success since the program debuted in 2007 with Stephen Karam's hit comedy Speech and Debate. Karam's first play commissioned by Roundabout-Sons of the Prophet-was a Pulitzer Prize finalist and his second commission, The Humans, won the Tony Award for Best Play after transferring from the Laura Pels Theatre to Broadway. Joshua Harmon also made his professional debut with Roundabout Underground with the hit Bad Jews. His play, Significant Other, premiered Off-Broadway at Roundabout and transferred to Broadway last season; his new play, Skintight, will premiere at the Laura Pels Theatre in Spring 2018 starring Idina Menzel. Fellow Underground alumnus Steven Levenson (The Language of Trees) won the Tony Award for Best Book of a Musical for his Broadway debut with Dear Evan Hansen, while simultaneously debuting his new play, If I Forget, Off-Broadway at Roundabout. After the success of Too Much, Too Much, Too Many in 2013, Roundabout commissioned playwright Meghan Kennedy to write Napoli, Brooklyn. Lindsey Ferrentino, who made her Roundabout debut with Ugly Lies the Bone, returned with Amy and the Orphans, which is currently playing at the Laura Pels Theatre in the spring.
Bobbie Clearly continues the 11th season of Roundabout Underground, with the goal of introducing and cultivating young artists in Roundabout's 62-seat Black Box Theatre at the Harold and Miriam Steinberg Center for Theatre. Bobbie Clearly was presented as part of last year's Underground Reading Series at Roundabout, and is the second production in the Roundabout Underground's expanded two-play 2017-2018 season. Prior productions include the acclaimed world premieres of Stephen Karam's Speech & Debate (2007), Steven Levenson's The Language of Trees (2008), Adam Gwon's Ordinary Days (2009), Kim Rosenstock's Tigers Be Still (2010), David West Read's The Dream of the Burning Boy (2011), Andrew Hinderaker's Suicide, Incorporated (2011), Joshua Harmon's Bad Jews (2012), Meghan Kennedy's Too Much, Too Much, Too Many (2013), Jeff Augustin's Little Children Dream of God (2015), Lindsey Ferrentino's Ugly Lies the Bone (2015), Jenny Rachel Weiner's Kingdom Come (2016), Marti?n Zimmerman's On the Exhale (2017) and Jire?h Breon Holder's Too Heavy for Your Pocket (2017).
Roundabout Underground showcases new plays that will either give a debut production to an emerging writer or director, or allow an experienced director to go back to his/her creative roots. Jill Rafson (Director of New Play Development) serves as Artistic Producer for this initiative that continues to be a creative breeding ground for nurturing new talent.
The 62-seat Black Box Theatre, below the Laura Pels Theatre in the Harold and Miriam Steinberg Center for Theatre, allows Roundabout to take artistic risks that are better suited for a more intimate space.
The creative team for Bobbie Clearly includes: Arnulfo Maldonado (Sets), A?sta Hostetter (Costumes), Jen Schreiver (Lighting) and Palmer Hefferan (Sound).
Major support for Bobbie Clearly and Roundabout Underground is provided by Jodi Glucksman.
Roundabout's work with new and emerging playwrights and directors, as well as development of new work, is made possible by Katheryn Patterson and Tom Kempner.
Alex Lubischer is Roundabout's 2017-18 Tow Foundation Playwright in Residence.
Related Articles
More Hot Stories For You