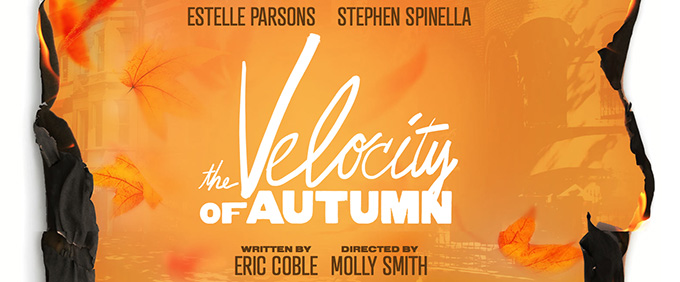 Click Here for More Articles on THE VELOCITY OF AUTUMN
Estelle Parsons & Stephen Spinella-Led THE VELOCITY OF AUTUMN to Open at Booth Theatre on 4/21
Larry Kaye and HOP Theatricals, and Van Dean and The Broadway Consortium just announced that the new American play The Velocity of Autumn will begin previews Tuesday, April 1, 2014, at Broadway's Booth Theatre (222 West 45 Street) for a limited engagement, following a sold-out, critically acclaimed run at Washington DC's Arena Stage (Edgar Dobie, Executive Producer) in the Fall of 2013. The Velocity of Autumn is a 90-minute powder keg dark comedy by Eric Coble that stars Academy Award winner Estelle Parsons (Bonnie and Clyde, "Roseanne") and two-time Tony Award winner Stephen Spinella (Angels In America, Spring Awakening), is directed by Molly Smith and will open Monday, April 21, 2014. The Velocity of Autumn will mark the Broadway debuts of playwright Eric Coble and director Molly Smith.
Tickets for The Velocity of Autumn are $65 - $135 and will go on sale through an exclusive Audience Rewards pre-saleMonday, December 16, 2013, at www.audiencerewards.com. Tickets go on sale to the general public Friday, December 20, 2013, at Telecharge.com (212-239-6200 or 800-447-7400). The playing schedule for The Velocity of Autumn is as follows: Tuesdaythrough Saturday at 8pm, with matinees Wednesday and Saturday at 2pm and Sunday at 3pm. Beginning April 22, 2014, the playing schedule is as follows: Tuesday and Thursday at 7pm, Wednesday at 7:30pm, Friday and Saturday at 8pm with matinees Wednesdayand Saturday at 2pm and Sunday at 3pm. Please note there will be no 2pm matinee Wednesday, April 2, and no performance Thursday, April 24.
THE VELOCITY OF AUTUMN swirls around Alexandra, a 79-year-old artist in a showdown with her family over where she'll spend her remaining years. In Alexandra's corner are her wit, her volcanic passion and the fact that she's barricaded herself in her Brooklyn brownstone with enough Molotov cocktails to take out the block. But her children have their own secret weapon: estranged son Chris who returns after 20 years, crawls through Alexandra's second floor window, and becomes the family's unlikely mediator. No sooner are the words "Hi, Mom" uttered than the emotional bombs start detonating. The Velocity of Autumn is a wickedly funny and wonderfully touching discovery of the fragility and ferocity of life.
THE VELOCITY OF AUTUMN has scenic design by Eugene Lee, costume design by Linda Cho, lighting design by Rui Rita, sound design by Darron L. West, wig design by Paul Huntley, and casting by Geoff Josselson. The Velocity of Autumn is produced by Larry Kaye & HOP Theatricals; Van Dean & The Broadway Consortium; Joan Raffe & Jhett Tolentino; and Rob Hinderliter & Dominick LaRuffa Jr., in association with KIRN Productions and Jonathan Demar.
THE VELOCITY OF AUTUMN had its world premiere at Boise Contemporary Theatre in Idaho in April 2011, and played to sold-out audiences at Cleveland's Beck Center for the Arts in Ohio in April 2012. The Arena Stage production of The Velocity of Autumn, directed by Molly Smith, starred Estelle Parsons and Stephen Spinella and ran from September 6 through October 20, 2013 in the Kreeger Theater. A pioneer not-for-profit resident theater in its 64th Season, Arena Stage is a national center dedicated to American theater.