Education Spotlight: Photos of Student Cast of HEATHERS With Dan Domenech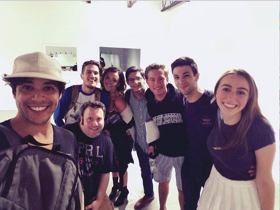 Welcome to BroadwayWorld's new Education Spotlight! Here we will shine a light on Broadway performers who are paying it forward, working with students to inspire, teach and encourage their talent as they work towards becoming the future of the Great White Way.
Our first Education Spotlight features two-time Drama Desk Award and Lucille Lortel Award Winner, HEATHERS: THE MUSICAL. The show is getting a revamp with new music and scene changes! Directed by original cast member and Long Island Native Dan Domenech, the writers have allowed him to beta test this never-before-seen version of the show with current students and Alumni of From Stage to Screen, Long Island's Premiere Performing Arts Academy! If all goes well, this will become the official version of the show!
HEATHERS: THE MUSICAL is showing for ONE WEEKEND ONLY at the beautiful Dix Hills Performing Arts Center at Five Towns College situated in Dix Hills, Long Island! Performance dates are Friday, August 11th @ 8pm, Saturday, August 12th @ 3pm & 8pm and Sunday, August 13th @ 2pm! Tickets are $25 a piece, so grab your slurpee & rock it our with this young & talented cast!
From Stage to Screen is in its 10th full year as a performing arts academy and boasts over 400 students in its program! Its alumni attend some of the best colleges & musical theater programs in the country! Founded by Gene and Jennifer Forman, From Stage to Screen hires working Broadway actors to teach its students every facet of the business! Some of our top instructors include Newsies Ryan Steele, Aladdin's Adam Jacobs, original Hamilton cast member, Carleigh Bettiol, A Chorus Line & West Side Story's Natalie Cortez, Jenn Colella of Come From Away, as well as Broadway veterans Jeffrey Schechter, Heather Parcells & Josh Grisetti !
From Stage to Screen is received the Best Arts Academy in the Huntington Area by the Huntington Arts Program, multi nominee for Best of Long Island in the Arts and Education category and in 2014, Program Director, Gene Forman received a Tony Award Nomination for Theatre Education. FSTS students have performed everywhere, from Walt Disney World in Orlando to theaters in Lincoln Center & Times Square! We are located in Huntington, New York and you can check out our website at www.fromstage2screen.com.
The director for our production of Heathers is original cast member, Dan Domenech. In addition to the off-Broadway hit, Mr. Domenech was also seen as the star of the Broadway's "Rock of Ages," National tour of "RENT" and has made guest appearances on Fox's "Glee" and "Gotham."
HEATHERS: THE MUSICAL is a rock musical with music, lyrics, and a book by Laurence O'Keefe and Kevin Murphy and based on the 1988 cult film Heathers. After a sold-out Los Angeles tryout, the show had a production Off-Broadway in 2014. The show, while a comedy, deals with issues of teen suicide, murder, bullying, homophobia, and gun violence. It has developed a cult following and is massively popular on various social media outlets. The show's original director, Andy Fickman, had been working with Daniel Waters (the screenwriter of the film) on the musical. After seeing Laurence O'Keefe's work with Legally Blonde and how he transitioned film to theatre, he decided to pair him with Reefer Madness collaborator Kevin Murphy. Flickman said of the experience, "we found that Heathers gave a great deal of opportunity for '80s commentary and a great chance for music and storytelling".
"It's rewarding knowing that after we graduate, we still get to come home (to Stage to Screen) and work together on a show we all love, watch each other grow, and root each other on. Heathers has so much to do with the importance of understanding and connection to others, I couldn't think of a better way to tell that story than with these people." said Tori Ciccone who splits the part of Veronica Sawyer with Emma Kowalchuk in the STS production. "This has been such an unforgettable experience. What makes this so special is that we get to breath new life into the show we all know and love by bringing our own voices and ideas into the new script. This has brought out the best in all of us." said Emma Kowalchuk.
The part of J.D is played by Austin Pogrob and Jared Ross. "The opportunity to work with Dan, Nicolina, Adam, the creative team, and this talented cast on brand new material is a perfect culmination of my training at From Stage to Screen since 6th grade." says Ross of the process and Austin Pogrob feels the same way stating, "Being a huge fan of the 2014 Off-Broadway run, I would have never imagined I'd be working on this production today. I have known many of these cast members for years, and I am being blown away by the amount of passion and commitment that is being poured into this production."
The From Stage to Screen cast of HEATHERS includes actors that are currently studying at New York University, Carnegie Melon University, Northwerstern University, LIU Post, The Hartt School of Music, Wagner University, The New School for Drama, Muhlenberg College, SUNY Cortland, and Brown University. Along with, Ciccone, Kowalchuk, Pogrob, and Ross, the cast includes Alissa Liebler and Kaleigh Liebler as Heather Chandler, Julia DeVita and Kimmy Friedman as Heather McNamara, Lisa Jivin and Mia Santomauro as Heather Duke, Katie Friedman and Alexa Speciale as Martha Dunnstock, Will DeVito as Kurt and Matt Henningsen as Ram. Rosalind Cavallaro, Frank Danko, and Scott Segal serve as the adult ensemble.
The ensemble includes Cassie Blower, Gage Deoquino, Ann Glackin, Adam Liebowitz, Matty Levenberg, Sari Strizik, Alex Vallejos, Kat Vallejos, and Anna Waiter.
Along with Director Dan Domenech, From Stage to Screen's production of Heathers is choreographed by Nicolina Sciascia, musical directed by Adam Slawitsky, assistant directed by Tyler Patrick Matos, and stage managed by Evan Schild.
Check out pictures below from rehearsal and don't forget to get your tickets here!