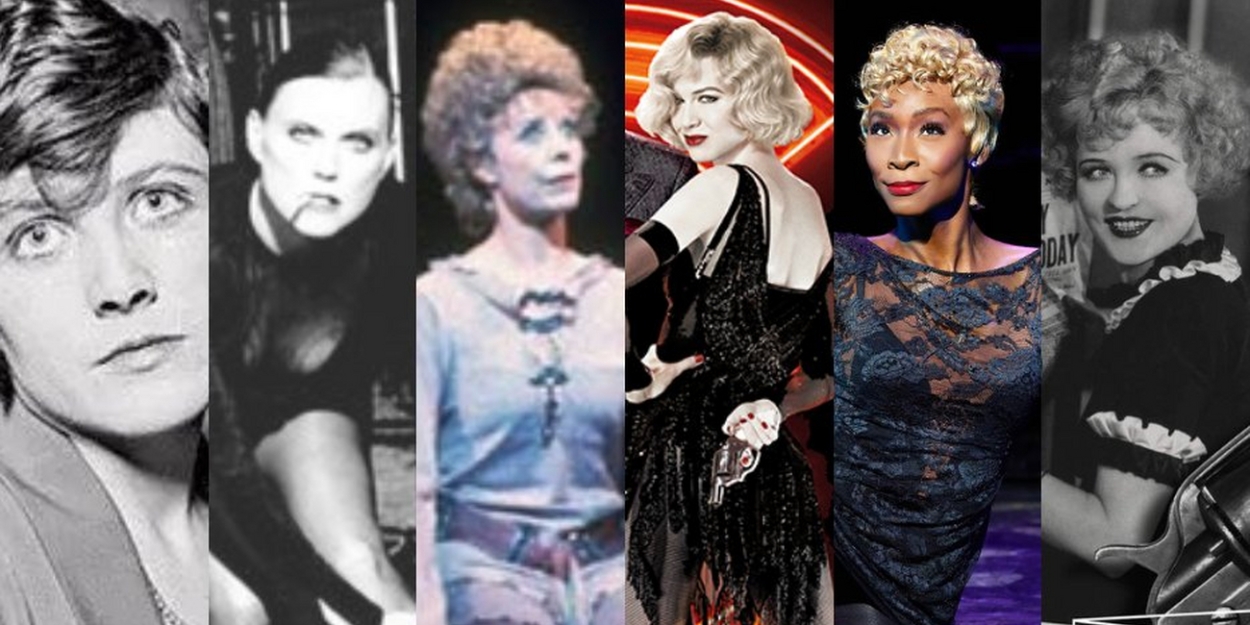 CHICAGO, A History- Part 2: A Modern Classic Makes A Bang On Stage and Screen
Go deep into the history of one of Broadway's longest-running musicals and all the murder, mayhem, and corruption that inspired its creation!
Check out "Part 1- Merry Murderesses Set the Scene" here!
---
In the wake of the success of her coverage of several high-profile murder cases in the city of Chicago in the 1920s, former crime reporter and trained dramatist, Maurine Dallas Watkins was inspired to adapt these several of these stories into a play.
The work, "Chicago," also known as "Play Ball," was a satire of the superficiality and performative nature of the American legal system and an indictment of the media that covered it. Watkins began writing the script, originally titled, "Brave Little Woman," as a class assignment while attending the Yale Drama School. In order to heighten the drama of the piece and economize the storytelling, Watkins reimagined its cast, bringing to life a collection of characters that would go on to achieve musical immortality.
First to be interpreted was Beulah Annan. "The prettiest woman to ever commit murder in Chicago," took on the name Roxie Hart and the characterization of a fame-hungry wannabe who shoots her lover in a fit of rage. Beulah's husband, Albert, became Amos Hart, Roxie's hapless mechanic husband whose unflappable loyalty is rewarded in abandonment. Harry Kaldstedt became Fred Kaisley, Roxie's lover and untimely victim when they "both grabbed for the gun" during an argument.
For the dramatization, Belva Gaertner became Velma Kelly, a refined, glamourous woman accused of the murder of her husband. Their respective legal teams were condensed into smooth-talking superstar attorney, Billy Flynn ("Best in the city, next to Halliday.")
To portray the influence of the media on these cases (and to serve as a mea culpa for her involvement in their outcomes) Watkins created three journalist characters called Mary Sunshine, Babe, and Jake. A prison matron, Mrs. Morton, was also added to the cast, as well as three other merry murderesses, Liz (known as "God's messenger"), Moonshine Maggie (otherwise known as, "The Hunyak"), and Go-to-Hell Kitty (or "The Tiger Girl").
Maurine Watkins' "Chicago" debuted on Broadway at the Sam Harris Theatre in late December 1926, in a production directed by George Abbott, and starring Francine Larrimore as Roxie Hart, Juliette Crosby as Velma Kelly, and Edward Ellis as Billy Flynn. The production ran for 172 performances. Watkins' play made its debut in the city that inspired its creation in September 1927.
---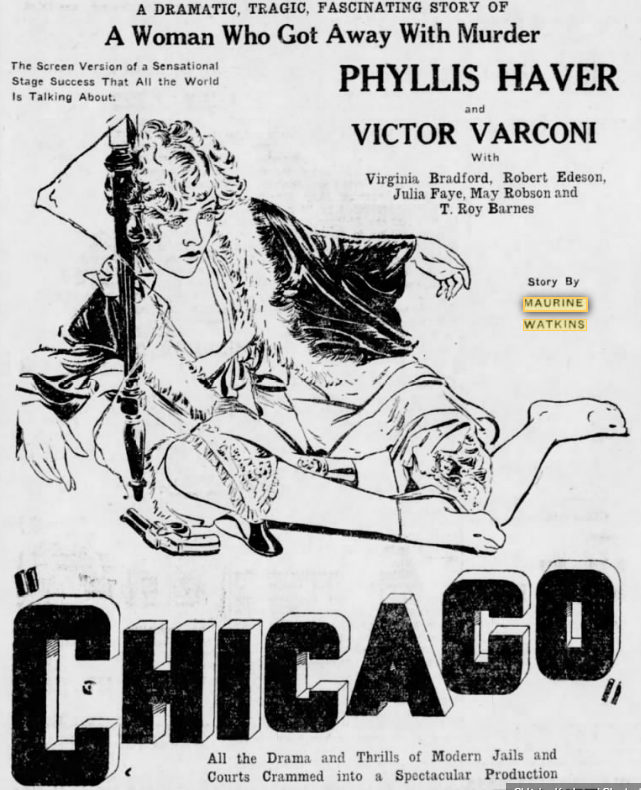 In the following years, numerous adaptations of the work were put into production including a 1927 Cecil B. DeMille silent feature of the same name, starring Phyllis Haver as Roxie Hart. A Ginger Rogers' comedy titled, "Roxie Hart," followed in 1942.
In the 1960s, Broadway star Gwen Verdon read the play and asked her husband, Bob Fosse, about the possibility of creating a musical adaptation. The couple pursued the rights to the play from Maurine Dallas Watkins for several years, to no avail. At that point, Watkins had disavowed her past and did not wish for the actions of any of its characters to be glamourized as a musical.
Of the saga in obtaining the rights, composer John Kander told Theatre Talk, "Bobby and Gwen had been trying to get the rights to this for a long time, and Maurine Watkins who wrote the play, "Chicago" had turned against her former, sinful life and, I think, had become religious. They couldn't get the rights until, I think, she finally passed away."
Lyricist and co-book writer, Fred Ebb, added, "They also didn't have a concept. When
they spoke to me about it, they asked if I could come up with something that was financially viable. It didn't seem, offhand, to be the kind of material that would lend itself to music. And so that whole business of making it a vaudeville was what I brought to them, which they bought, and that's how I became a collaborator on the book."
According to star Gwen Verdon, "Chicago is politics and theatre. Bob's response to Watergate with the corruption of the his hometown in the 1920s reflected in a series of vaudeville acts."
According to Fred Ebb he and Fosse structured the book so that, "the characters were performers. Every musical moment in the show was loosely modeled on someone else: Roxie was Helen Morgan, Velma was Texas Guinan, Billy Flynn was Ted Lewis, Mama Morton was Sophie Tucker."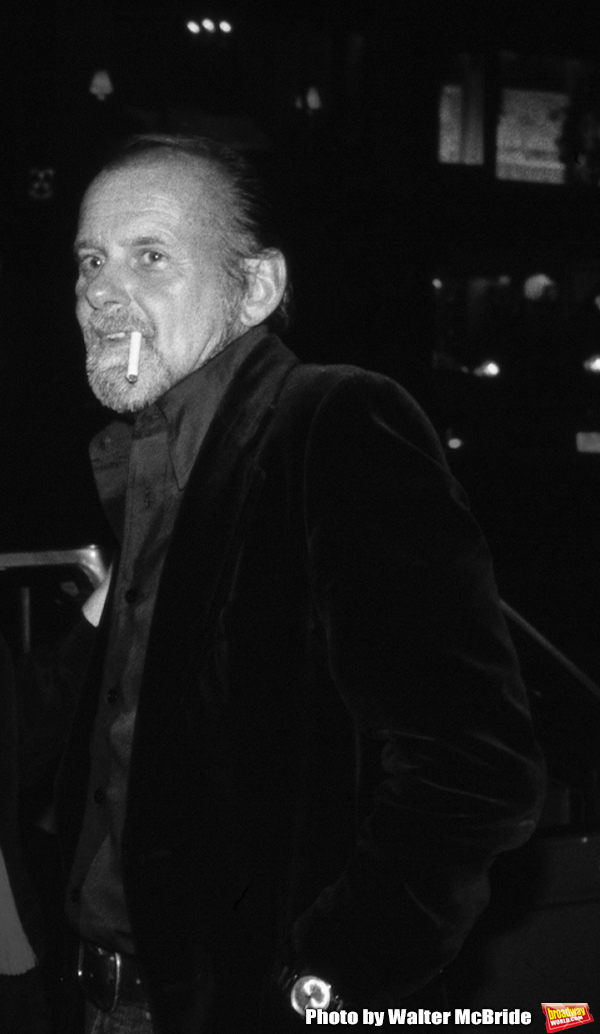 John Kander added, "Many of the songs we wrote are related to specific performers like those you mentioned, and Eddie Cantor and Bert Williams as well."
For this adaptation, some alterations were made to the character makeup of the show. First, the role of Velma Kelly was expanded and reimagined in the image of her inspiration, cabaret singer and accussed murderer, Belva Gaertner. This version of Velma finds herself imprisioned for the alleged murder of her philandering sister and husband. In this telling, Roxie and Velma's stories become intertwined as the two find themselves competing for press and the attention of their shared attorney, Billy Flynn.
The Merry Murderesses were recast as Liz, Annie, June, and Mona. The Hunyak, a character inspired by the story of accused Italian immigrant, Sabella Nitti, was reimagined as an Eastern European inmate whose understanding of English only consists of two words, "Not Guilty." Go-to-Hell Kitty was reimagined as Kitty Baxter, a socialite who briefly steals the spotlight from Roxie and Velma when she commits a triple homicide. The musical eliminated two of the journalist roles, leaving just the role of Mary Sunshine, played by a male soprano in drag, intact.
The setting of the time, place, and tone of the musical fell to the composing team, who
quickly began research and happened upon an iconic bit of inspiration.
"I was doing research in a TimeLife series of the decades and I got the 20s-30s decade books, and one of the chapter headings...I shouldn't be telling you this [laughs] was, 'All That Jazz' and I thought, 'Well, that's a neat title,'" Fred Ebb told Theatre Talk.
The iconic number, "Razzle Dazzle" also made it into the show thanks to some quick thinking from Ebb. Kander shared, "I remember when we wrote "Razzle Dazzle", before we took it in and played it for Bob, you [Ebb] said with absolute confidence 'Try adding a couple of finger snaps to it. Bobby will love that.' We added them...and as soon as he heard the finger snaps, he loved the song."
In addition to establishing the musical and lyrical parlance of the times, composer John
Kander wanted the show's themes reflected in the score, using minor musical chords which "implicit ethnic associations, which lie just beneath the surface of the story."
The process of creating the original Broadway production was plagued with issues, the foremost being the heart attack suffered by director and choreographer, Bob Fosse, on the third day of rehearsal.
Fosse, who had agreed to work on the show as a favor to partner Gwen Verdon, returned to the rehearsal room a changed man after the ordeal. "[T]hrough the early stages he wore his duty comfortably," wrote Fosse biographer Sam Wasson, "but returning to rehearsal after surgery, he seemed to resent the obligation."
Verdon's contract also complicated matters, with the star granted unprecedented creative control over the project. The resulting power struggle between she and Fosse would plague the rest of production.
Frustration also grew from both parties due to Verdon's somewhat advanced age and stuggles to keep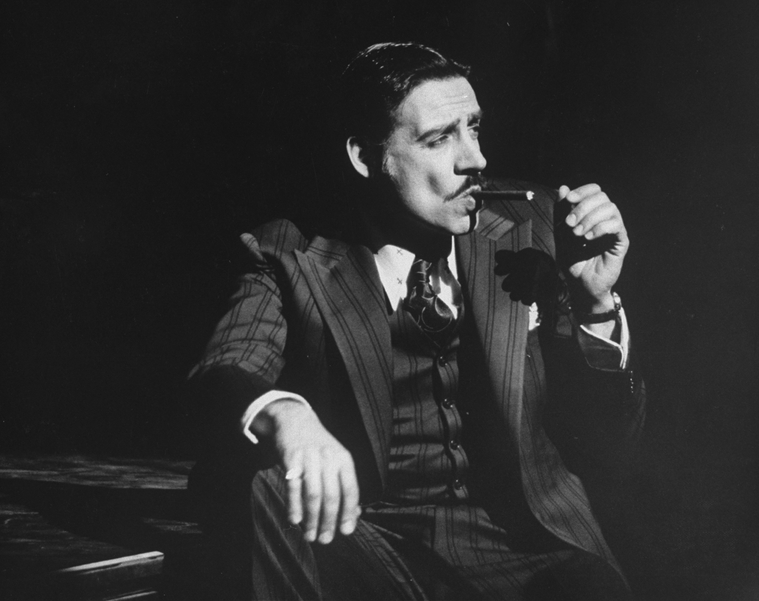 up with the choreography. This emotional turmoil showed itself in the work, as Fosse's creative vision for the show grew increasingly darker, adding to the tension.
Fosse's bleaker impulses had to be reigned in on occasion, as in the occasion of the number, "Razzle Dazzle," in which he originally staged Verdon in the midst of an orgy on the steps of the courthouse.
Co-star Chita Rivera is said to have found the scene in poor taste, commenting, "That's the great Gwen Verdon up there, and look what they're doing."
It was the show's 'Billy Flynn', Jerry Orbach who ultimately convinced Fosse, "that he was missing the Brechtian subtlety intrinsic in the number."
The two also butted heads over the number, "Nowadays," which Verdon fought to perform solo.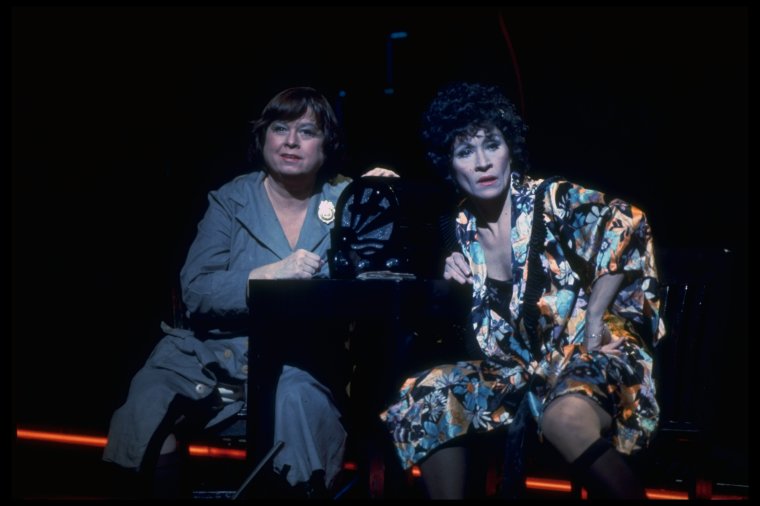 Accoding to Wasson's Fosse biography, "Gwen said, 'I want this song, Bobby,' in front of everyone...Chita and I are very close, so this is going to be fine with her. . .Standing up to Fosse was clearly a struggle for Gwen. . . she was not accustomed to contradicting him in public, and it showed; her intensity embarrassed everyone. Kander and Ebb looked down, away from Chita. No one spoke."
Fosse went on to stage the number as a duet between Verdon's Roxie and Rivera's Velma.
Despite all this conflict, the show went on and, "Chicago: A Musical Vaudeville," opened on Broadway in 1975 at the 46th Street Theatre starring Gwen Verdon as Roxie Hart, Chita Rivera as Velma Kelly, Jerry Orbach as Billy Flynn, Barney Martin as Amos Hart and Mary McCarty as Matron "Mama" Morton.
Though expectations were high, reviews were mixed. Box office receipts also proved disappointing for a production of this caliber, as the show also had the misfortune of opening against Michael Bennett's blockbuster musical, "A Chorus Line."
The show, already on the verge of closing just a few months into its run, suffered another misfortune when a vocal cord injury sidelined on of its stars. Gwen Verdon had developed a blister on her vocal cords after inhaling a piece of confetti onstage, a condition that called for
surgery and a leave of several weeks.
To save the production, star Liza Minnelli, who had won an Academy Award for her role in the film of Kander and Ebb's "Cabaret," was called to step in for the duration of Verdon's recovery. Minnelli won rave reviews for her performance as Roxie Hart, boosting the show's popularity in the process.
The original Broadway production of Chicago went on to run for 936 performances and was nominated for ten 1976 Tony Awards, but won none.
Though Gwen Verdon had been intimately involved in its creation, and it had originally been her idea to adapt Watkins' play into a musical, the Broadway legend has only ever been credited for originating the role of Roxie Hart.
---
Following its original Broadway outing, the show received a few high-profile productions, including a transfer to London's West End in 1979. But it wasn't until May 1996 that "Chicago" would begin its ascent to becoming one of the most widely produced and most beloved musicals off all-time.
Wishing to break away from their steady diet of early canon musical theatre works,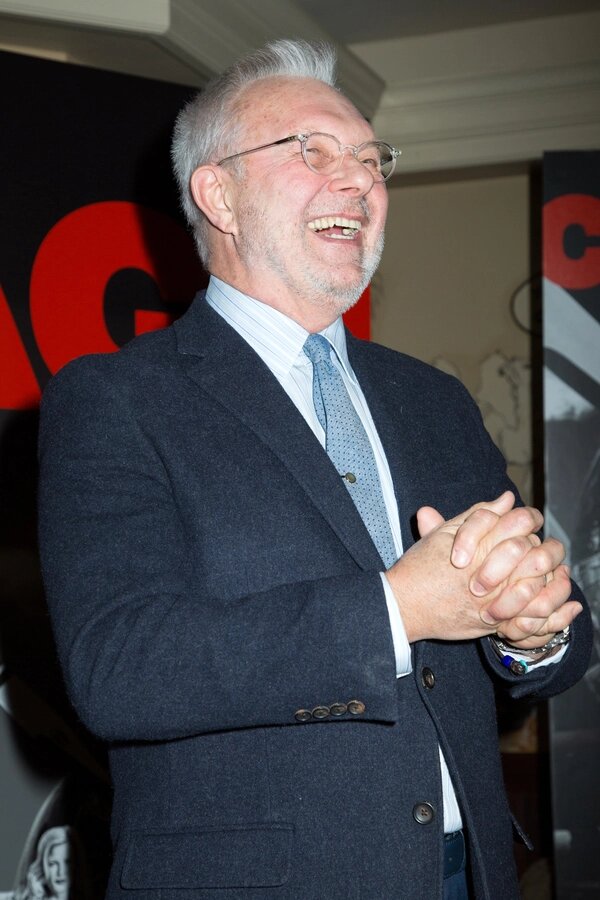 then newly-appointed City Center Artistic Director Walter Bobbie selected Kander and Ebb's "Chicago" as a title for the company's 1996 Encores! series.
With America still reeling from the journalistic feeding frenzy of the O.J. Simpson trial, Mr. Bobbie was inspired by the timeless relevance of the show's exploration of the relationship between murder and the media.
Initially, the City Center committee hesitated to produce the musical as part of a series celebrating underappreciated works. Current City Center Artistic Director, Jack Viertel, who was on the committee at the time, told Variety in 2016, "I thought it was a bad idea. I thought it was not obscure enough. The whole committee felt the same way. Rarely has a committee been wronger!"
Once the committee had been convinced to produce the show, Bobbie quickly hired himself as director and went to work assembling artists for a book-in-hand staged reading for that May.
To create the musical numbers, Bobbie brought on Fosse's former partner and collaborator, Ann Reinking, who insisted that the show's choreography be created using the Fosse vocabulary.
For his take, Bobbie stripped away the vaudevillian razzle dazzle of Fosse's original production, aiming to realize the darker, sparser impulses the legendary artist had harbored for this piece. Bobbie told Variety, "I wanted the evening to be an homage to Fosse, not to redo his production, but to pay tribute to the kind of vocabulary and the visual imagination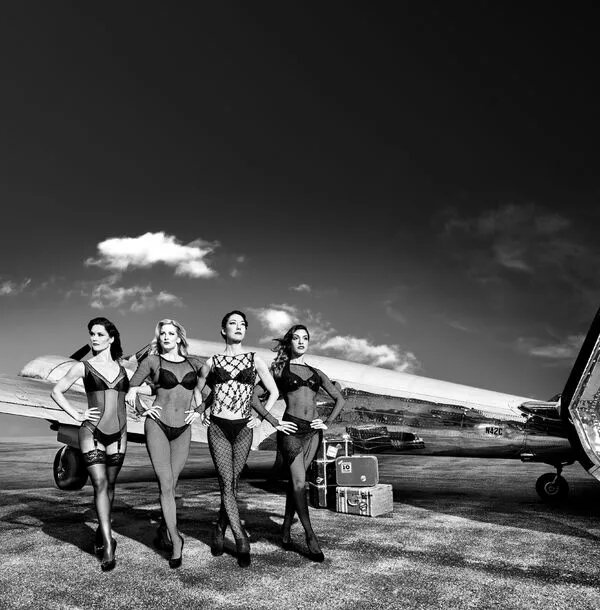 that he had. That became our guiding principle."
He told E!,"He was a minimalist...On a Broadway stage he wanted to see three fingers move. He was an extraordinary minimalist. He always wanted a big, black world with highly imaginative and specific lighting."
Walter Bobbie's "Chicago" as designed by John Lee Beatty was bare bones, a black stage outfitted with a bandstand resembling a jury box, a set of stairs, and several chairs.
Eschewing the literal aesthetic of Fosse's production, Bobbie instructed costume designer William Ivey Long, to design the show in Fosse's two favorite colors, "black and flesh." The cast was outfitted in modern, slinky ensembles made to highlight a dancer's physique.
Ivey Long told Variety, "The story takes place in a real flapper time, with gangsters and pinstripes and fedoras, and if you think about it, Roxy's dress and Velma's slip, they're really flapper dresses. And then for the men, I have striped stretch spandex, so you can see the gangster stripes on the legs. It's combining 1929 flappers and gangsters with 1970s Bob Fosse. These gangster pants are bell bottoms. Bob Fosse invented this move with the bell bottoms where he would catch his heel in one of the bell bottoms and rock back, and by catching the heel you have a straight line right to the floor. Jim Borstelmann, who was an original cast member, comes back and teaches all the dancers who wear the bell bottoms how to do it."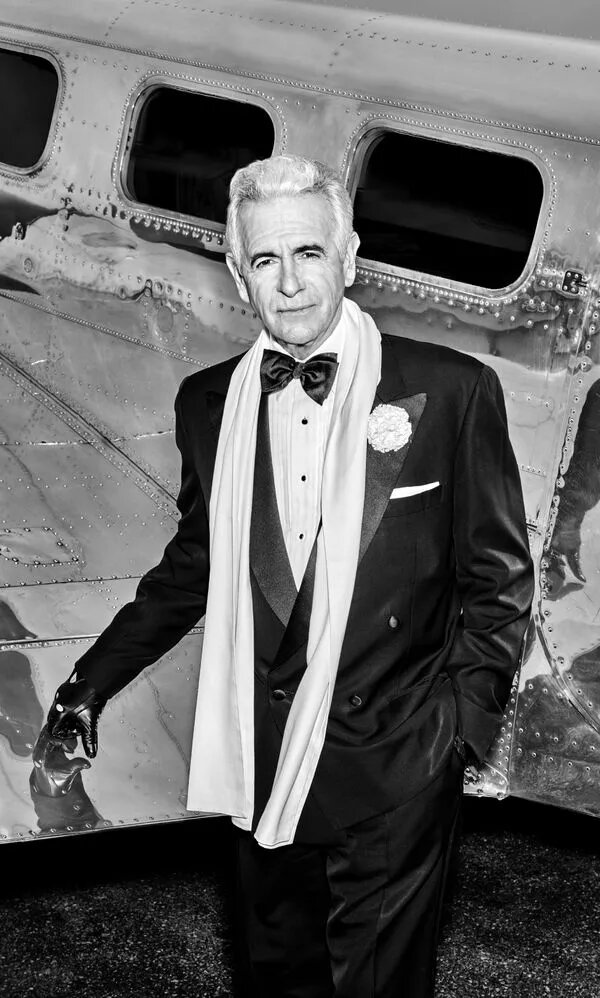 No auditions were held for the production, with Bobbie interviewing former Fosse dancers for roles instead. Fosse dancer and television star Bebe Neuwirth was brought aboard to portray Velma Kelly, with Fred Naughton as Billy Flynn, Joel Grey as Amos Hart, and Marcia Lewis as Matron "Mama Morton."
Choreographer Ann Reinking stepped into the role of Roxie Hart when originally intended star, Liza Minnelli, couldn't make the production due to a previously planned engagement.
Reinking, who had been one of the replacements for Gwen Verdon in the 1975 production said of taking the role, "Everybody knew I knew it very well, and it wouldn't take me long to remember it. So all eyes turned on me. I said, 'I don't know if I can, I'm out of shape.' And Walter said, 'Oh, you can bull your way through four shows!' And I went, 'He's right, I can. All right, I'll do it.' It was just four shows!
A veteran of the Fosse form, Reinking's dances expertly recreated the spirit and specificity of Bob's work. For her part, the legendary dancer retained Fosse's basic concepts for each number while reinterpreting his dance vocabulary.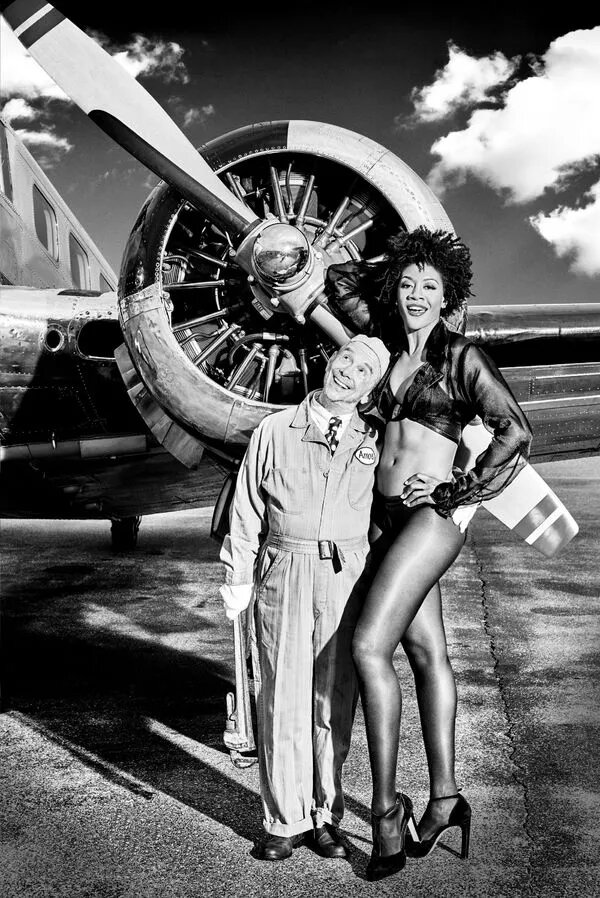 Numerous iconic elements from Fosse's original production were used including the puppeteering of Roxie in, "We Both Reached for the Gun" and the chorus girls' feather fans in, "All I Care About Is Love." Though Reinking meticulously reimagined each number, the show's iconic finale dance duet the "Hot Honey Rag" remains 100% Fosse.
"To honor Bob the very last number that Bebe and I do in the show is his original choreography. It's a hard assignment, but I hope I did it right," Reinking told E! on the production's Broadway opening night.
In tribute to Gwen Verdon's original intent for the song, the production also reimagined "Nowadays" as a solo for Roxie Hart. In their version, Roxie sings the song once through before Velma joins the number.
A smash with critics and lauded by audiences, there was near instantaneous talk of a Broadway transfer. Despite the rialto gossip, however, there wasn't much interest among producers to bring this production of, "Chicago" to the next level.
Fran Weissler told Variety, "We went to one of the last Encores! performances, the Saturday matinee. It was fabulous, and we were beside ourselves. I remember we walked out, and we got both John and Fred on the phone - this is the day of the performance, right after we saw it - We said, 'Look, we were there today, and every single general manager, producer, agent and manager were there. Just give us a little piece of the show! We don't even care if our names are on it!' (Which is a lie; we did!) There was a long pause and either Fred or John said, "You've got the whole show." No one else wanted to do it!"
The producers had trouble raising funds to put the show up and wound up supplying $2 million of the needed capital themselves, earning the pair a sizeable stake in what would go on to become a global hit.
Following some revision and expansion, mainly having to do with taking the piece from a concert to a full-blown production, the Weisslers opened the first
Broadway revival of John Kander, Fred Ebb, and Bob Fosse's, "Chicago" at the Richard Rodgers Theatre (originally the 46th Street Theatre, home to the original production) on November 14, 1996. The show earned near universal acclaim for its inventive new staging and stellar cast which included all of its original Encores! stars.
Audiences were instantly intrigued with streamlined production, which provided a sharp contrast to the large-scale spectacles ushered in by the age of British mega-musicals.
Walter Bobbie told Theater Talk of the original staged reading, "Because we had no production, we became performer-dependent...we were bringing basically performers to deliver this material because we didn't have a chandelier and we didn't have a helicopter. I used to say that Bebe was the chandelier and Annie was the helicopter."
A box office smash, the production was bolstered by a wave of great press, including a rave review that made the front page of The New York Times and the full front page of the Arts section.
To entice audiences to their minimalist masterpiece, the show's advertisers also cooked up an innovative ad campaign. The resulting all-black and white ads featuring sultry photos of the cast shot by fashion photographer Max Vadukul became instantly iconic.
SpotCo founder Drew Hodges said of the campaign, "I said to the team that we needed to own the minimalism, and figure out a way to make it clear that we're doing the show this way because it's the best way to do it, and not because we don't have a big enough budget. When Calvin Klein does a black and white fashion ad - this was back in the days of the Marky Mark ads - no one thinks, "Oh, they didn't have the money to do color." Somehow in that context it's an aesthetic choice. And so someone said, "Why don't we get a fashion photographer and have them shoot it in black and white?"
The ad campaign also took on a distinctly feminist angle. "We figured out early that one of the rules was that in the ads, the girls could never been seen behind bars. Because they owned it, they owned the show. They were empowered. If they're behind bars, they're not," Hodges told Variety.
The production was nominated for seven 1997 Tony Awards and won six, more than any
revival in history at the time. The revival earned so many awards in its first Broadway season, a special trophy room was established to accomodate them.
Originally booked for an 18-week filler slot at the Richard Rodgers Theatre due to dubious theatre owners, Walter Bobbie's revival has moved houses twice throughout its 26-year Broadway run, first to the Shubert Theatre in 1997 and then to the Ambassador Theatre where it plays to ecstatic audiences to this day.
---
Shortly after it's opening in 1975, producer Martin Richards bought out various investors and producers for the film rights to "Chicago," hoping to adapt the show for the big screen with the help of Bob Fosse.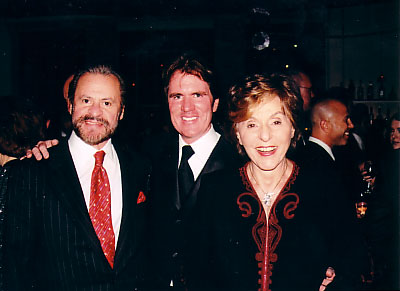 Though Fosse intended to work on the adaptation, the project was shelved when he elected to make his semi-autobiographical film, "All That Jazz," instead. After Fosse's passing in 1987, Richards assumed that his hopes for bringing, "Chicago" to the big screen were hopelessly dashed. That is, until he received a phone call from Miramax in 1987. Producer Harvey Weinstein was enthusiastic about creating a film adaptation of Kander and Ebb's musical and wished to begin development as soon as possible.
The producers began courting high-profile directors and stars for their film, including acclaimed filmmaker Martin Scorcese who wished to direct a version starring Robert De Niro as Billy Flynn.
When pre-production stalled the project languished in development limbo until 1996 when Walter Bobbie's blockbuster revival of the show opened to acclaim and accolades. Suddenly interest in "Chicago" was renewed around Hollywood.
From there, the film cycled through numerous directors including Baz Luhrmann (who said he, "wouldn't touch Fosse"), Herbert Ross, Nicholas Hytner, and Robert Iscove. Numerous writers also took their shot at the gig including Larry Gelbart, whose grand vision for the film ultimately fell flat to producers.
Weinstein said, "There was a big riot scene at the women's prison where we had them all up
on the roof, undressed and singing. There were big courtroom sequences. We were going to get Sean Connery to play the judge.''
The script was then given to playwright Wendy Wasserstein, who also failed to produce a winning concept.
A number of stars had also been courted over the years to portray the lead characters including Barbra Streisand, Nicole Kidman (who left the project to join the cast of "Moulin Rouge!"), Liza Minnelli and Goldie Hawn, who was allegedly fired by then-attached director Nicholas Hytner and replaced by Charlize Theron when his vision called for a younger Roxie Hart.
Though very effort was made to bring the project to life, they just couldn't seem to find the right person to make "Chicago" sing on the big screen.
Enter Rob Marshall. Marshall was a longtime Broadway dancer turned director/ choreographer whose credits included, "Cats," "Zorba," "The Rink," and "The Mystery of Edwin Drood." After a back injury sidelined him from the stage, Rob had begun working behind the scenes, where he made creative contributions to numerous Broadway productions. From there, he got his start in Hollywood creating the choreography for the ABC television adaptations of "Rodgers and Hammerstein's Cinderella" starring Brandy and Whitney Houston and "Annie" starring Kathy Bates, Victor Garber, Alan Cumming, Kristin Chenoweth, and Audra McDonald.
In a meeting with Miramax executives about taking part in a film adaptation of Jonathan Larson's "Rent," Marshall commented offhand that his real interest was "Chicago." As Marshall began to describe his concept for the film, the producers knew they had found the right person to realize their adaptation.
In Marshall's vision, "Chicago" would take place in two realms: the seedy, real-life Chicago, and a fantasy cabaret in which the character's songs would comment on the action of the story, a convention was taken from another Kander/Ebb/Fosse musical, "Cabaret."
Marshall told The New York Times, "What Fosse did with 'Cabaret' was eliminate the book songs and place all the musical numbers on the stage of the Kit Kat Club. What we did with 'Chicago' is obviously an extension of that, except that ours isn't a real stage, it's in Roxie's mind, because she's a dreamer -- a wanna-be. The movie takes place in two different worlds, the reality of Chicago in 1929 and the fantasy of vaudeville. It's more surreal, and it also seemed like a natural way into the material."
With their concept in place, the team set out to find their cast. With the movie musical having largely fallen out of fashion, finding their troupe of liars and murderers would not be easy.
Marshall said, "When I was doing "Chicago" and no one was doing musicals, certainly,
especially live-action musicals, it was very difficult to find actors who sang and danced. So we were doing basically detective work; finding who sang in high school, who was a cheerleader. Renée Zellweger was a cheerleader. And Catherine Zeta Jones played on the West End."
All in all, close to 100 actresses were considered and audtioned for the roles of Roxie Hart and Velma Kelly.
The role of lawyer Billy Flynn was offered to several actors including Hugh Jackman, Kevin Spacey, John Travolta, John Cusack, Steve Martin, Sean Penn, Rupert Everett, Keanu Reeves and Kevin Kline. Richard Gere ultimately won the part and quickly went to work, spending three months learning how to tap dance, ultimately shooting his big tap number in half a day.
The film's Amos, John C. Reilly, a veteran of the stage, won his role when he sent Marshall a tape of him performing the heartbreaking number, "Mr. Cellophane". Bowled over by Reilly's interpretation, Marshall instantly cast him. Reilly is also said to have insisted on designing his own clown makeup and incorporating the application of it into the performance of the song in the film.
Tony Collette is also said to have given a memorable audition and was heavily favored to be cast but studio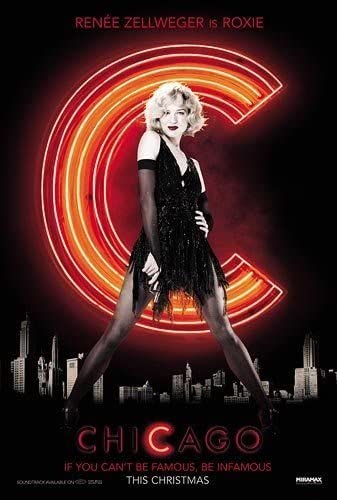 executives deemed her too obscure to carry the high-profile film.
Other casting choices made for serious conflict, mostly owing to demands from producer Harvey Weinstein. The bombastic financier made several outlandish suggestions including a short-lived campaign to cast Britney Spears in a smaller role.
Weinstein had also planned to commission an original credits song from Janet Jackson, a plan scuttled by a clause in John Kander's contract which stated that songs not written by himself and Mr. Ebb could not be included without his approval.
Though Marshall and Richards successfully vetoed several of Weinstein's ideas, one of Harvey's suggestions was implemented to Oscar-nominated effect: the casting of rapper Queen Latifah in the role of Matron "Mama" Morton.
Marshall, who is said to have favored Kathy Bates for the role, initially balked at the idea but cast Latifah after three audtions. Marshall also auditioned Anjelica Huston, Whoopi Goldberg, Pam Grier, Bette Midler, and Rosie O'Donnell for the role.
For the film, the role of Mary Sunshine, traditionally played by a man in drag, was given to stage and screen veteran, Christine Baranski. Baranski later expressed her regret at taking a role from a drag queen, so she decided the character was gay. She told Genre magazine,
"That was my little secret, I was one of those fabulous '20s lesbians!"
Allotted a whopping 12 weeks for pre-production, the team went to work. The cast spent weeks in what Zellweger termed, "Chicago School" with the actors cycling through regimented schedules for rehearsal and training with different departments.
Learning the film's score and Marshall's intense choreography was no easy feat, with all actors singing and dancing their roles without dubbing or doubles. Zeta-Jones is said to have fought for her characters 1920s bob hairstyle to ensure that no hair would fall over her face, leading the audience to believe she did not do her own dancing.
With a first-time film director, a relatively small $45 million dollar budget, and a public that seemed unresponsive to musicals, "Chicago" went into production largely as a wager.
For the film, Marshall cut several songs from the score including "A Little Bit of Good", "I Can't Do It Alone" (reprise), "My Own Best Friend," "I Know a Girl," "Me and My Baby," and "When Velma Takes the Stand." The number, "Class" was also filmed and recorded for the soundtrack, but did not make the final cut of the film.
"My Own Best Friend" and "Me and My Baby" were originally written into the script before being scrapped. An instrumental of "Me and My Baby" can be heard underscoring Roxie's announcement of her pregnancy to the press.
As for the film's choreography, Marshall saw no point in attempting to recreate Fosse's work as Ann Reinking had done so brilliantly for the revival.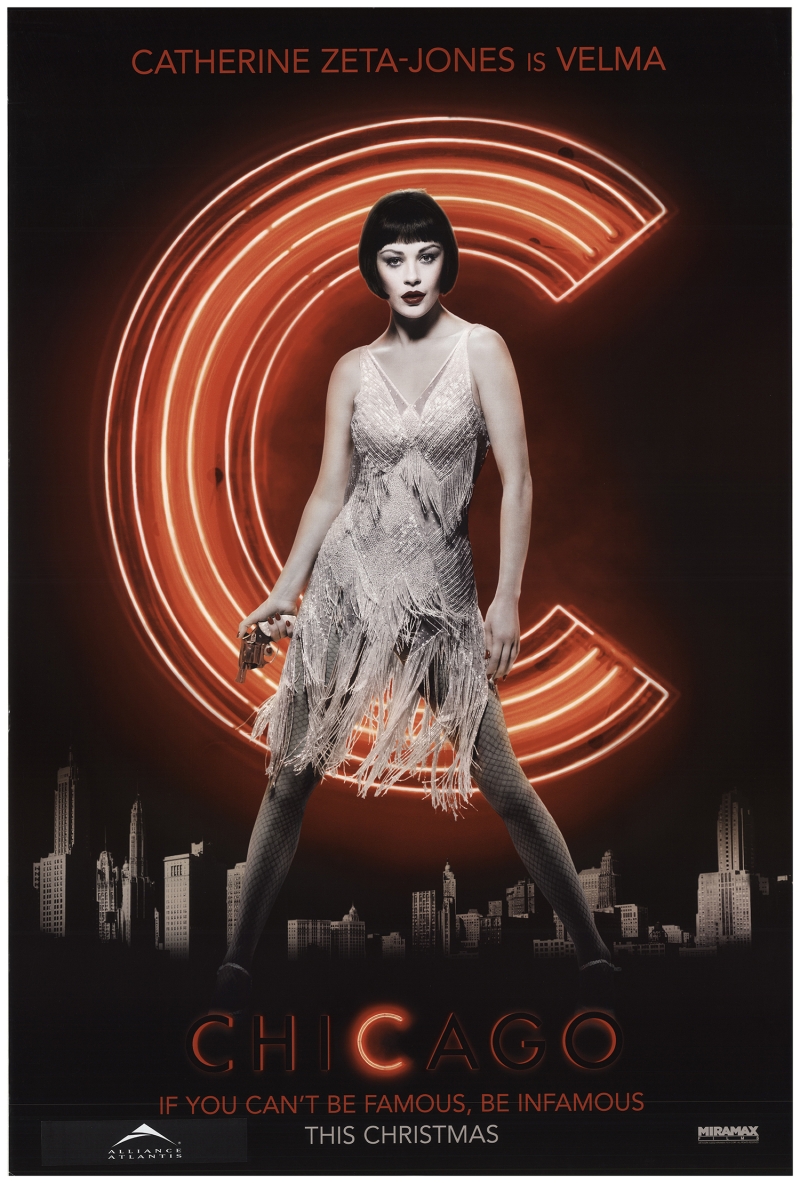 ''Bob's a hero of mine, a genius,'' Mr. Marshall said. "I have the utmost respect for him, and that's why I'd never want to do watered-down Fosse. No derbies, no white gloves. I don't even look like him or move like him. If you'd ever met him-- he had hunched shoulders, a cigarette, all turned down, very dark-- you'd know what I mean. I'm not like that at all! I have a different persona completely, probably more athletic.''
He continued, "When Bob filmed Cabaret, I'm sure he thought about Ron Field's incredibly choreographed Broadway production and said, 'I've got to do something different.' So how do you follow Fosse? You don't. You go down a completely different path."
Bill Condon came on board to adapt the script to the screen, utilizing the original musical's book and Watkins' play as source material.
Some elements of the real-life cases were implemented into the film including an elaborate wardrobe for Velma, remniscient of that of Belva Gaertner, and a sequence in which Roxie undergoes a modern makeover to increase her chances of acquittal.
Though the film was a major departure from the stage version in terms of storytelling and characterization, numerous homages were paid to the original. Chita Rivera, Broadway's original Velma Kelly, makes an appearance when Roxie arrives at Cook County Jail. Featured dancers Deidre Goodwin (June), Denise Faye (Annie), Taye Diggs (bandleader), and Sebastian La Cause (June's husband) were all cast members of the "Chicago" revival.
With a minimal budget for a film of its size and the studio keeping a watchful eye over the film's schedule, the grueling process is said to have eventually taken its toll on director Marshall, who collapsed on set from exhaustion. It is said that Marshall never took a day off from production to keep the film on schedule and under budget.
Rob Marshall's "Chicago" was released on December 27, 2003. The film was critically acclaimed, with particular praise given to the performances of its leading cast.
The film was nominated for a whopping 12 Academy Awards and went on to win six,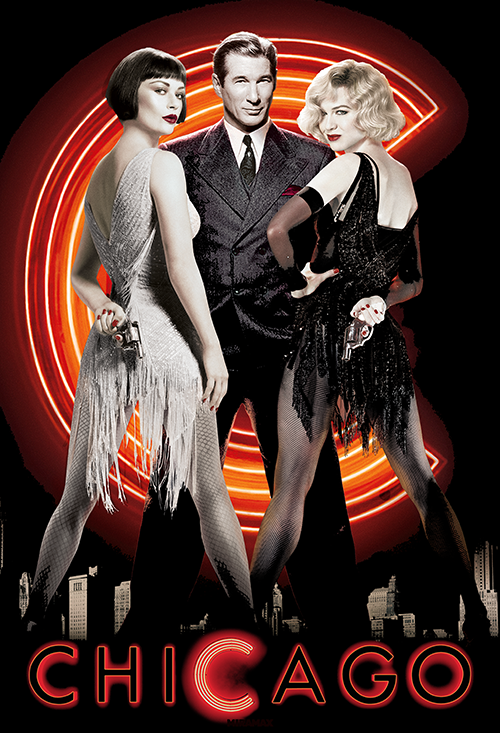 including Best Picture, making it the first musical to win Best Picture since "Oliver!" in 1968.
For her performance as Velma Kelly, Zeta-Jones won the Academy Award for Best Supporting Actress, the British Academy Film Award for Best Actress in a Supporting Role and the Critics' Choice Movie Award for Best Supporting Actress. Zellweger won the Golden Globe Award for Best Actress - Motion Picture Comedy or Musical and Gere won the Golden Globe Award for Best Actor - Motion Picture Musical or Comedy.
In addition to its abundant honors, Rob Marshall's Chicago also has the distinction of being a major impetus for the revival of the movie musical. Over the past twenty years, the success of Chicago has inspired a wave of films in the genre including "The Phantom of the Opera," "The Producers," "Rent," "Dreamgirls," "Hairspray," "Sweeney Todd: The Demon Barber of Fleet Street," "Mamma Mia!," "Nine," "Les Misérables," "Rock of Ages," "The Last Five Years," "Into the Woods," "Cats," "In the Heights," "Dear Evan Hansen," "tick, tick... BOOM!," "West Side Story" and more.
---
Since its debut on Broadway in 1975, "Chicago" has gone from being an underappreciated classic with some familiar songs to a bona fide Broadway staple.
As of 2022, the 1996 Broadway production holds the record as the longest-running musical revival and the longest-running American musical in Broadway history. It is the second longest-running show ever to run on Broadway, surpassing "Cats" in 2014 to take the position behind "The Phantom of the Opera," with the potential to surpass Lord Webber's juggernaut should it remain open through 2031.
The West End transfer of Walter Bobbie's revival is the longest-running American musical in West End history. The original mounting of the production closed in September 2012 after a run spanning 15 years and two theaters. To celebrate its 21st birthday, "Chicago" returned to the West End in The Phoenix Theatre in 2018.
Walter Bobbie's "Chicago" has been staged in numerous productions around the world, and has launched at
least ten tours in North America.
The revival also boasts a few other impressive stats:
Bobbie's production holds the distinction of recouping its initial investment faster than any other production in history.
Cast member Donna Marie Asbury made the Guinness Book of World Records for the longest career playing the same character in a Broadway show. Asbury joined the company as June/Roxie/Velma (u/s) in 1999. When she departed the production on June 3, 2019, she had played the track for 20 years and 71 days.
The show has also set some internal records, hosting numerous long-running stars including Roz Ryan, who portrayed Matron "Mama" Morton for 224 consecutive weeks, and Marcia Lewis and Charlotte D'Amboise who performed the roles of "Mama" and "Roxie" for 223 consecutive weeks, respectively.
Well-known as a stop for stars across the spectrum, and a boon to its popularity over the years, the Broadway and West End productions have played host to hundreds of actors, musicians, and media personalities who have stepped into the roles of Roxie, Velma, Billy,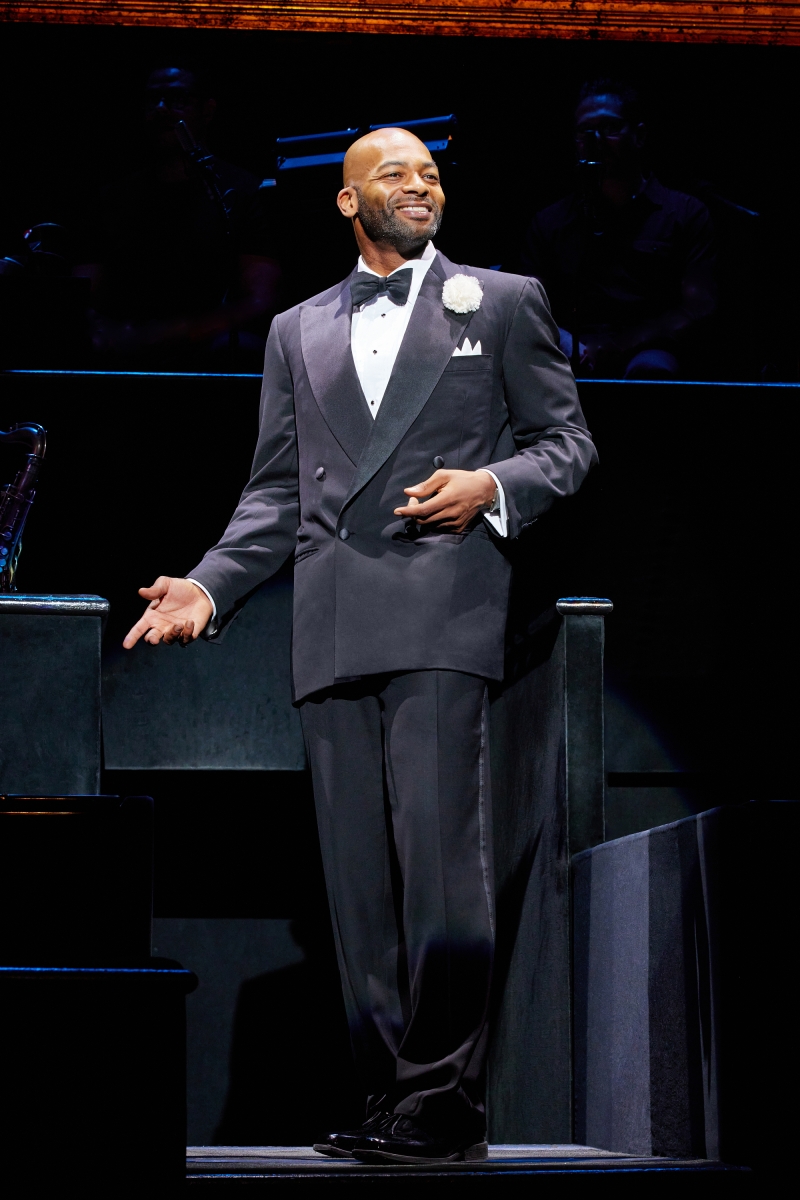 and Mama.
Thanks to the success of the revival, and as a reward for their unflappable faith in the production, producers Barry and Fran Weissler purchased an estate (later outfitted with an amphitheatre) which they termed, "the house that Chicago built." The estate hit the market in 2020 to the tune of 13.2 million dollars.
Since 1996, the show has played in 36 countries worldwide, and been performed in English, Dutch, German, Swedish, Spanish, Portuguese, Russian, Italian, French, Danish, Japanese and Korean. Worldwide it has been seen by an estimated 33 million people, grossed over $1.7 billion and has played over 32,500 performances. Eight official recordings have been made of Kander and Ebb's score.
Rob Marshall's film adaptation has been honored with nominations and wins by the over 50 different awards ceremonies, guilds, and boards. In addition to its numerous awards and accolades, the film adaptation became Miramax Films' highest grossing movie to date when its domestic box office hit $171 million.
It is one of only eleven musicals to win a Best Picture Oscar. It was named by Entertainment Weekly as one of the "Best 25 Movie Musicals of All Time" and included among the American Film Institute's 2004 list of the top 100 America's Greatest Music in the Movies for the songs "All That Jazz" and "Razzle Dazzle."
---
With Walter Bobbie's revival still going strong on Broadway, on tour, and on the West End, and the film adaptation holding its place as a modern movie classic, it's easy to see that despite its rocky beginnings, "Chicago" has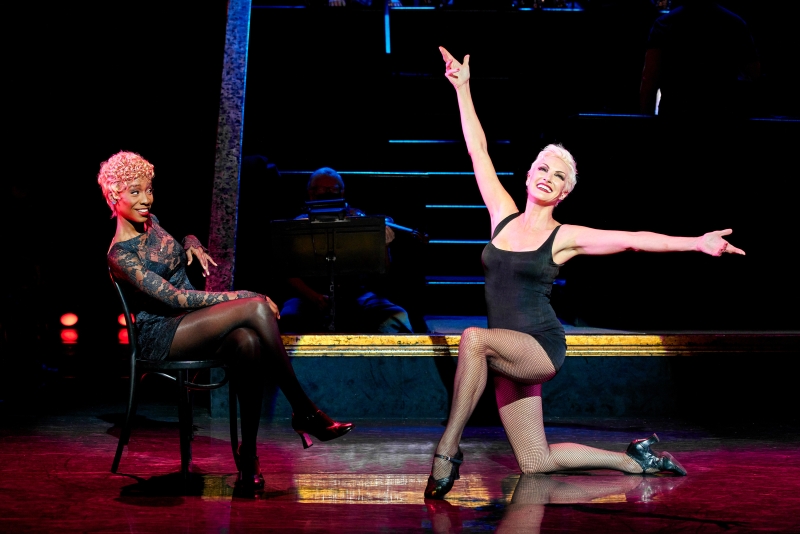 earned a permanent place in our culture.
Thanks to its incisive commentary and high entertainment crafted by a coven of creative geniuses, and a legacy bolstered by interpretations by masterful artists, the iconic show is showing no signs of fading out.
Proving its relevance across mediums, continents, cultures, languages, and a whole rotten century, the story has proven a timeless and searing indictment of a species doomed give into its worst impulses again and again. It seems that so long as there's murder, greed, corruption, violence, explotation, adultery, treachery, hypocrisy, and all that jazz, the world will hold "Chicago" near and dear to its collective heart.
---
Sources:
Chicago (musical) - Wikipedia
Chicago (play) - Wikipedia
Chicago (2002 film) - Wikipedia
Chicago (2002) - iMDB
DANCE; It's a Noisy Hall With a Nightly Brawl, but No Fosse - Terry Teachout, The New York Times, 2002
Movie Musical's Hard-Won Harmony; 'Chicago' Is a Hit, but Its Path to the Oscars Was Paved With Feuds- Rick Lyman, The New York Times, 2003
Rob Marshall- The DGA Interview- Steve Chagollan, 2020
Inside Bob Fosse and Gwen Verdon's Chicago Power Struggle- Julie Miller, Vanity Fair, 2019
Understanding Kander and Ebb, composer and lyricist of 'Chicago'- Robert Hite, The Sunflower, 2016
Theatre Talk, November 18, 2006
Theater Talk, November 6, 1996
E! Opening Night of Chicago On Broadway
CHICAGO, CHICAGO: A Helluva Play (1926) - That's Entertainment!, Jackson Upper, November 5, 2014
'Chicago' theatrical records: How the trailblazing musical set a new Broadway standard- Gillian Russo, New York Theatre Guide, 2022
Broadway's 'Chicago' Turns 20: Stars Reflect on Show's Success- Gordon Cox, Variety, 2016
Photos:
1) Advertisement for Maurine Dallas' Watkins "Chicago" at the Majestic Theatre in Brooklyn.
2) Film poster for Cecille B. DeMille's silent film adaptation, 1927
3) Film poster for, "Roxie Hart" starring Ginger Rogers, 1942
4) CHICAGO Original Broadway production photos, 1975 - Martha Swope, NYPL for the Performing Arts
5) Walter Bobbie - WalterMcBride, BroadwayWorld
6) CHICAGO Ensemble - Max Vudukul, 2016
7) James Naughton - Max Vudukul, 2016
8) Joel Grey - Max Vudukul, 2016
9) The cover of the 1996 revival Broadway cast recording, 1996
10) Ann Reinking, Bebe Neuwrith - Max Vudukul, 2016
11) Bebe Nauwirth, Ann Reinking, James Naughton, Joel Grey - Max Vudukul, 2016
12) Barry Weissler, Rob Marshall, Fran Weissler- Linda Lenzi, BroadwayWorld
13) Rob Marshall- Linda Lenzi, BroadwayWorld
14) Renee Zellweger- Walter McBride, BroadwayWorld
15) Catherine Zeta-Jones- Walter McBride, BroadwayWorld
16) Original "Chicago" film poster, Miramax, 2002
17) Original "Chicago" film poster, Miramax, 2002
18) Original "Chicago" film poster, Miramax, 2002
19) Original "Chicago" film poster, Miramax, 2002
20) CHICAGO Production Photos, 2022 - Jeremy Daniels
---
Shop BroadwayWorld

Shop this season's new musicals! Get dressed up for a night at the theatre, or just a night at home, with merch from some of Broadway's biggest hits including SOME LIKE IT HOT, KIMBERLY AKIMBO, and more!
---
Related Stories