BWW Review: Kelli O'Hara, Bill Irwin, Christopher Fitzgerald and Lauren Worsham in MasterVoices' BABES IN TOYLAND
After producer Fred Hamlin christened Columbus Circle's Majestic Theatre with a spectacular musical extravaganza based on L. Frank Baum's "The Wonderful Wizard of Oz," he sought to follow up with another memorable production with a family-friendly setting.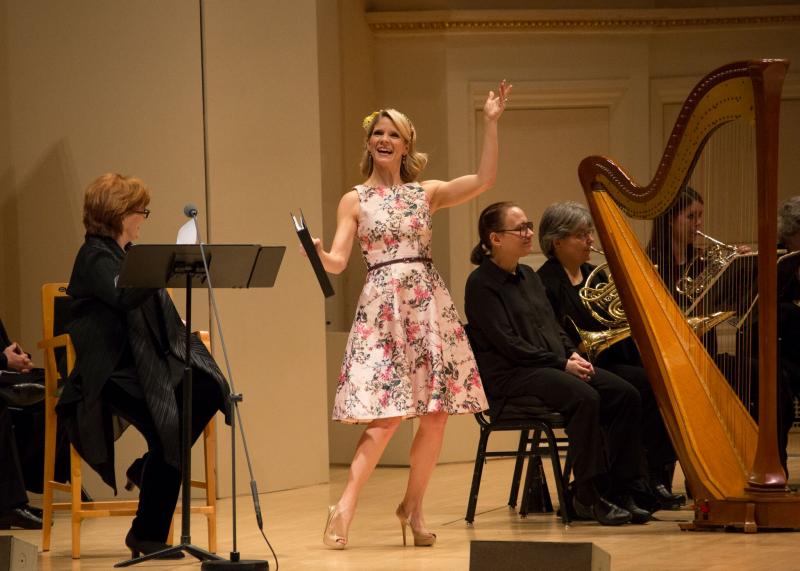 With music by Victor Herbert and book and lyrics by Glen MacDonough, BABES IN TOYLAND opened in October of 1903 for what was then considered a healthy five month run. It would return to Broadway in three more engagements before a film version, vastly revised for stars Laurel and Hardy, was released in 1934. Eventually television audiences would enjoy the movie retitled as "March of The Wooden Soldiers."
While many early 20th Century Broadway musicals retained the romantic feel of European operetta, aspects of American vaudeville, and the international influences of New York's immigrant population, were becoming more prominent. As presented in concert form at Carnegie Hall by MasterVoices, BABES IN TOYLAND sure looks at times like an American musical comedy trying to break free of its overseas roots.
The original Broadway production contained a company of over 200, most of them, as the advertisement assured, were pretty girls. About half that many MasterVoices chorus members were joined on stage by the Orchestra of St. Luke's, led by conductor and Broadway historian Ted Sperling for a thrilling evening that presented the lush and lovely score in its original form for the first time in over a hundred years.
Blair Brown supplied narration that tried to make some sense from the story, but, as she explained, musical comedy was in its infancy in 1903 and you don't expect an infant to make much sense.
MacDonough's story involves the evil Barnaby (Jonathan Freeman in a voice and manner that channels Cyril Ritchard) trying to steal the inheritance of his orphaned wards Alan (Christopher Fitzgerald) and Jane (Lauren Worsham) by hiring two henchmen (Jeffrey Schecter and Chris Sullivan) to arrange for them to be lost at sea.
But the children are rescued by gypsies who, for convoluted reasons that only make sense in such ventures, dress them in the clothing of their opposite genders and bring them safely to the garden of Alan's beloved Contrary Mary (Kelli O'Hara), whose brother is Jane's love Tom-Tom, the piper's son (Jay Armstrong Johnson).
But Barnaby isn't through with his dirty work, and he leads Alan and Jane to the den of a giant spider. Fortunately, they're rescued by a kind fairy who sends a friendly bear to escort them to Toyland. This, and other moments of 1903 spectacle, were simply described by Brown, as the orchestra played the accompanying music.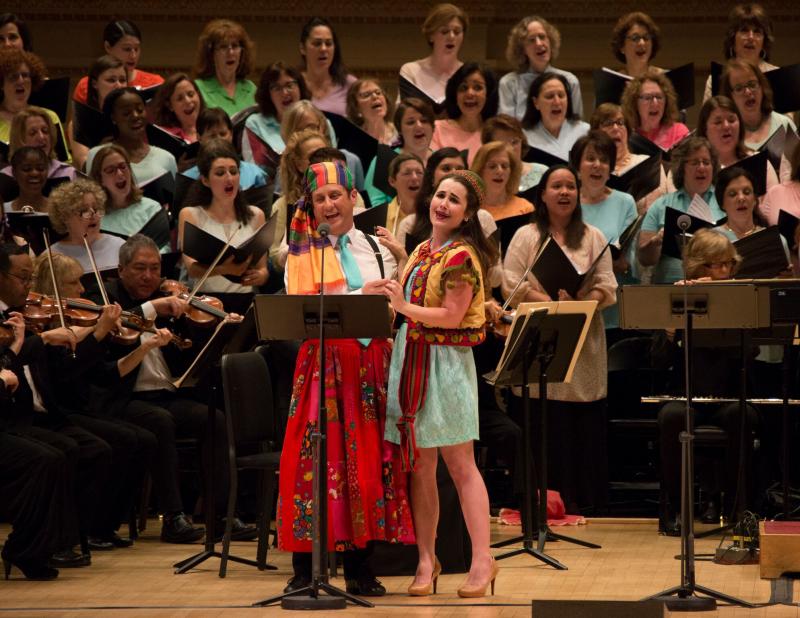 The stars appeared to be having a grand time playing up the nonsensical aspects of the evening with great flair. O'Hara was required to put on an Irish accent for her rousing first number about "Barney O'Flynn" and then impersonate the famous advice columnist Beatrice Fairfax in a comical spoof called "Beatrice Barefacts."
(As Brown explained, these were times when songs weren't always expected to have anything to do with anything else that was going on. This is why the first act features a number where the three villains sing about health food.)
O'Hara's sterling soprano shined brightly in one of the score's most enduring moments, the dreamy waltz, "Toyland."
Fitzgerald's superior comic chops were put to fine use as he danced about as a gypsy maid and performed a dialect number requiring him to imitate various ethnicities. Bill Irwin was introduced as a devious toymaker in Act II, and a wonderful pantomime scene had Fitzgerald, disguised as a toy soldier, trying to stop him from handing out what appeared to be drugged lollipops. This was performed while the orchestra played the score's famous "March of The Toys."
A warm soprano with an off-beat edge, Worsham scored with MacDonough's most curious lyric, "I Can't Do The Sum," an absurdist look at mathematical equations. Johnson was a charmer as her beau, with a vigorous voice and some fancy dance moves.
As explained by Sperling, the musical's original book was loaded with jokes whose references would be totally lost on today's audiences, so Joe Keenan's concert libretto replaced them with period-style gags that still hold up today. Keenan also added a chorus of "If I Were A Man Like That," that made direct references to Donald Trump. Anachronistic, sure, but also in line with the direction American musicals were headed in 1903.