BWW Review: A.A. Milne's THE LUCKY ONE Receives a Rare Revival From The Mint
One look at the country home setting designer Vicki R. Davis has devised for The Mint Theater Company's intriguing revival of A.A. Milne's rarely visited The Lucky One and a playgoer wouldn't be blamed for anticipating a night of vintage bon mots and comedy of manners gracefulness.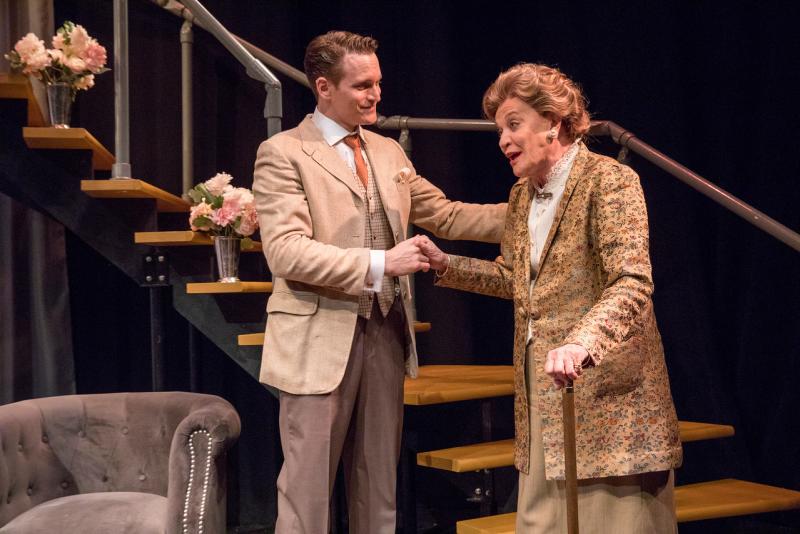 And while director Jesse Marchese's swell, well-acted production is filled with pretty people enjoying golfing and romancing in designer Martha Hally's sharp 1920s togs, the play is more of a somber one.
Milne, of course, is best known for bringing the world Poo Bear and his cohorts, but the British author was also a prolific playwright, with seventeen of his efforts opening on Broadway in the years between 1918 and 1932. The Lucky One lasted only five weeks in New York and is pretty much a forgotten work by a major literary name, which makes it an obvious selection for The Mint, a treasured Off-Broadway company that specializes in producing significant obscurities without filtering them through modern sensibilities.
Framed by twin staircases are childhood portraits representing the evening's conflicting characters, Gerald and Bob Farrington. While older brother Bob (dark and brooding Ari Brand), has done pretty well for himself by most standards - holding a fine position in the fiancé world - the younger Gerald (clipped and crisp Robert David Grant) is the family pride and joy.
Handsome, well-mannered and charming, Gerard holds a prestigious Foreign Office position. He's also about to marry the respectable Pamela (Paton Ashbrook), to whom he was introduced to by Bob, having no idea that his brother thought of her as anything more than a friend.
As the play begins, Bob has taken the fall for some illegal doings at work, resulting in his having to serve a brief stay in prison. The more Gerald offers support, the more the older brother feels humiliated and infuriated.
Lighter moments are provided by the young romance between Gerald's friend Thomas (Andrew Fallaize) and his athletic and outspoken girlfriend Letty (Mia Hutchinson-Shaw). Thomas seems perfectly content being controlled by his mate in exchange for a bit of petting now and then.
There's also the obligatory sage wisdom supplied by Cynthia Harris, as the boys' great-aunt Tabitha, but the story moves slowly until the brothers have a climatic confrontation over Pamela. To modern viewers, its apparent that they regard her as more a possession than a person, but the scene brings out a wonderful bit of writing where Gerald lashes out against the assumption that his success in life is due to his attractiveness and charm, rather from his hard work and talent.
THE LUCKY ONE may not be a forgotten gem, but there's certainly a fascination to seeing social issues of the wealthier class addressed by a literary figure whose name has become synonymous with whimsy. And The Mint's mission is such a valuable one that the museum-like experience of viewing a play so much of its time can make up for a less than satisfactory text.