Click Here for More Articles on JESUS CHRIST SUPERSTAR LIVE
BWW Exclusive: Producing a Classic- On the Set of JESUS CHRIST SUPERSTAR LIVE with Producer Neil Meron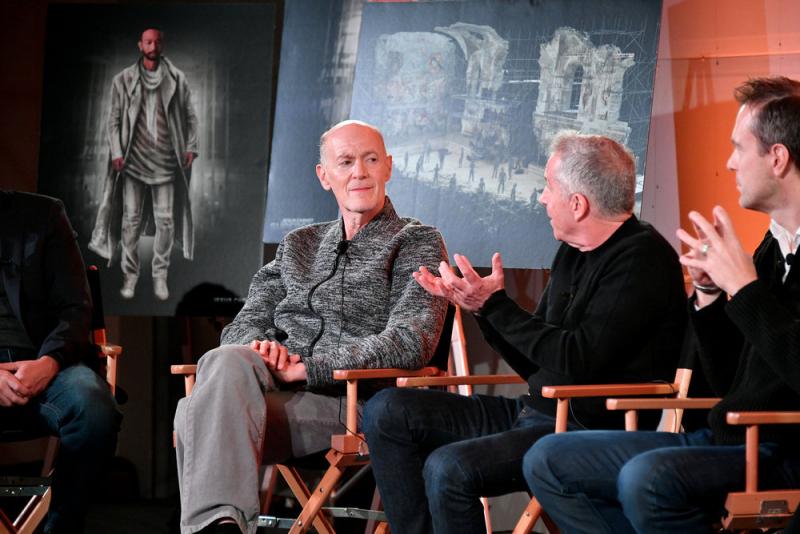 What's the buzz on the set of Jesus Christ Superstar Live in Concert? Neil Meron is telling us what's a-happening as John Legend, Sara Bareilles, Alice Cooper and more make their final preparations to bring the beloved classic to your living room.
In just two weeks, NBC will present Jesus Christ Superstar Live in Concert at 8/7c. Rounding out the cast are Tony nominee Brandon Victor Dixon as Judas, Tony nominee Ben Daniels as Pontius Pilate, Tony nominee Norm Lewis as Caiaphas, Broadway veteran Jason Tam as Peter, "M. Butterfly" star Jin Ha as Annas and Swedish rock star Erik Gronwall as Simon Zealotes. The production will be helmed by esteemed British theatre director David Leveaux.
Below, Meron (the producer behind NBC's The Sound of Music Live, Peter Pan Live, The Wiz Live, and Hairspray Live) sits down with BroadwayWorld's Richard Ridge for an exclusive chat about resurrecting the classic for a new generation.
---
What has made this so exciting for you and Craig [Zadan]?
What's made this exciting for me and Craig is that we have known Andrew [Lloyd Webber] and Tim [Rice] since the 70's. Both of us have had a love affair with Jesus Christ Superstar. It's been one of my favorite pieces. I remember getting the concept album with Murray Head and Yvonne Elliman when it first came out and just taking it home and listening to it over and over and over again, and then seeing the Tom O'Horgan production. I was a kid, and I saw it five times at the Mark Hellinger Theatre. To come full-circle back to this has been emotional and thrilling; and also the relevance of doing Jesus Christ Superstar at this particular time is pretty significant.
You know, you have really reinvented the genre. I think is so incredible what you and Craig have done...
Well, when we started it, it wasn't a genre.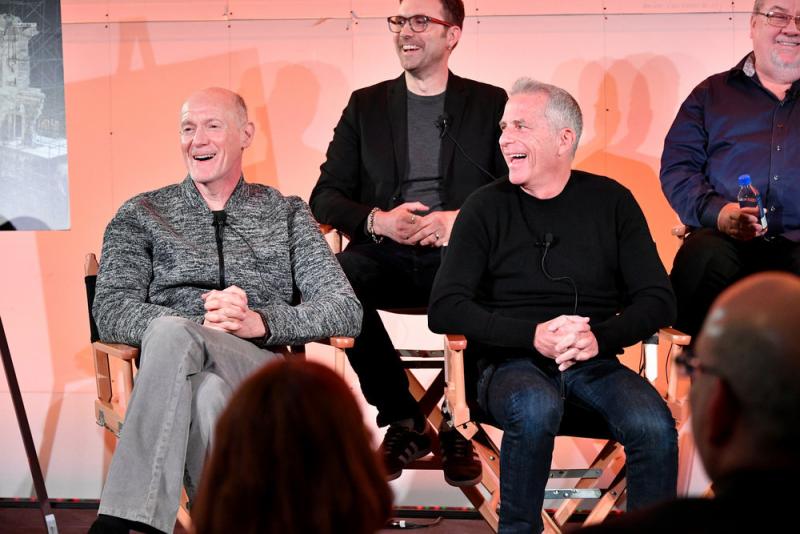 Exactly! Isn't it great you've created something like this? That all these other networks are jumping on and now you're producing this along with Marc Platt? What has that collaboration been like?
To collaborate finally with Marc has been absolutely fantastic because Craig, myself, and Marc speak a common language. And to most of the world, it's a foreign language [Laughs], but to us it's a very familiar language- musical theatre. And to have that love and that passion and translate it as a group to a large audience is one of the great joys of doing this piece.
How will Superstar be different from the rest of the live musicals.
For Craig and myself, every iteration of these yearly musicals has been different. When we started with The Sound of Music Live!, we didn't quite know what we were doing just in terms of the presentation. It seemed very proscenium-esque even though we built these sets for 360 camera angles. And then we experimented with some theatricality like curtains rising, or the stage where the von Trapp family was gonna perform coming out of the living room. So we kind of explored a little bit and we found that the audience liked it.
For Peter Pan, we created the entire set 360. Neverland was massive and so we were able to kind of give that 360 feel to the entire show. For The Wiz, we went back to doing something a little bit more proscenium, but the use of LED screens was very different for the presentation. We were able to accomplish a lot and change sets and change moods very, very quickly. That show was supposed to transfer to Broadway, but there were some theater availability issues and it never did.
Hairspray was more of a hybrid of theatre and movies as opposed to theatre and TV, which the others were. We went to the backlot, we shot on locations of stores that we built, plus we were in the studio. So it was everywhere in massive scale.
For Jesus Christ Superstar, Andrew and Tim's preference was that it return to its roots as a concert. So we were able to conceptualize this setting in which the show can live as a quasi-theatrical concert. We have these artists who are known for primarily being music artists, but put into this environment that makes total sense, and yet they're giving very, very good acting performances as well. Each one that I've lead you through has been a little bit different.
You keep elevating it to another level.
It's also the demands of that particular piece of theatre. You know, what we can do with it and how we think it should be presented.
Let's talk about your cast.
John Legend was unexpected because we never though John Legend would be interested or available to do it. But our music producer, Harvey Mason Jr., he said "What about John Legend?" And we said, "Well, yeah that's pie in the sky." But Harvey knew people on his team and has worked with John before and said that there was interest. That's when we started to explore how we could possibly make this work. And John was willing to play ball with us and we were willing to play ball with John because we thought it was an exciting piece of casting. Lo and behold, here we are!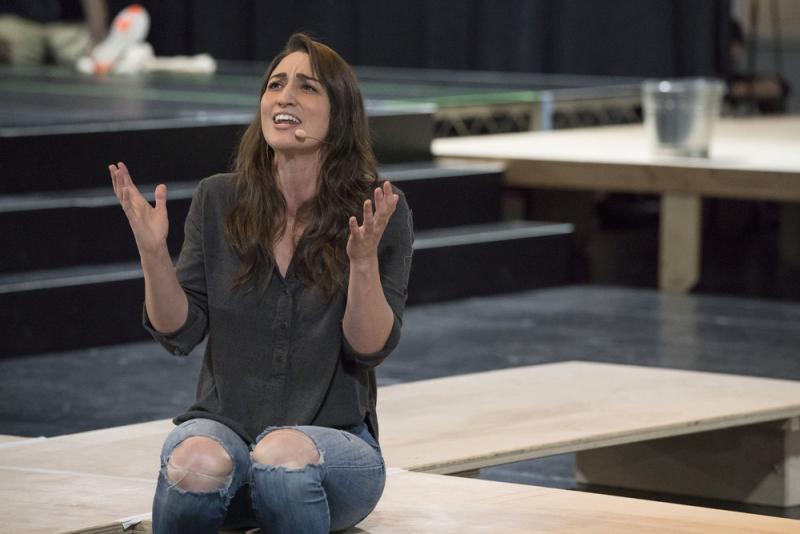 Then there's Sara Bareilles.
Sara Bareilles is a gift. I mean, watching her artistry over the past several years as a songwriter then performer then as an actress, you think: this is a real artist. And uh, hearing her do "I Don't Know How to Love Him"... it's like hearing it for the first time. I mean, it's pretty extraordinary. I don't know if you've seen the TV commercial with that snippet...
It's sounds incredible. You also got Alice Cooper!
Alice Cooper was the first onboard. He came onboard first at the suggestion of Tim Rice. Alice had done Herod for a recording maybe 15 years ago, and as soon as Tim mentioned it it seemed to make a great deal of sense. Alice Cooper, one of the great concert artists, who defined a generation of concertgoers - to have him anchor this, and to be first onboard seemed to be pretty thrilling.
But you have the best of Broadway too, you have Ben Daniels, Brandon Victor Dixon, Norm Lewis... I just love how you mix it all up.
The people from Broadway ground the theatricality of it all. They ground what we wanna do: have the authenticity of the theatre combined with what goes outside the box of theatre. It just made perfect sense to us.
Have you spent a lot of time with Andrew and Tim on this?
More with Andrew. He's come to rehearsals several times. And Andrew just happened to be in New York because there were all these birthday celebrations that were going on and his book just launched, so it's a particularly wonderful time for him and he's very, very excited about it. I had dinner with Tim and I'm in contact with him via email. I was emailing him back and forth yesterday. So they're very much in the loop as to what's happening here. It's kind of "pinch me" moments because, you know, I've looked up to these gentleman and I'm an acolyte of their talent. Not to bring it back to Jesus Christ Superstar, but I certainly am an acolyte of both their talents together and individually. So it's, it's been an honor and a thrill, and all those other adjectives.
This is such a beloved score! I had the Brown album first, then I had the Decca Original Broadway Cast album with Jeff Fenholt. Why do you think this show is so beloved in every language around the world?
Because the message is timeless and the music and lyrics are brilliant. Taking this story and turning it into a rock opera... I mean, who would have thought of that but Andrew and Tim? They've taken this story that everybody knows and figured out a way that it could really be contemporary and meaningful.
I have goosebumps just sitting and listening to them rehearse outside these two doors.
Oh, yeah. It's great!
You have an incredible creative team working on this show.
I love them all. And these are new people like Jason Ardizzone-West who comes from the world of touring. He worked with Es Devlin, who's one of the primary designers who does incredible tours for artists like Adele. And he has also assisted people like Christine Jones on Harry Potter. And so he's been an associate, but this is a chance for him to step out and really claim his status as a great designer, so we're thrilled with Jason. Paul Tazewell we've worked before on The Wiz Live! and he won the Emmy for that one, so we're happy about being reunited with him because he is brilliant.
Camille Brown is now enjoying great success as a choreographer with Once on This Island and has her own dance company. Our musical director Nigel Wright who is just, along with Andrew, captain of the music team and Harvey Mason Jr., who's one the producer we worked with on The Wiz Live!. He's one of the best in the business and worked with every major artist from Beyonce to John Legend to on and on and on.
Let's talk about David Leveaux. What does he bring to this project?
David is remarkable in terms of having a vision for a show that is unique and absolutely right for the material. He somehow elevates it and brings out the deeper meaning of the piece. When we talked to David, David talked about, "renewing the contract with the audience." That's one of his expressions. And so he wanted to renew the contract with the audience with Jesus Christ Superstar in this presentation. So he's working brilliantly with the designers to kind of execute the vision he had for the presentation and he's just, he's done remarkable work.
We were just watching him work with the actors...
Oh, he gets in there. He talks to the actors. They're really listened to and they listen to him, He looks for the subtext in everything, and he's able to imbue the actors with great direction, make them feel that they are just doing great work and contributing to the evolution of Superstar.
And you still have some other shows in the works. Is there an update on Bye Bye Birdie and A Few Good Men?
It's always a question of timing. Aaron [Sorkin] has gotten very, very busy with Molly's Game and he's now busy with To Kill a Mockingbird, but it is very much under discussion and certainly not asleep.
And what about Bye Bye Birdie?
We're still finding that window, you know, a lot of this is about timing so with Jennifer's [Lopez] schedule. Jennifer's the busiest woman in show business, so it's about finding that moment in time where we can just get an entire team together and get Jennifer's window.
It's a puzzle. It's just like producing on Broadway, right?
It's absolutely a puzzle, yeah. Certainly things are put off or postponed because you don't have it right. These things are too vulnerable not to get right.
What about your long-promised return to Broadway and are there shows you're interested in?
Yes and yes. Frankly, I think within the next month or so, Craig and I will be making a very exciting announcement about something that's coming down the pike.
My final question is: what are you looking forward to the most about that Easter Sunday night with Superstar?
I'm looking forward to...I feel like I'd get into trouble, no I can't say that. (laughs) I'm looking forward to...uh, seeing this remarkable performance and it's gonna be a mixture knowing that I'm gonna be celebrating their accomplishment but at the same time saying goodbye to them. So, it's kind of like a mixed feeling.
Related Articles