BWW Exclusive: John Kander Ebbs & Flows In 3/4 Time
In the black at the back of the Vineyard Theater during one of the final previews of The Beast in the Jungle the other night sat its composer, disguising himself as a member of the audience by dispassionately drinking in the stage action and politely applauding at the appropriate places. This is-typically-the usual battle station for the artist-in-progress. Atypically-in fact, for the first time--John Kander sat alone.
At 91, he is the oldest, producing composer in musical-theater history, still in harness, ready to write a show at the drop of a downbeat. And, just to prove he's not too old a dog to learn new tricks, he is trying his latest (#21) without a net: no lyrics!
Instead, he is getting his marching (or, rather, walting) orders from director-choreographer Susan Stroman and book writer David Thompson. The three-along with Kander's longtime lyricist, the late and great Fred Ebb-began collaborating 26 years ago with Off-Broadway's And the World Goes 'Round, and their beats goes on.
In fact, with The Beast in the Jungle, the beat came first. Stroman threw out a title-Waltzing Through Life-and suggested there could be a show for them in those three little words. "We went to work on it immediately," Thompson remembers. "Could we create a musical around a title? Kander went straight into three-quarter time, and I started thinking about what those words would mean in terms of a story.
"Eventually, I stumbled onto a Henry James story, which is very much the story of a man who looks back on three chapters of his life and his inability to make a connection with this one particular woman. That provided the framework for us."
The beast in the jungle is commonly called commitment. It flares up every time a man picks personal freedom over true love, thereby undercutting his own shot at happiness. Later, often much later, he comes to realize this with profound regret.
Evidently, this masculine malady dates back to at least 1903 when James wrote up a particular case-in-point in The Beast in the Jungle--one John Marcher (here, an art dealer) who goes through life dallying with, and then denying, the woman he loves.
Stroman made of this an uncommon entertainment--one she labels "a dance play"--and she cast it accordingly with leads from the two worlds she has brought together on the same stage: Tony Yazbeck from Broadway and Irina Dvoroveno from ballet.
There's also a chorus line of five or six statuesque chorines inspired by La Danse, two related paintings Henri Matisse did between 1909 and 1910-plus a pair of nonsinging/nondancing actors: Peter Friedman, who narrates the play from the sadder-but-wiser perspective of the older Marcher, and Teagle F. Bougere, who completes the center-ring triangle as the man who committed and married May.
"It's a cautionary tale," admits Stroman, "because life is short and one must live one's life. Sometimes, people have a beast-something inside of them-that keeps them from moving forward or keeps them from enjoying life. We hope audiences will take this cautionary tale to heart and go out and live their lives to the fullest."
This is her fourth show for the Vineyard. She did a couple of Kander & Ebbs (Flora, the Red Menace and The Scottsboro Boys) there and, in 2016, Colman Domingo's nonmusical comedy-drama, Dot. "It feels like our home now. The Vineyard is very supportive and very nourishing. The artists always come first there, and that's a great feeling artistically. You can really develop pieces there. They gave us a lovely workshop for this where we worked out the whole idea. Now, here we are, having it produced. It's really a dream come true because we adore working at the Vineyard."
The Beast in the Jungle is the first all-waltz score since Stephen Sondheim's A Little Night Music, and it was easy, even therapeutic for Kander to write. When he relaxes, he hears waltzes: "I have this theory that if you put your hands under your arms and turn your brain off, they will play a waltz. That sounds like a joke, but it's not a joke."
According to librettist Thompson, Stroman knew that "just the idea of waltz music" would trigger a wellspring of three-quarter compositions in Kander. And, indeed, it did: "For about a year, John would send us a waltz almost every day. It would just be 'Here's the Wednesday waltz' or 'Here's the Tuesday waltz' or 'Here's the I-Went-to-the-Theater-Last-Night waltz.' It was so generative for him because, I think, it has sorta taken him back to his roots as a dance arranger. All of this music has been turned into spectacular dancing that's done by all these very tall women and Tony."
Yazbeck, the only person ever to win both The Fred Astaire Award (for On the Town) and The Chita Rivera Award (for Prince of Broadway), has a beast of a showcase here darting from dance to drama and back again. "This piece was a no-brainer for me," he confesses. "Just the people involved made me want to do it. Then, there was the fact that it was a play with this huge emotional heart that's always front and center."
The lack of lyrics was likewise a welcoming factor. "I don't necessarily have to think so much about my range of high notes or low notes, but this play is very raw in that I scream a little bit. There's a lot of talking, too. Vocally, that's harder to do than just sing a bunch of material. At the same time, I have to switch gears and dance ballet."
Also happy about the singing break is ex-ABT diva Dvorovenko, who, as the elusive love who got away, glamorously spans a half-century in an hour and 45 minutes.
She first dipped her toe shoes into musical theater five years ago with an Encores! of On Your Toes. "Christine Baranski was also in that show, and she said to me, 'Irina, you have got the Broadway bug! Broadway is crying for you! You must continue!'"
But television got the 44-year-old beauty first. Once she got her acting up to speed, she took on the Starz series, Flesh and Bone, and did guest shots on The Blacklist and Forever. Only recently did she do an encore at Encores! to face the music and sing.
Acting the Greta Garbo/Liliane Montevecchi role of a tiring ballerina in Grand Hotel wasn't exactly a stretch for her, but singing it emphatically was. "For me," she says, "it was a great experience because I never sang in my life. At all! It was the first time that I ever went out on stage and sang." These days, she thinks that's the way to go.
"Nothing compares to ballet. Ballet is super-difficult. There are so many elements that go into putting a ballet together--long hours of rehearsing and training, physical pain, injuries. Then, you have to act on stage and perform and leave. You need to be a zombie because of the physicality and technique. You're like a computer. Half of the brain needs to be working hard while the other half needs to create art on stage and enjoy it. I think musical theater--for me, now, at my age--is more suitable and enjoyable. At least you can tell a story and become a different character. All my life I've performed characters silently. Now, I'm opening my mouth and using words."
Dvorovenko is dipping and swooping and sweeping to primal Kander, who completes a cycle of sorts with The Beast in the Jungle. He started out arranging other people's music. Now he is arranging original music he created for this show.
During previews, he got a got a bracing flashback to those humble beginnings when he picked up The Chita Rivera Award for his considerable contribution to dance.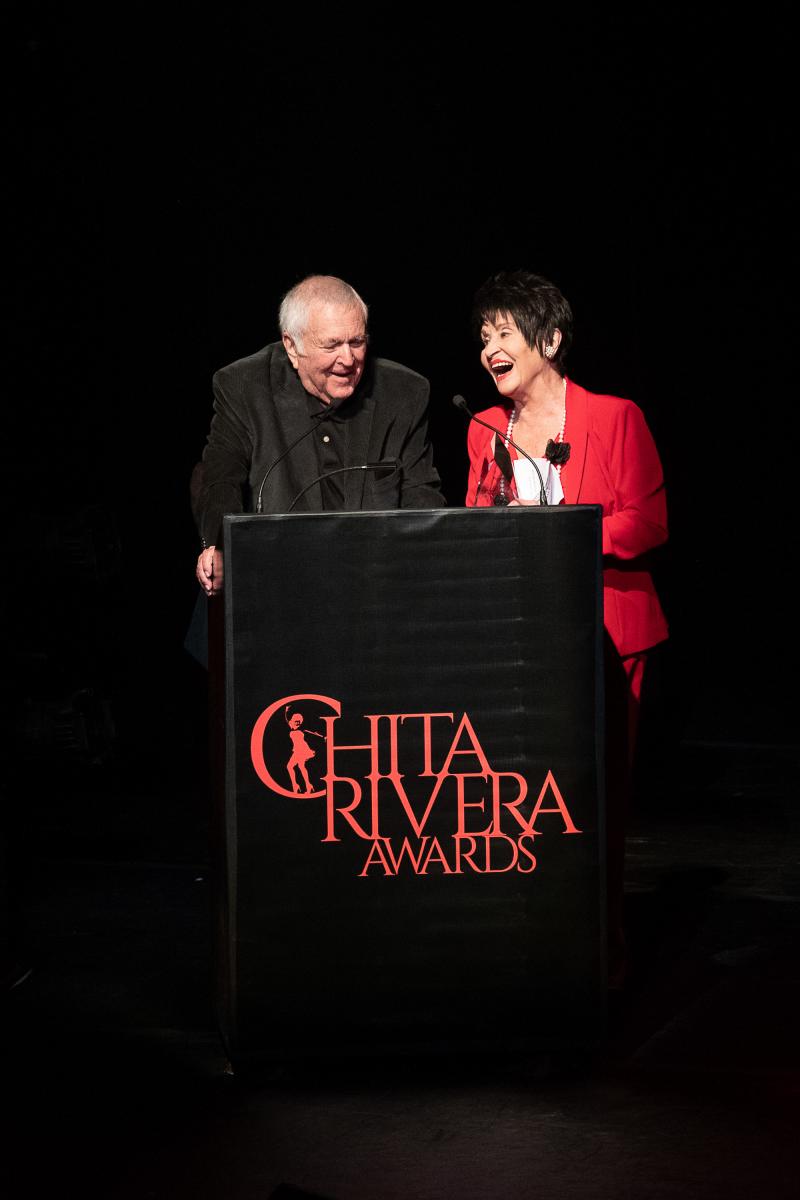 The two met 61 years ago (he as rehearsal pianist for her West Side Story) and have been friends ever since. He and Ebb wrote four shows for her (Chicago, The Visit, The Rink, Kiss of the Spider Woman). The last two won her Tonys; the last won them one.
Shockingly, in light of their razzle-dazzle output, that's their lone, lonely Tony-and it's only half a Tony, at that (since their score tied that year with the one for The Who's Tommy). Their accumulative award bric-a-brac includes one Grammy, one Emmy, one New York Drama Critics' Circle Award, four Drama Desk Awards, two Outer Critics Awards, one Lortel and, 20 years ago, the Kennedy Center Honors.
They also wrote, not so incidentally, Broadway's longest-running American musical, Chicago, still going strong, nearing 9,000 performances at the Ambassador Theater.
When Ebb died in 2004 at age 76, he and Kander left a stockpile of unproduced musicals: Curtains, The Scottsboro Boys, The Visit and their musical version of Thornton Wilder's The Skin of Our Teeth (retitled for different resurrections Over and Over and All About Us). Everything but the latter has made it to Broadway.
For Curtains, Kander turned lyricist and wrote a sentimental salute to his late partner, "Thinking of Him." Also in Curtains, he found his next lyricist, Greg Pierce, nephew of the show's lead, David Hyde Pierce. He provided words for a couple of Kander's extra innings at the Vineyard, The Landing in 2013 and Kid Victory in 2015.
"I've been lucky," Kander modestly dirt-kicks. "I'm lucky that I continue to be lucky."
Related Articles