Click Here for More Articles on BWW MUSIC NEWS
BWW Article: Nicolas King and Mike Renzi Pair Up to Tell a Familiar Story with New Album ON ANOTHER NOTE
When Liza Minnelli tells showbiz, "Look out... here comes Nicolas King," you know this performer is the real deal. Having toured with Minnelli and appeared in three Broadway shows by the time he was a teenager, King is no stranger to showmanship and storytelling.
Now, he has partnered with legendary jazz pianist and music director Mike Renzi to release his new album, ON ANOTHER NOTE, a collection of rich jazz standards that follow the plot of a love story. "I wanted to pick songs... that musicians would geek out to," King said, "songs that are meaty and full of witty lyrics and crazy chord changes and just really tell a fabulous story. We picked songs that are unique and very special and very profound."
Born to a musical family, King made his Broadway debut in 2000 as Chip in the company of BEAUTY AND THE BEAST, then went on to star in A THOUSAND CLOWNS in 2001 and HOLLYWOOD ARMS in 2002. Since then, he has made a name for himself as a cabaret singer, performing on shows such as THE Jerry Lewis MDA LABOR DAY TELETHON, THE VIEW, THE TODAY SHOW and THE TONIGHT SHOW WITH Jay Leno. King has also been awarded the 2012 Bistro Award for Outstanding Performer of the Year and the 2015 AMG Heritage Award for Artist of the Year.
ON ANOTHER NOTE, as King explains, brings him back to his acting roots. "When I put down all of the song choices on paper, I noticed that if I put them in the right order, the entire album tells a very complete story. My hope is that the listener soaks up the story and really dives into the plot line and discovers a little of themselves in it."
Starting off with "Skylark," each of the album's eleven songs bring listeners on a journey of love, romance and discovery. The album also features songs such as "The Way She Makes Me Feel," "I Got Lost in Her Arms," "You Must Believe in Spring" and "A Time for Love." King's powerful voice and appealing tone guide the listener through each part of the album as each song flows gracefully and easily into the next.
But ON ANOTHER NOTE's power lies in its simplicity, as well as the vulnerability it portrays--- both musically and personally.
"When I think about my favorite albums that I own... they are just piano and vocal--- no frills, no crazy tricks, no big orchestra. Just two musicians telling a story." King said. "In that vulnerability, I think, lays an immense power to really feel heartache, to really feel the lyrics and to feel all these crazy emotions that are in all of these songs."
King also raves about Renzi, saying that their connection is what makes the album so special. "I am such a fan of Mike Renzi and have grown up listening to so many records that he has played on that for me, to do my own album with him, was just a dream. I have such a fantastic musical relationship with Mike. We are the definition of musical cohesion."
Renzi has had a long and successful career as a composer, winning seven Daytime Emmy Awards for his television work, including on Sesame Street and ALL MY CHILDREN. He has also toured the world with legendary performers such as Tony Bennett and was inducted into the Rhode Island Heritage Hall of Fame.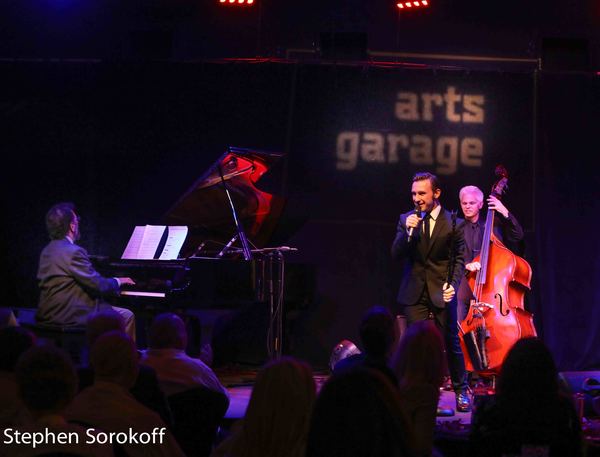 This is not the first time the two have worked together. Renzi also worked on King's first album, NINETEEN, back in 2010. Since then, King and Renzi have gone on to perform together many times in venues all around the globe. With years of working together under their belts, there's no question as to why the music they create is so wonderful and well made.
"There's no guessing game," King said. "There's no wonder what's going to happen next. We know each other's phrasing and we know each other's style. There's such a musical understanding that makes it so easy to work with him because we know each other so well that it's like putting on a pair of gloves: it just fits."
---
ON ANOTHER NOTE is now available on CDBaby.com. For more information, visit www.thenicolasking.com.
Gianluca Russo is a New York based freelance writer whose words have appeared on BroadwayWorld, TheatreNerds.com, 518Life Magazine, The Albany Times Union, YesBroadway.com and more. Follow him on Twitter and Instagram @g_russo1.
Related Articles
Gianluca Russo is the Central NY Senior Editor of BroadwayWorld. He is also a freelance writer, editor and social media manager who has been published (read more...)