BAT OUT OF HELL, THE FERRYMAN, Andrew Garfield, Amber Riley & More Win Big at 2017 London Evening Standard Theatre Awards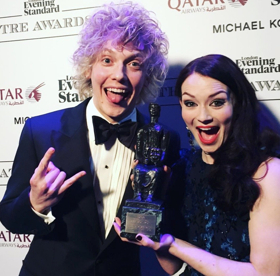 The winners of the London Evening Standard Theatre Awards in association with Qatar Airways have been announced at a ceremony at London's Theatre Royal, Drury Lane.
Nine awards which recognised excellence in theatre over the last year were presented.
The Ferryman scooped three of the four awards for which it was nominated, with Jez Butterworth honoured for Best Play, Sam Mendes picking up Best Director and Tom Glynn-Carney taking home the Emerging Talent Award. Jez Butterworth's win marks his third Evening Standard Theatre Award, winning Most Promising Playwright in 1995 and Best Play for Jerusalem in 2009.
Andrew Garfield won Best Actor for Angels in America, despite stiff competition from Bertie Carvel and Andrew Scott. Garfield was the recipient of The Milton Shulman Award for Outstanding Newcomer eleven years ago, in 2006.
The annual awards, marking their 63rd year, were co-hosted by the newspaper's owner, Evgeny Lebedev, American Vogue editor-in-chief, Dame Anna Wintour, star of stage and screen Cate Blanchett and Hamilton creator and original star Lin-Manuel Miranda. The on-stage host for the evening was Phoebe Waller-Bridge.
Glenda Jackson was awarded Best Actress for her role in King Lear, triumphing over Laura Donnelly and Victoria Hamilton, who were all shortlisted for the award presented in memory of the late Natasha Richardson.
Amber Riley - who performed at last year's ceremony - won the award for Best Musical Performance for her role in Dreamgirls, whilst the Evening Standard Radio 2 Audience Award for Best Musical was presented to Bat Out of Hell - The Musical.
Bunny Christie was honoured with the award for Best Design for Heisenberg: The Uncertainty Principle, Ink and The Red Barn. Christie previously won Best Design for Baby Doll in 2000.
The Charles Wintour Award for Most Promising Playwright was presented to Branden Jacobs-Jenkins. Previous recipients of the award include Tom Stoppard (1967) and Polly Stenham (2007).
Among guests for the evening were Dame Anna Wintour, Evgeny Lebedev, Cate Blanchett, Linn Manuel Miranda, Phoebe Waller-Bridge, Glenda Jackson, Andrew Garfield, Jez Butterworth, Amber Riley, Sam Mendes, Tom Glynn-Carney, Dame Shirey Bassey, Keira Knightly, Poppy Delevingne, John Hamm, Laura Carmichael and Dominic West.
The winners of the nine awards for the 63rd London Evening Standard Theatre Awards are as follows:
BEST ACTOR IN PARTNERSHIP WITH Ambassador Theatre Group
Andrew Garfield Angels in America (National Theatre)
Natasha Richardson AWARD FOR BEST ACTRESS IN PARTNERSHIP WITH CHRISTIAN LOUBOUTIN
Glenda Jackson King Lear (Old Vic)
BEST MUSICAL PERFORMANCE
Amber Riley Dreamgirls (Savoy)
BEST PLAY IN PARTNERSHIP WITH HISCOX, OFFICIAL ARTS PARTNER OF THE EVENING STANDARD
The Ferryman Jez Butterworth (Royal Court & Gielgud)
MILTON SHULMAN AWARD FOR BEST DIRECTOR
Sam Mendes The Ferryman (Royal Court & Gielgud)
BEST DESIGN
Bunny Christie Heisenberg: The Uncertainty Principle (Wyndham's) / Ink (Almeida & Duke of York's) /The Red Barn (National Theatre)
CHARLES WINTOUR AWARD FOR MOST PROMISING PLAYWRIGHT
Branden Jacobs-Jenkins An Octoroon (Orange Tree)
EMERGING TALENT AWARD
Tom Glynn-Carney The Ferryman (Royal Court & Gielgud)
EVENING STANDARD RADIO 2 AUDIENCE AWARD FOR BEST MUSICAL*
Bat out of Hell - The Musical (Coliseum)
*The winner of the Evening Standard Radio 2 Audience Awards for Best Musical is decided by public vote; voting commenced on the 15th October and closed on 29thOctober.