ALL EYES ON ROSE MARIE: Richard Jay-Alexander Talks to the Legend About 90 Years in Show Business and Her Upcoming Documentary WAIT FOR YOUR LAUGH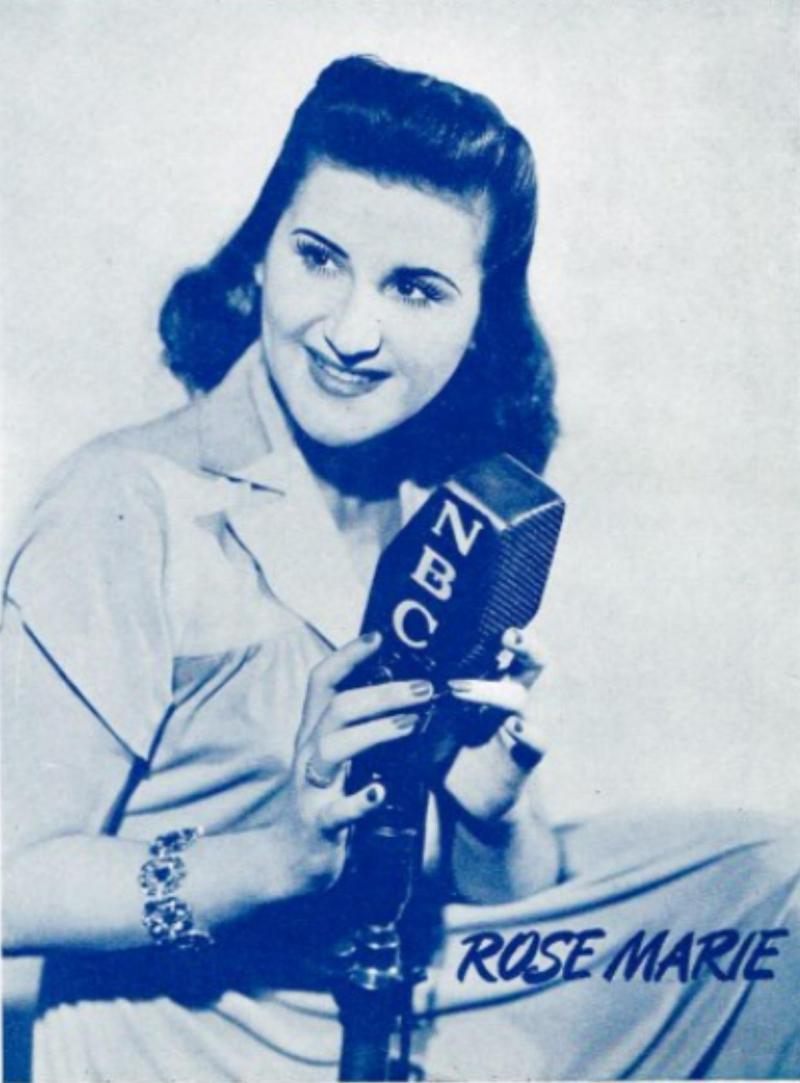 There has been a buzz in show business circles ever since word got out that there was a new documentary on the horizon about Rose Marie. Everyone started clamoring for information about it and then, BOOM! A private screening in her home, followed by a special public screening at The Aero Theatre in Santa Monica on August 3rd, 2017. Rose Marie, Dick Van Dyke, Peter Marshall and Carl Reiner were also in attendance for a discussion with the audience.
I received a phone call from Robert Diamond, Editor/Owner/CEO of BroadwayWorld, asking me if I would be interested in speaking with Rose Marie on the phone, for an interview with the legend, herself, discussing the film, her life and career, and even Broadway's TOP BANANA, in which she co-starred with pal, Phil Silvers. "Are you kidding me?! YES! Do I get to see the documentary?" The answer was YES!
The film is called, "WAIT FOR YOUR LAUGH" and is directed by Jason Wise and produced by Christina Wise, Jason Wise, and co-produced by Jackson Myers. To get right to the point, the documentary is utterly fantastic. But the 33 minutes and 42 seconds I spent on phone with Rose Marie will be forever unforgettable.
One of the opening sequences in the "classy" doc gives us a view (over the left shoulder of Rose Marie (famous bow in hair), sitting in a chair by a projector, about to watch her life flash before her (and us). It's a stunning shot that could easily have been Gloria Swanson in SUNSET BOULEVARD or Olivia de Havilland in WHATEVER HAPPENED TO BABY JANE? But no Grand-Guignol here... just an extraordinary career and, I must say, an amazing love story.
I got to speak with director Wise and asked him how he came to set his sights on Rose Marie. He had wanted to do something about someone in this era when Harlan Boll (a well known Hollywood Press Agent) suggested he take a look at the life of this groundbreaking force of nature, who has been in the business for literally ninety years, suggesting that both he and his wife read the star's autobiography, HOLD THE ROSES (2002). Jason came back saying "Wow! What a great story about The Mob" and Christina came back saying "Wow! What a great love story!" That was enough to make them want to pursue the project. They met with Rose Marie and she came to trust them, and the rest of it, as they say, ...is history! The footage compiled for this documentary will leave your jaw on the floor.
Rose Marie was born Rose Marie Mazetta and is very proud to be the first woman to use only her forename, like Cher... but there's no denying, she was first. She had an incredibly successful singing career, starting at age 4 as Baby Rose Marie and her career went on to span everything from vaudeville to records to theatre to radio to nightclubs and television. Her parents were Italian-American (dad, Frank Mazetta) and Polish-American (mom, Stella Gluszcak). The film does a brilliant job of laying out her career and even though we hear from Dick Van Dyke, Carl Reiner, Peter Marshall and her daughter Georgiana Marie Guy, among others, it is the star, herself, who does the most riveting of the story telling in her own narrative. The day I phoned her, she picked up the phone and said, "Hello?" I can't explain to you how both fantastic and unnerving this was, and then we got right to it.
I had just watched the documentary and was full of questions, but my first was about her daughter. I asked, "How is it that your daughter is so amazing and your relationship, clearly, so strong in an era when stars like Bette Davis and Joan Crawford had vitriol laden books written about them by their respective daughters?" Rose Marie gushed and we were off and running. The bond between she and her daughter and the family are absolute and I could hear it in her voice. Her daughter and family are everything to her, as are her dearest friends who are still very much a part of her life. For me, without giving away too much of the content of the film, I'm in agreement with Christina Wise that the love story here took front and center stage. This was a great love affair and marriage.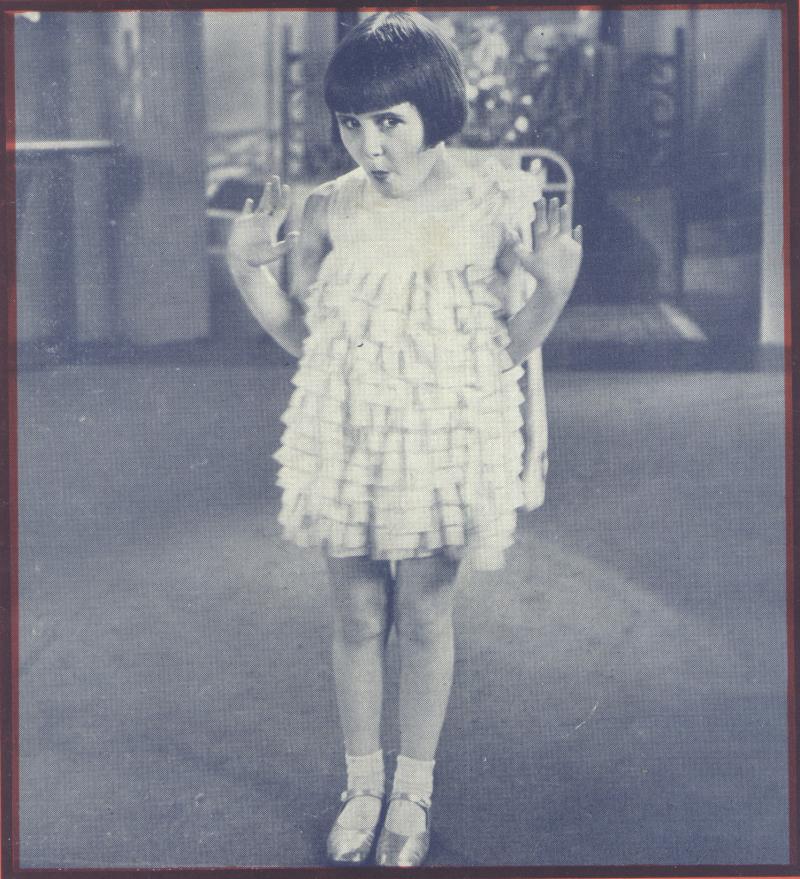 Rose Marie married one of the most talented musicians of the time. His name was Bobby Guy, a revered trumpet player who was just as in demand as she was. Her father was not happy about the romance. The dynamics here are fascinating and I was curious to know if her father ever came around to liking Bobby or accepting him into the family. The answer was, "No." She knew that Bobby and she were soulmates. So did anyone who knew them together. They were truly in love, and it was that rare show business marriage that worked yielding a daughter, Georgiana, who was born into love. The tragedy is that Bobby died in 1964 at age 47 of a rare blood infection which, if occurred today, could probably have been identified and cured. Her devotion to him was unparalleled and she will forever be grateful to Jerry Lewis for all he did for her and Bobby during this period of a disease that appeared to be a "mystery." Simply heartbreaking, though she soldiered on.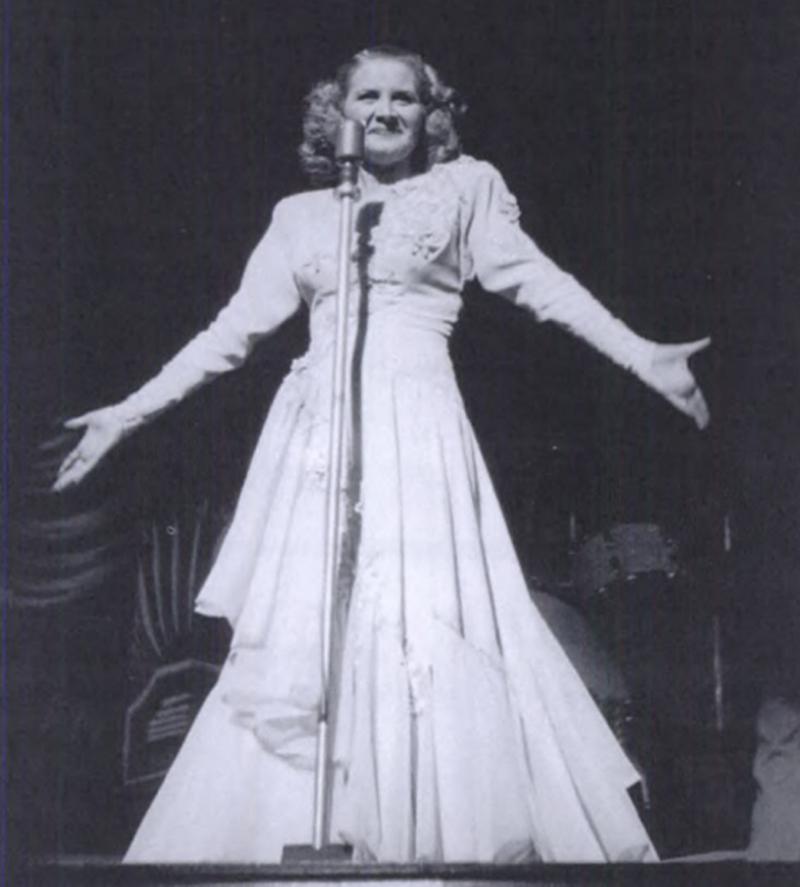 Back in 1946, Rose Marie opened at the Flamingo Hotel. It was the dawn of Las Vegas and she was very comfortable and protected in the company of mobsters, as the hotel was owned by Bugsy Siegel. It must be stated that if you look at the body of work of this extraordinary woman, that she was in a league all her own, and although she was most famously known for The Dick Van Dyke Show, reaching into millions of American homes via the television set, she could work just about anywhere.
She worked in almost every night club that existed at the time, and when I look at pictures of her and images on film, I asked how she kept that snappy figure, and where she got all those great dresses. Her answer was simply that people were paying good money and deserved for her to look good. She also had a designer in New York who made all of her clothes.
I asked about the famous "bows" in her hair and she said she always wore them, but after Bobby died, the bows were black, and remain so to this day. Although Bobby died while she was filming The Dick Van Dyke Show, audiences may never have noticed the distinct change, as the show never filmed an episode in color.
Rose Marie always loved the stage, and appeared on Broadway once in a show called TOP BANANA. She received a phone call from Phil Silvers and he said, "I really want you to come do this show with me. I'll send you the script." Rose Marie said when it came, it was six pages. She was married, had a child, and thought, "How can I come to New York?" But she did it. TOP BANANA Opened on Broadway in The Winter Garden Theater on Nov 1, 1951 and closed on Oct 4, 1952 after 350 performances. During the run she stayed with her mom in New Jersey. Every day, she would drive in, park her car, do the show, and then go home. That makes no sense, but perfect sense if you think about it. I mean, it was 1951.
She and Phil had a killer number in the show called "A Word A Day" which stopped the show, nightly. When she went on vacation, we think it was Audrey Meadows who took over for that stint. Phil would write to Rose Marie and say, "Come Back," because the number was NOT stopping the show without her. Sure enough, her first night back, it was "business as usual" .... stopping the show.
The biggest disappointment for her about TOP BANANA was that the critics went ON and ON and ON about Phil Silvers and she wasn't even mentioned. It depressed her, and then one night she was in Sardi's and bumps into Marlon Brando who showers her with praise. She explains that she didn't get mentioned by any of the critics and he said something like, "It doesn't matter- I saw you, and you stopped the show 3 times!" She said that she almost fell over ("I mean, that was Marlon Brando telling me that!"). I think that's pretty easy for any of you reading this to understand. Crazy. And, by the way, she doesn't have a caricature hanging in Sardi's either. Hey, Max Klimavicius, I hope we can do something about this when the Doc opens in New York.
She did the film version of TOP BANANA, released by United Artists in 1954, but you'll be hard pressed to find much of her work in it. That story tells itself in the documentary.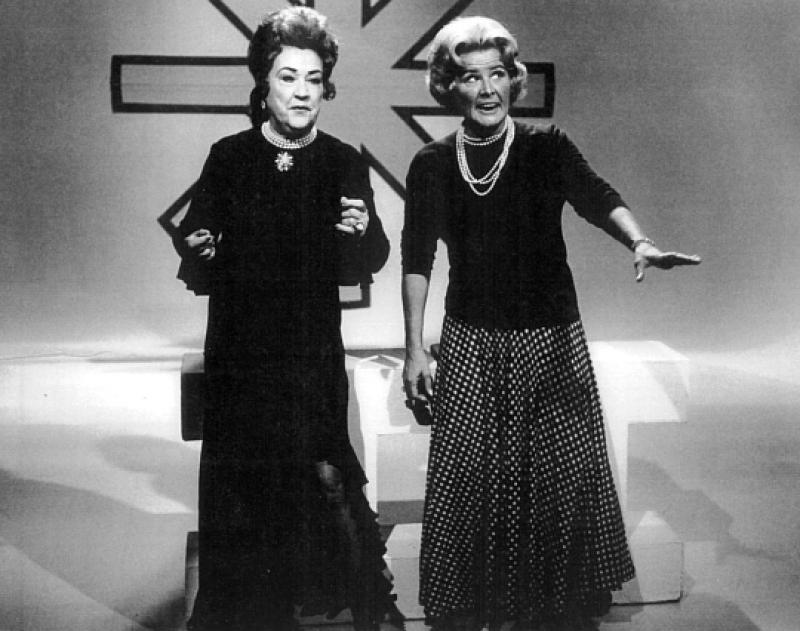 I asked her if she'd been pursued to replace in any other Broadway musicals, and she answered "No," which came as news to me. I was particularly surprised that nobody offered her HELLO, DOLLY! or the splashy revival of NO, NO, NANETTE. She was a fan of Ethel Merman, Angela Lansbury, and Vincent Price (who she actually went on a date with). She would have loved to have been asked to do ANNIE, GET YOUR GUN or GYPSY. Anything the MERM had done.
And then, of course, when everybody thought there was no work for older gals, a show called 4 GIRLS 4 is born and hits the road. The cast was Rose Marie, Rosemary Clooney, Helen O'Connell and Margaret Whiting. Nobody thought it would work, and it was a huge success on the road, which of course makes its own problems... and that part of the film is sort of hilarious. I was also fascinated by her one leg up on the piano and asked about it. Apparently, she just always did it!
Our conversation was rolling along so quickly. We'd be on a topic and she'd say "I gotta tell ya a story!" I would sit there listening, rapt, giving my full attention. What was amazing to me, during the storytelling was how fast, funny and on the beat she was. She is 94 years old! Not a spare word and her timing TOTALLY intact. You could also hear the warmth in her heart and the beautiful person that she is. She still loves "the business" and I honestly believe if somebody called her today she could show up for work.
She loved Jimmy Durante, who she would always work into her act and he actually taught her how to be him. It was HILARIOUS for me to hear... and then she would go into it.
You also see some of this in the film.
She loved her time on HOLLYWOOD SQUARES. She loved Charles Nelson Reilly, Tim Conway, Lucille Ball, Frank Sinatra, and Carol Burnett.
She did plenty of summer stock, in shows like CALL ME MADAM, and EVERYBODY'S GIRL. We made a joke that she was "very big in Texas." She did BYE BYE BIRDIE, interestingly enough, with Jerry Van Dyke (Dick starred in the Broadway show) and an original play called UP A TREE in Chicago.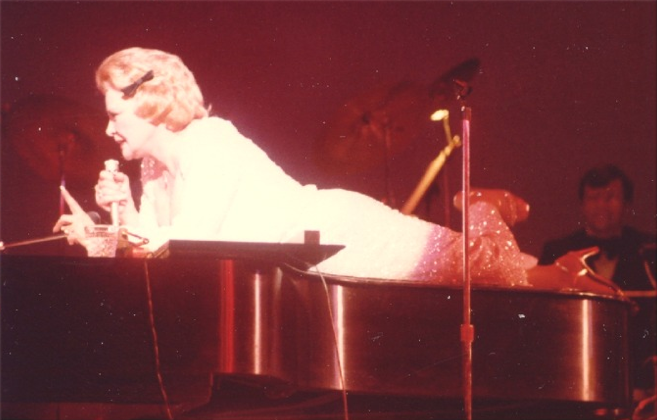 Our conversation was full of admiration for Morey Amsterdam, who used to write all of her material for her club acts and went on to become part of The Dick Van Dyke Show. We also discussed the challenges of being a woman at that time, and being a happily accepted member of "The Boys Club". Interestingly, I'm sure there were many girls watching the show, who thought, "I want to be in a writers' room someday." And, remember, this was long before Mary Tyler Moore moved to Minneapolis and worked in a newsroom. There's a very interesting storyline in the film about Mary Tyler Moore and Rose Marie and how their roles fit into The Dick Van Dyke Show story. But I won't spoil it here. I'll simply tell you you've got to go see WAIT FOR YOUR LAUGH! I feel very privileged that I was able to see it and share this little bit with you, as well as my conversation with the legend, herself.
Baby Rose Marie is all grown up and a person who can teach us all a thing or two. A career at this time was hard work and challenging, but hard work, commitment, and diligence paid off and being talented certainly didn't hurt. Her daughter and her friends are very lucky indeed. But CHECK THIS OUT and what Carl Reiner says about WAIT FOR YOUR LAUGH! in this clip:
I also want you to know that Rose Marie is on Twitter @RoseMarie4Real and I really want you to FOLLOW HER and let her feel the love.
Jason Wise and Harlan Boll have informed me that you can mark your calendars for the following dates in the following cities... and the best news is that the film will be eligible for Academy Award Consideration in the "Best Documentary" category.
* The World Premiere Opening Night Film @ Mill Valley Film Festival October 5th, 2017 at 7pm.
Ticket link: https://tickets.cafilm.org/websales/pages/info.aspx?evtinfo=318618~983c845f-a11a-4407-a254-d45cc3fdaab3&epguid=a1ad63af-e5ba-48a3-940d-9a52532417fb&
* Friday Oct. 13th, there will special screening @Hot Springs Documentary Film Fest.
* Opens November 10th in theaters in NYC at the Angelika Theater (18 West Huston Street) and The Landmark Theater (657 W 57th Street)
* Los Angeles Theaters are confirmed, with and times dates TBA (in Nov.)
* The New York release is now set for November 3rd.
* In addition, given the Mill Valley Film Festival theme this year is Strong Women, they will be presenting Rose Marie with their Lifetime Achievement Award.
And I'll leave you with this: we even talked about S&H Green Stamps!
Go ahead... discuss.
(Assistance on this piece by Nellie Beavers). All images courtesy of the Rose Marie Archives