Previews: THE WEDDING SINGER at Crown Arts Collaborative At The Crown Uptown in Wichita, KS
Runs July 15 to August 7, 2022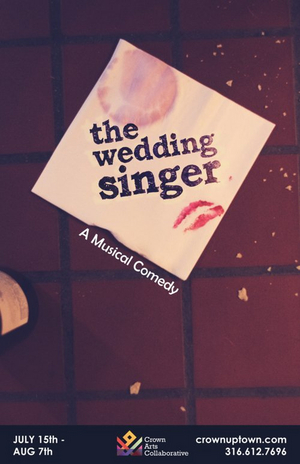 The Crown Arts Collaborative (CAC), a 501(c)3 non-profit with a mission of returning theatre and art to the historic Crown Uptown Theatre, continues their inaugural theatrical season with The Wedding Singer, the Tony Award-nominated musical based on the 1998 Adam Sandler film of the same name. Performances run weekends July 15 - August 7 at the Crown Uptown, with Friday and Saturday showtimes at 8:00 PM, and Sunday matinees at 2:00 PM. This will be the regional premier of The Wedding Singer, the first time the show has been produced by a professional company in Wichita or surrounding markets.
Nominated for five Tony Awards (including Best Musical), The Wedding Singer (set in New Jersey in 1985) tells the story of Robbie Hart, a popular wedding singer. He's the life of the party until his own fiancée leaves him at the altar. Shot through the heart, Robbie makes every wedding as disastrous as his own. Enter Julia, a winsome waitress who wins his affection. As luck would have it, Julia is about to be married to a Wall Street shark, and, unless Robbie can pull off the performance of a decade, the girl of his dreams will be gone forever. With a hilarious book by Chad Beguelin and Tim Herlihy and electric music by Beguelin and Matthew Sklar, The Wedding Singer takes us back to a time when hair was big, greed was good, collars were up, and a wedding singer might just be the coolest guy in the room.
The Wedding Singer stars Austin Ragusin as Robbie, Arissa Brown as Julia, Sam Warner as Sammy, Briley Meek as Holly, Ryan Schafer as Glen, Shannon McMillan as Linda, Liz Jarmer as Rosie, Levon Mathis as George, and Sarah Wine as Angie. The Ensemble includes Jackson Dorris, Denver Fankhouser, Sophia Hillman, Claire Kennard, Jaden Kindle, Anne Marie Lyall, Sophia Pickett, Noah Sickman, Madison Underkofler, and Mitch Waggonner. It is directed by Claire Gerig, with choreography by Simeon Rawls and music direction by Andrew Bowers.
When Pigs Fly BBQ will cater the show. Guests will be able to choose between two of three entrees: Beef Brisket, Pulled Pork, or Brown Sugar Glazed Ham with a vegetarian lasagna that is available upon request. Sides include Garlic Green Beans, Mac & Cheese, and a Fresh Garden Salad with a choice of Ranch or Italian dressing.
The CAC's Visual Arts Partner for The Wedding Singer will be the Kansas Art Guild, with Featured Artists Kay Rogers, Lari Howard, Phyllis Provost-Saas, Sharon Zimmerman, Rebecca Miller, and Stephanie Bayliff. Their work will be on display at the Crown Uptown through the run of The Wedding Singer for guests to view and purchase before the show and during intermission.
Tickets for The Wedding Singer can be purchased either with dinner or as a show only. Adult ticket prices range from $40-45 for dinner & show and $25-30 for show only. Senior, military, and student discounts are available. Tickets can be ordered at www.crownuptown.com or by calling the box office at 316-612-7696.
The Crown is located at 3207 E Douglas Ave., Wichita, KS 67218