BWW Review: EVITA at Century II Concert Hall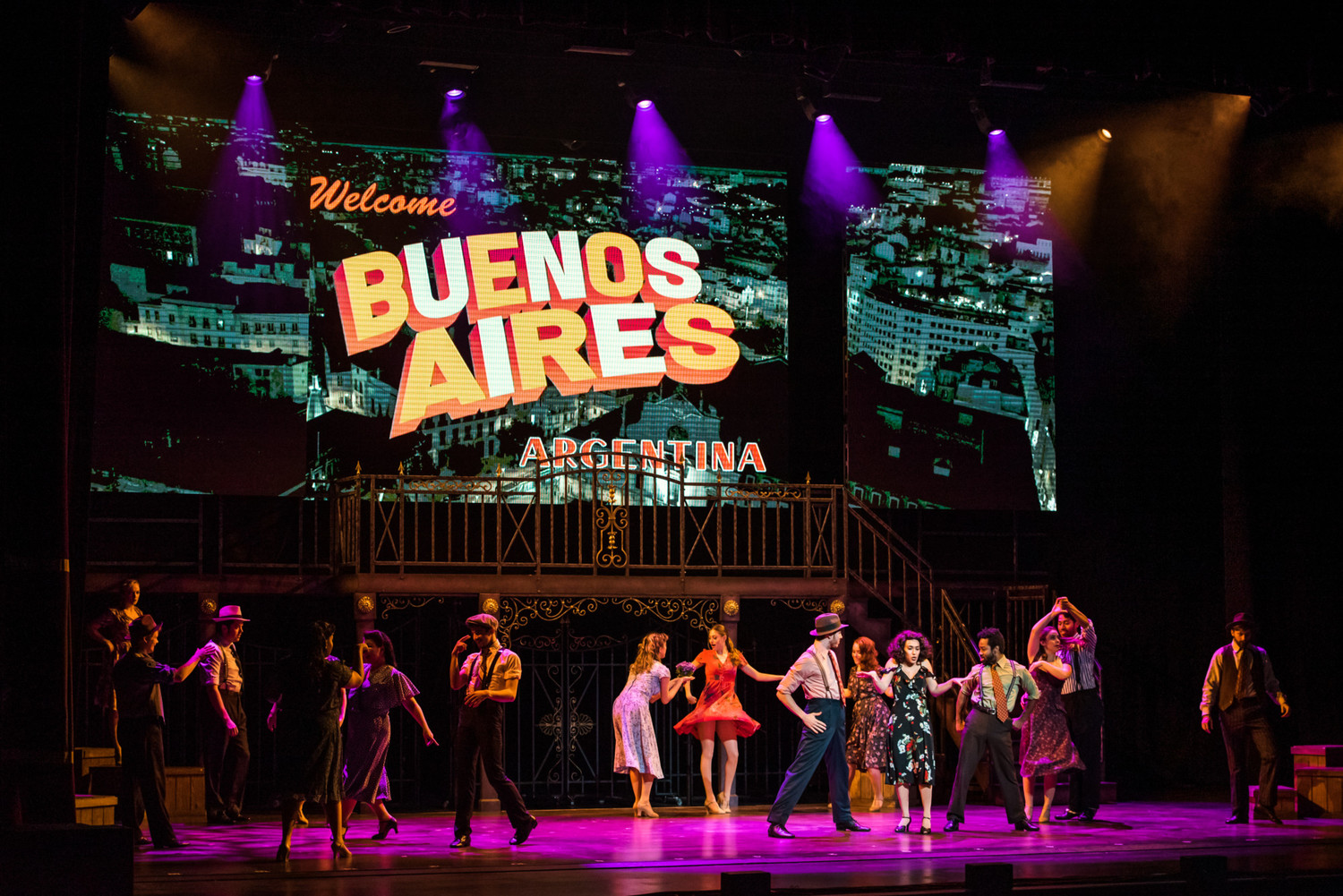 On Wednesday, March 22nd, I sat down to watch my first production of EVITA, ever, at the Century II Concert Hall. Grimly aware of my myriad prejudices, chief among them being the fact that I had listened to the original Broadway cast recording with Patti LuPone and Mandy Patinkin ad infinitum ad nauseum since its eagerly awaited release back in 1979. It was the second rock musical concept piece written by Webber and Rice, and was directed by Harold Prince, and garnered 11 Tony nominations. The show has lived in my head all these years, every minute choreographed and staged. Since I was a poor working actor back in Buffalo, NY, I knew I was never going to get to NYC to see this show unless some fairy godmother intervened. Which was sadly not the case. Since I was a working class girl in a working class town, cutting my musical theatre teeth in the Meatloaf era (late 70s, early 80s), I liked my musicals with a certain amount of grit and truth, and have bemoaned the sanitization of my favorites, including Grease. It was with these heavy expectations and much trepidation that I sat down to watch Evita.
Set in Argentina between the years 1934 to 1952, Evita is the story of Argentina's First Lady Eva Peron, from her days as actress Eva Duarte, to President Juan Peron's wife, to her untimely death at age 33, which elevated her to Santa Evita status. The story is narrated and commented on by Che. Yes, that Che. I'm so tempted to give a history lesson here, but I will spare you. Why this show now? Our current political climate, obviously - and the effects of power on those who have it, and those who do not.
Fortunately I was not disappointed. The show was cleverly staged and directed by Andy Ferrara, with very fluid choreography from Cheryl Baxter-Ratliff. The set, designed by Bruce Brockman, consisting of simple scaffolding and a tryptic projection screen located above the scaffolded balcony that supported the wide ranging episodic plot beautifully, and was well utilized by Ferrara. The video projections, by Mark Ciglar, were at times location specific and at times symbolic, but always gorgeous. The lighting, designed by Chad Bonaker, was exquisite, creating shadows and patterns with lots of moving lights, the ever present haze outlining its surreal beauty. There was strong musical direction by Lloyd Cooper. The score was sung adeptly by a young cast who negotiated its intricacies with ease. Although the leads definitely sang the show with modern pop tendencies, it was still a thrill to hear the score performed live. The only thing that marred the evening was the sound system, which caused wide ranging complaints from patrons, as they had a hard time understanding the words the cast was singing. This did not hinder the performers, who were outstanding. The ensemble sang well, and their dancing was clean and accurate.
The tango singer, Magaldi, played by Matthew Malecki Martinez, had an amazingly gorgeous voice, and I could have listened to him sing all night. Madeline Ellingson, portraying Juan Peron's jilted Mistress, sang Another Suitcase In Another Hall with innocence and elegant clarity. Gary Barton's Juan Peron had a relaxed sophistication, which was an excellent foil for Yael Reich's fiery Eva Peron. Reich's range was spectacular, singing the difficult score with zeal. The real sparks flew, however, when Che (sang beautifully by Lance Galgon) and Eva conspired to sell a story or sparred on principle. Good Night and Thank You topped my list of favorites, with its intense, perfectly sung harmonies at the bridge keep the tension high. Their most stunning moment came when Eva and Che did their waltz of contention in the song There Is Evil, their battle of back and forth reaching a zenith from which Eva finally falls.
There were so many other gorgeous moments in this show that it is difficult for me to list them all, so forgive me for not being brief. The staging for New Argentina was deft. A couch slid unnoticed into the ensemble and was not revealed until they dispersed. It was so seamless I failed to notice that sleight of hand! The subtle purple and orange lighting against Eva's white gown on the balcony of the Casa Rosada for Don't Cry For Me Argentina was exquisite. The filmed sequence of the clouds from a drone's eye view during High Flying, Adored were inspired. Finally, the Rainbow Tour 1950's "You Are Here" projections, replete with the nostalgic postcards and the dash following the airplane's path were a whimsical reminder of the period. The staging of that number was also clever, with the stairway, which was attached to the balcony, detached and turned gracefully across the stage, moving Eva as she deplaned from location to location.
After her death, a spirit Evita sings to her people from the balcony and then disappears into the night.
At the curtain call, sans music, Evita reappeared and the entire cast took a bow. The audience sat there, in stunned silence, and then slowly rose to their feet. It was a good night in Wichita musical theatre history.
Up next in the Broadway in Wichita Series is BEAUTIFUL - The Carole King Musical at Century II Concert Hall, running May 15 - 19, 2019. For tickets, call WichitaTix at 316-303-8100!