Winner Of London Lovecraft Festival's New Writing Contest Announced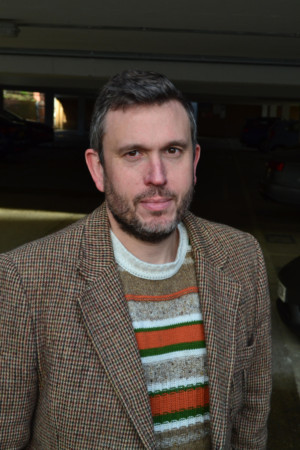 Orange Shade Productions and the London Lovecraft Festival are pleased to announce that the winner of the first "Writing Lovecraft" competition is James Goss, who submitted "The Collectors of Screams," a mythos-expanding work set in a very strange office in the twenties. Goss is best known for his work on universe building within Doctor Who, but in addition to his rich body of work in this area he's also written plays including "The Gentlemen of Horror" (about the friendship between Peter Cushing and Christopher Lee) and a much-produced adaptation of Dirk Gently's Holistic Detective Agency. The play will be given a staged reading at the Old Red Lion on the closing night of the 2019 London Lovecraft Festival (5PM, Saturday February 9).
Orange Shade Productions are thrilled to be offering an opportunity for exciting new work inspired by Lovecraft to be lifted off the page and into the theatre. As a company Orange Shade is focused on developing and nurturing new work to performance level. Founder Ralph Bogard says, "Working with the London Lovecraft Festival to offer this has proven to be wonderfully difficult, because we had so many excellent pieces submitted! James' play really captured the tone and mythos of the genre and we are very eager to see how it comes to life with a team of professional creatives."
Festival producer and playwright T.L. Wiswell adds, "The London Lovecraft festival was created in part to provide a platform to encourage new work in the genre. Lovecraft's own output was prodigious but he actively encouraged people to take his worldcraft and add to it, and Goss grabbed this remit by the horns. It is more than just a Lovecraft tale; it a completely new story that is highly original and definitely scary. I can't wait to hear it live!"
James Goss says, "I fell head over heels for Lovecraft with The Case of Charles Dexter Ward (so slyly funny it's like Jane Austen's turned her hand to horror), and when I discovered there was a Lovecraft writing competition I couldn't pass it up. I'm so excited to do my bit for bringing about the end of the world."
The Collectors of Screams will have a staged reading produced by Orange Shade Productions at 5 PM on Saturday February 9th. Tickets (£8.50/£6.50) are available via the Old Red Lion website: https://www.oldredliontheatre.co.uk/london-lovecraft-festival-playwriting-competition.html