Hampstead Theatre Announces Three New Hampstead Downstairs Productions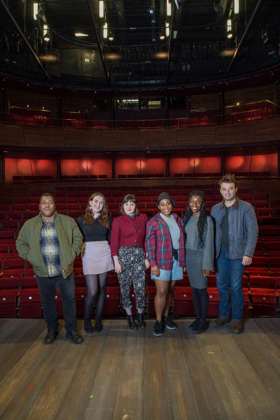 Hampstead Theatre today announces three new Hampstead Downstairs productions; the candidates for Inspire: The Next Playwright programme; and its continued partnership with the Sphinx Theatre Company.
Hampstead Downstairs introduces two debut playwrights, Georgia Christou with her new play Yous Two, and Ella Road with her new play The Phlebotomist and Amy Ng debuts her second play Acceptance following her debut at Finborough Theatre.
Roy Williams will mentor Destinée Bishop, Geraldine Lang, Holly Robinson and Eno Mfon as part of Hampstead Theatre's Inspire: The Next Playwright programme.
Hampstead Theatre will continue its partnership with Sphinx Theatre Festival and host the Woman Centre Stage Festival for the second year running.
Artistic Director Edward Hall comments:
'I am really excited by the upcoming productions and collaborations. Hampstead Theatre has always supported the next generation of playwrights. We created Hampstead Downstairs in 2011 to nurture new voices, since then we have presented dozens of plays by younger, first time and emerging writers. We have created a young audience for their work via our Access for All scheme, which enables under-30s to attend any of our productions for £10, alongside the rapidly growing Downstairs Club for under-30s which guarantees access to the always over-subscribed £5 seats for Downstairs plays. And we have some terrific work coming up for those audiences: it's great to welcome Georgia, Ella and Amy to Hampstead, three playwrights of the new generation - two of them debutants - whose plays will get full runs Downstairs. Finally, I'd like to extend a warm welcome to Destinée, Geraldine, Eno and Holly - the very first playwrights on our Inspire programme, where mentor Roy Williams will be supporting their development over the next year.'
PRODUCTIONS ANNOUNCED FOR HAMPSTEAD DOWNSTAIRS 2018
Hampstead Downstairs / Celia Atkin present
Yous Two
By Georgia Christou
Directed by Chelsea Walker
18 January - 24 February
Press Night 31 January 7pm
'You're always gonna turn into one of your parents aren't you, it's basically about choosing the one who's slightly less mental'
Fifteen year old Billie has lived with her Dad in their little flat for as long as she can remember, but all that's about to change. She's got big plans - get Dad a job, sort out her grades, and live in a house with five bathrooms.
But one reckless night threatens to undo all her hard work and derail her ambitions... When it's always been just the two of you, how easy is it to get out, or to let anyone else in?
Yous Two is a moving portrayal of the conflict between personal aspiration and familial responsibility, and what happens when those you should depend on need you more than you need them.
Georgia Christou is a previous member of the Royal Court Young Writers' Group. Yous Two is her debut full-length play which was originally shortlisted for the Verity Bargate Award in 2015. She has also been selected as part of Channel 4's 4Stories scheme and is writing an original single drama which will shoot in 2018.
Chelsea Walker returns to Hampstead having been the assistant director for Mike Bartlett's Wild last year. Winner of the RTST Director Award 2017, Chelsea's theatre credits include Low Level Panic (Orange Tree Theatre), P'yonyang (Finborough Theatre) and Klippies (Southwark Playhouse).
Hampstead Downstairs / Celia Atkin present Acceptance
By Amy Ng Directed by Anna Ledwich
2 March - 7 April Press Night 14 March 7pm
'We're supposed to be assessing their potential as college students, not conducting a quasi-criminal investigation'
A prodigiously talented young musician, an Ivy League school, a life changing allegation.
Out of 37,451 applicants to Eliot University, Angela stands out - but not for the right reasons. An ambiguous event in her past threatens to overshadow her talent, potential, and her future prospects. Can she overcome the prejudices of those judging her application or is she already tainted beyond redemption, regardless of whether she is victim or perpetrator?
Crackling with razor-sharp dialogue, this explosive new play asks whether we can ever escape our past and investigates the destructive side of our search for acceptance.
Amy Ng is currently on attachment with Yellow Earth and the BBC's Drama Room, and in 2017 she was named on the BBC New Talent Hotlist for new writers. Her play Shangri-La premiered at the Finborough Theatre in 2016 after being longlisted for the Bruntwood Prize for Playwriting. She has previously participated in writers' groups with Tamasha and Criterion and was part of The Young Vic's British East Asian Group and the Critical Mass Writers Group at the Royal Court. She is currently under commission to the RSC.
Anna Ledwich returns to direct Downstairs following Kiss Me by Richard Bean, The Argument by William Boyd and Olivier Award nominated Four Minutes Twelve Seconds. She has also directed Labyrinth and the forthcoming Dry Powder on the Main Stage.
Hampstead Downstairs / Celia Atkin present
The Phlebotomist
By Ella Road
Director to be confirmed
12 April - 19 May
Press Night 25 April 7pm
'All these people are getting their dating profiles blood-verified. You know, shouldn't we just go for the people we fancy?'
Bea meets Aaron. He's intelligent, handsome, makes her laugh and, most importantly, has a high rating on his genetic profile. What's not to like?
Char is on the brink of landing her dream job and has big plans to start a family - but her blood rating threatens it all.
In a world where future happiness depends on a single, inescapable blood test - which dictates everything from credit rating to dating prospects - how far will people go to beat the system and let nature take its course?
The Phlebotomist is a powerfully provocative vision of the future, questioning the value we place on one another, whether knowledge really is power, and if it's truly possible for love to conquer all.
Ella Road's other credits include short film The Wyrd and Road to Oxford for BBC Radio 4. She is currently under commission from Theatre Royal Plymouth and is workshopping a project at The Park Theatre. She is part of the Soho Theatre Young Company, and writes and performs poetry.
Hampstead Theatre and Under 30s
Hampstead Theatre launched The Downstairs Club in the summer, a free membership scheme for under 30s that provides better access to Hampstead's cheaper tickets across the Main Stage and Downstairs - particularly the £5 tickets for the first five performances for all Downstairs productions. Under 30s who would like to access priority booking need to sign up at hampsteadtheatre.com Casting for the productions will be announced in due course.
Priority Booking for Hampstead Theatre members opens Monday 23 October 10.30am. Priority Booking for The Downstairs Club members opens Wednesday 25 October 10.30am. Public Booking opens Friday 27 October 10.30am.
SUCCESSFUL CANDIDATES ANNOUNCED FOR HAMPSTEAD THEATRE'S INSPIRE: THE NEXT PLAYWRIGHT PROGRAMME
Hampstead Theatre's Inspire: The Next Playwright Programme is a free opportunity for 18 - 25 year-old aspiring playwrights to develop their ideas, talent and craft under the mentorship of award-winning playwright Roy Williams over the course of a year.
Hampstead received over 400 applications and the successful applicants are Destinée Bishop, Geraldine Lang, Eno Mfon and Holly Robinson.
Roy Williams comments:
'I'm excited and proud to be working with Destinée, Geraldine, Eno and Holly over the next year. If their energy and enthusiasm towards creating fresh, challenging and entertaining theatre is anything to go by, the future of playwriting looks very bright indeed - but this is only as long as we keep investing, protecting and supporting the voices of tomorrow. I met plenty of other talented candidates with the same vigour and wish we could give every aspiring playwright the same opportunity. I'd like to thank Hampstead Theatre, who have always championed new writing, for inviting me to be the first mentor of what I hope, funding permitting, will be an enduring and important contributor to the development of British playwriting.'
Destinée Bishop recently performed on stage at Regent's Park Open Air Theatre in Running Wild. She hopes to pursue acting alongside her work as a writer.
Geraldine Lang's first original script was longlisted by the BBC Writer's room. This autumn she begins a Master's course in Screenwriting at the University of Manchester.
Eno Mfon recently graduated from the University of Bristol. She has performed and written for the Bristol Old Vic, Theatre West and Channel 4 Random Acts. She is currently commissioned by the Bush and The Young Vic.
Holly Robinson began her training at Playbox Theatre in the West Midlands. Her first play Soft Animals was Shortlisted for the Soho Writer's Tony Crazy award.
HAMPSTEAD THEATRE REUNITES WITH SPHINX THEATRE COMPANY AND THEIR WOMEN CENTRE STAGE FESTIVAL FOR 2017/18
Hampstead Theatre will continue its partnership with Sphinx Theatre Company by hosting several events over the next year, including their acclaimed Women Centre Stage Festival in 2018, to support the company's important mission in promoting, advocating and inspiring women in the arts.
Starting this November, Sphinx Theatre and The University Women in the Arts (set up to address why more women study the arts but less women work in the arts) will co-host a special event on Saturday November 4 from 11am - 12pm at Hampstead Theatre Downstairs. Sue Parrish, Artistic Director of Sphinx Theatre Company, will offer advice to women wanting to work in the arts and discuss the future of a diverse cultural landscape. Tickets are free and the event is open to any female arts student or woman wanting to work in the arts. Tickets must be booked at https://www.eventbrite.co.uk/e/university-women-in-the-arts-sue-parrish-tickets-38653042290
Sue Parrish comments:
'I'm delighted that Hampstead Theatre will continue to support Sphinx Theatre with our important quest to encourage, promote and inspire more women to work in the arts. We cannot develop our work without a supportive venue and I'm thrilled that Hampstead Theatre will continue to help us create a cultural shift'
More Sphinx Theatre events and information the Women Centre Stage Festival will be announced in due course.
For more information about Sphinx Theatre please visit www.sphinxtheatre.co.uk
Related Articles View More UK / West End

Stories

Shows
More Hot Stories For You