CORAL BROWNE: THIS F***ING LADY Has UK Premiere at the King's Head Theatre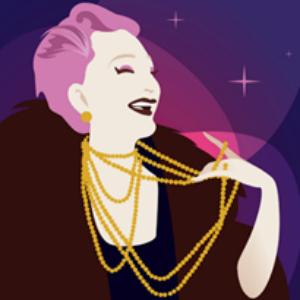 Prospect Productions today announces the UK première of Coral Browne: This F***ing Lady!, written and directed by Maureen Sherlock. Amanda Muggleton stars in this one-women play based on the real life of the stage and screen star Coral Browne. It opens at King's Head Theatre on 19 May and runs until 3 June.
In 1934 aged 20 Coral Browne arrived in London from Australia with £50 in her pocket, stars in her eyes and driving ambition in her heart. 85 years later Coral is back in London to let you know how that starry-eyed 20 year-old turned out!
Her flamboyance, her biting wit, her glamorous lifestyle are distant memories now. But for nearly 50 years smart London dinner parties were not complete without reporting the latest hilarious Coral Browne 'bon and four-letter mots!' They don't make them like Coral any more. She was a one-off and that's something worth celebrating.
Maureen Sherlock said today, "I was intrigued by Coral Browne after reading so many biographies of celebrities, like Judi Dench and Maggie Smith, who mentioned her as an influence and mentor or related bawdy anecdotes involving her. She was Australian, but I'd never heard of her. Fortunately, all her papers and memorabilia were donated to the Performing Arts Collection in Melbourne by her second husband Vincent Price. And what a treasure trove they turned out to be! Letters from a who's who of theatre luminaries, her lovers, her mother, Vincent Price, photographs, videos. Here was a woman whose determination, talent and lust for life had seen her climb out of working class Footscray in Melbourne and up to the West End stage and Hollywood. The more I researched, the more I loved this outrageous, funny, liberated woman who was way ahead of her time. And now it's such a thrill to bring Coral Browne back to London where it all began for this wild Colonial girl!"
Maureen Sherlock is a writer and director. Her previous theatre credits include Alzheimer's the Musical: A night to remember! (Gilded Balloon, Edinburgh Fringe), Ada & Elsie: Wacko-the-Diddle-oh! (Australian tour). Her credits as a co-writer are Lovers & Haters: The Turbulent Times of Don Dunstan (Adelaide Festival of Arts).
Amanda Muggleton plays Coral Browne. Her previous theatre credits include Hairspray - The Arena Spectacular (Brisbane Entertainment Centre/ Newcastle Entertainment Centre), Annie (Lyric Theatre), Blood Brothers (Metcalfe Playhouse), The Threepenny Opera (Sydney Theatre Company), Hello Dolly! (State Theatre, Melbourne), Masterclass, Steaming (Canberra Theatre), Lip Service (Ensemble Theatre), Shirley Valentine (Dunstan Playhouse), Calendar Girls (Theatre Royal, Sydney), Entertaining Mr Sloane (Adelaide Festival Centre) and The Book Club (King's Head Theatre). Television credits include series regular Chrissie Latham in Prisoner Cell Block H.